Estimated reading time: 25 minutes
Bangkok is a huge city and any list of the best things to do can quickly becomes a very long list! This sprawling, multicultural metropolis, home to the ultimate contrasts between tradition and modernity, is teeming with enough things to do, see and eat, to continuously excite even people with a diverse range of interests.
In this article we provide a massive list of the best things to do in Bangkok, plus link to further articles that will help you explore further.
Note regarding COVID-19: While we do try to keep our content up to date, please be aware that due to the impact of COVID-19, restrictions may impact our recommendations, and businesses may temporarily or permanently close. Please double check.
What are The Best Things To Do in Bangkok?
With so many options, this is partly dependent on your own personal interests. Of course, for any first time (but also repeat visitor), the main tourist attractions are popular for a reason! These include The Grand Palace, Wat Arun, Wat Pho, Chinatown, night markets, floating markets..
While these main tourist attractions are a pretty static list, the list of interesting activities and experiences continuously grows and you will find plenty of things to do for people of all ages and interests. Bangkok, is quickly evolving, and even for those who live here, they are likely to a find continuous list of new things to do.
Ideas range from simply wandering around Chinatown (munching on street food as you go), to taking our own award winning tuk tuk tour in which you discover multiple things in one night.
Things To Do – Areas to Explore
1) Explore Historic Rattanakosin Island
This area is known as Rattanakosin "Island" as it is bordered by the Chao Phraya River on one side and surrounded by canals on the other sides, to effectively create an island that acts as a defense from the enemies. It is for this reason the King Rama I set up his capital here and the area contains Bangkok's most historical sites including palaces and temples.
Many of the attractions mentioned below are in this area. If you can stand the heat you can explore by foot.
Here you can find more ideas about what to see around Rattanakosin.
To get to Rattanakosin: Take the MRT to Sanam Chai Station or use the Chao Phraya river ferries.
2) Wander Through Chinatown (Yaowarat) – Markets by day, street food by night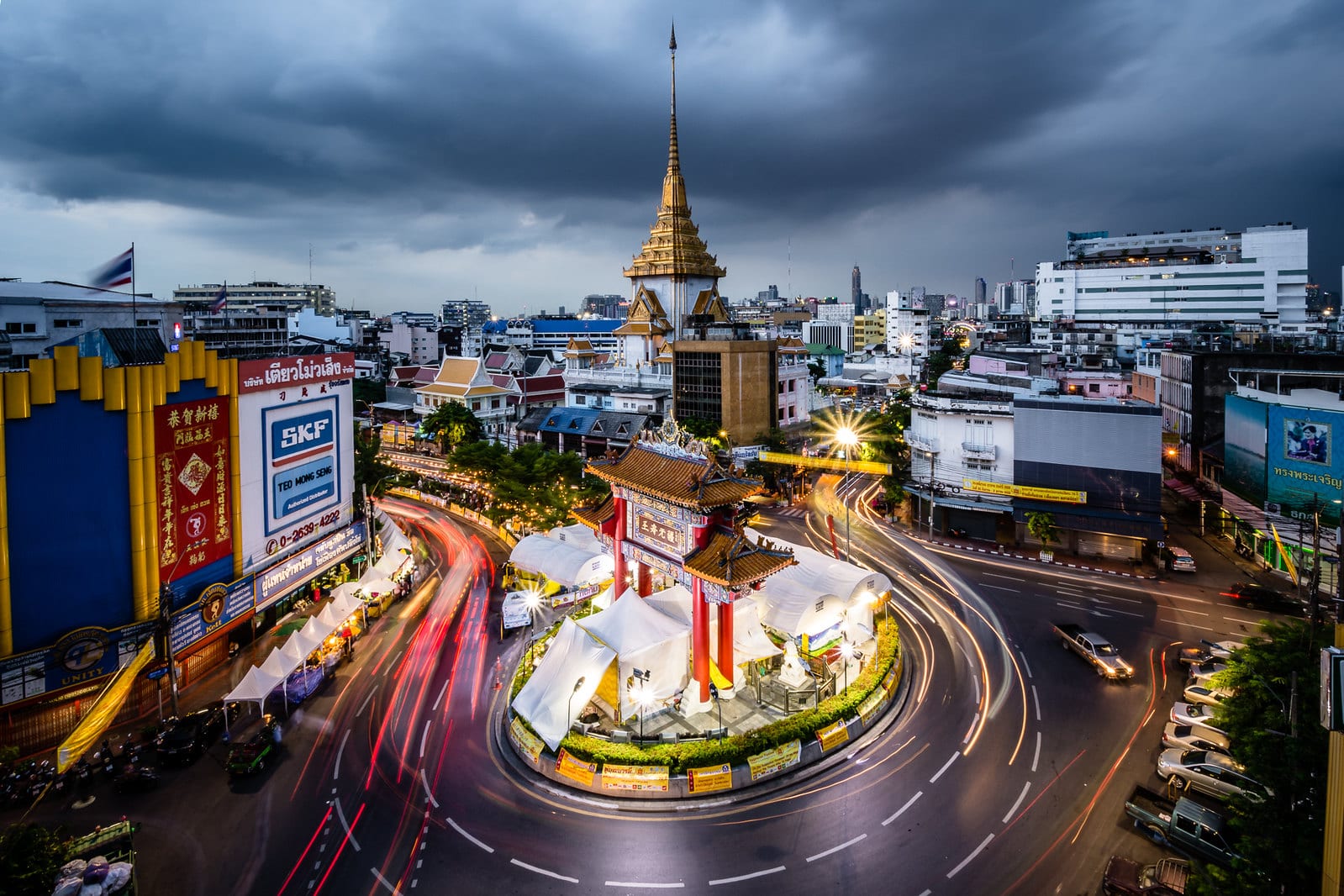 There are so many things to do in Bangkok's Chinatown. It is one of the biggest Chinatowns in the world, and it is surely one of the most fascinating parts of the Thai capital of all. Furthermore, you get a completely different experience when visiting during the day as you do at night.
A real feast for the senses from start to finish, in the local neighbourhood known as Yaowarat you'll find everything from Chinese shrines and delicious street food to old-fashioned shopping centres from decades gone by to recently rejuvenated back alleys full of hipsters fuelling a resurgence in Bangkok's speakeasy cocktail scene.
Things have changed a bit in the last few years as the newly extended MRT subway has made it more accessible than ever, but also led to significant development.
Location: Yaowarat Road and around. Nearest MRT stations – Hua Lamphong and Wat Mangkon. Accessible by boat from Ratchawong pier.
3) Check in at Khaosan Road
In the pre-Covid era Khao San Road was the backpacker mecca of Bangkok, traditionally the first stop for budget travellers arriving in Thailand's capital. It's a de-facto pedestrianised hotbed of hardcore bars and clubs, tattoo parlours, cheap hostels and guest houses, and street eats, cafés and restaurants that purport to be cheap but often actually charge more than you'll pay in more local areas elsewhere around Bangkok.
Normally, the scene comes alive at night when the bars spill out onto the street, and even more set up on the street itself – because have you really done Bangkok if you haven't shared a vodka and red bull bucket with friends at 3am? However, during COVID the area has become deserted, any businesses have shut down. It is to be seen whether it will come back again or reinvent itself!
Location: Khaosan Road. Accessible by boat Phra Athit pier.
4) Stroll along the Chao Phraya River
The mighty Chaophraya River, translated as the river of kings, is one of the most symbolic emblems of Thailand's capital city. It has long kept this city alive and, as it snakes through Bangkok on its final approach to the city, it passes some of the capital's most recognisable attractions, from temples to shopping centres and five-star hotels.
Perhaps the best way to appreciate the Chaophraya River at its finest is to ride it – hop on an orange-flagged commuter boat from Sathorn pier (connected to Saphan Taksin BTS Skytrain station) and head down the river towards the attractions of the old town, hopping off when you please or otherwise just enjoying the journey. You can find more details about taking the ferry boat in our guide to getting around Bangkok.
Another memorable way to experience the river is on an evening dinner river cruise. There are options at all budgets.
5) Explore the Canals of Thonburi
Sometimes dubbed "The Venice of the East", due to it's vast network of interconnecting waterways and canals which connect areas on both sides of river and even stretch to the sea. 60 years ago, canal boat was one of the main ways to get around Bangkok! Today, taking a long-tail boat around the canals on the Thonburi side of the river provides a great way to see a local and more traditional way of Bangkok life.
The team at Hidden Bangkok are doing an amazing job at showing people the canals and life around the Thonburi side.
6) Bang Krachao
The area of Bang Krachao is often referred to as "The Green Lung of Bangkok" and is a surprising change from the Bangkok people think of. Just a few minutes boat ride to cross the Chao Phraya river from the urban jungles of Sukhumvit and Khlong Toei, Bang Krachao is a beautiful area where houses back onto canals and waterways.
On the weekends there is also the Bang Nampuang Floating Market. One of the best ways to explore Bang Krachao is on a bicycle tour (see below).
7) Discover Koh Kret
Popular on weekends due to the weekend market and pottery making activity. Koh Kret is another artificial island in Bangkok's Chao Phraya river. Located in Nonthaburi province, just outside Bangkok. It's been popular as a pottery manufacturing centre, since it's long been home to a thriving ethnic Mon community.
Also, there are cool cafes where you can spend a whole day relaxing and taking tons of pictures. Rongsri Studio is recommended for a food stop or check out Chit Beer for a afternoon off drink craft beer.
It's a fun place to explore by bike. There are only small vehicles as bike and motor bike as streets are tiny. Even locals having cars need to park their cars on the main city then take a boat crossing the river to the island.
Things to Do – Bangkok's Best Temples
8) Visit The Grand Palace (Wat Phra Kaew)
No list of the best things to do in Bangkok could be complete without mentioning The Grand Palace. While it is the top tourist attraction it is truly special.
The symbolic heart of Thailand's ruling Chakri dynasty, the sprawling Grand Palace was established in 1782 under the reign of King Rama I. This former royal residence, court and seat of government is also home to the Temple of the Emerald Buddha (Wat Phra Kaew), which still plays host to royal and religious ceremonies today.
Beware of touts and ignore taxi and tuk tuk drivers who incorrectly tell you the palace is closed and tried to take you elsewhere instead.
You can read here for more details on visiting the Grand Palace.
Open: Daily, 8.30am-3.30pm
Admission Fee: 500 baht (free for Thai nationals)
Location: Na Phra Lan Road
9) Visit Wat Pho (The Temple of the Reclining Buddha)
The birthplace of Thai massage, Wat Pho is better known as the home of the world's largest reclining Buddha image in the world! You can also still indulge in a Thai massage at Wat Pho, or even learn the art of it yourself. Wat Pho is Bangkok's oldest and biggest temple complex, and it's a fascinating and calming place to explore.
Open: Daily, 8am-6.30pm
Admission Fee: 200 baht (free for Thai nationals)
Location: Maharaj Road
10) Wat Arun (The Temple of Dawn)
Located on the 'other' side of the Chaophraya River in the former Thai capital of Thonburi (nowadays part of Bangkok), Wat Arun is an iconic sight beside the water. The colourful, incredibly detailed design of the Temple of Dawn sets it apart from many other temples in Bangkok, and Wat Arun is the former home of the Emerald Buddha that now resides at the Grand Palace on the river's opposite bank.
Wat Arun is believed to have got its name when King Taksin, who had it restored starting in 1768, arrived here from Ayutthaya at dawn. For even more mesmerising views up and down the river and across Bangkok, you can take the steep steps to the top of Wat Arun's central prang tower.
Open: Daily, 8.30am-5.30pm
Admission Fee: 100 baht (free for Thai nationals)
Location: Wang Doem Road
11) The Golden Mount (Wat Saket)
For views over old-town Bangkok and beyond, the Golden Mount is the place to head. The hill itself is part of the complex of Wat Saket temple, and at the top sits a spectacular golden chedi. The temple itself dates back to Thailand's historical Ayutthaya era, and on the way up the 300-odd steps you'll even pass through an eerie cemetery.
For something scarier and creepier still, head into Wat Saket proper to gaze at mural depictions of the Buddhist hell that supposedly awaits society's evils.
Visit the Golden Mount in mid-November for a taste of its famously large-scale annual week-long temple fair.
Open: Daily, 7.30am-7pm
Admission Fee: 50 baht (free for Thai nationals)
Location: Boriphat Road
12) The Temple of the Golden Buddha (Wat Traimit)
There's a funny story behind Wat Traimit, or the Temple of the Golden Buddha, which isn't quite in the holy trinity of Bangkok Buddhist temples – the Grand Palace, Wat Pho, and Wat Arun – but which nevertheless sees its fair share of visitors each year.
The enormous golden Buddha statue that this temple is famous for – some five metres tall, and weighing five and a half tonnes – was actually discovered entirely by accident. Covered in plaster as a disguise from the invading armies of the past, it was only when the Buddha image was dropped during renovation work that the stunning golden statue beneath was revealed. It dates back to Thailand's former Sukhothai era, and it's well worth a visit to Wat Traimit, set off the usual Bangkok temple path in Chinatown.
Open: Daily, 9am-5pm
Admission Fee: 40 baht (free for Thai nationals)
Location: Traimit Road
Top Attractions in Bangkok
13) Jim Thompson's House
This is one of the most popular tourist attractions for first-time visitors to Bangkok. Jim Thompson's House is a downtown museum accessible only by guided tour.
It that draws in the crowds through the intrigue of the 1967 disappearance in the Malaysian Cameron Highlands of the American businessman and silk enthusiast who called it home. Historical significance aside, the Jim Thompson House is a gorgeously tranquil slice of Bangkok to explore for an afternoon, including taking in Thompson's art and curios collection and picking up some of his famous silk designs from the gift shop.
Open: Daily, 9am-6pm
Admission Fee: 200 baht
Location: Rama 1 Road
14) Museum Siam
Set inside a large neoclassical house and almost next door to Wat Pho, Museum Siam is one of the best museums in Bangkok and the "Decoding Thainess" exhibition gives a fascinating insight into Thai culture.
Open: Daily, 10am-6pm (Closed Mondays)
Admission Fee: 200 baht
Location: 4 Sanam Chai Rd, Khwaeng Phra Borom Maha Ratchawang, Khet Phra Nakhon, Krung Thep Maha Nakhon 10200 (Tel: 02 225 2777)
15) The National Museum
The National Museum in Bangkok houses the largest collection of Thai art and artifacts in the country. The Archaeological and Art History collection showcases items from Thailand's prehistory to Sukhotahai and Ayutthaya eras right through to the modern Thai Kingdom, including many ancient sculptures. There are many royal items include carriages used for royal ceremonies. It's definitely worth a visit, especially if visiting nearby Wat Phra Kaew or the Grand Palace.
Open: 9am-4pm (Wednesday to Sunday)
Admission Fee: 200 baht
Location: Na Phra That Alley, Khwaeng Phra Borom Maha Ratchawang, Khet Phra Nakhon, Krung Thep Maha Nakhon 10200 (Tel: 02 224 1333)
16) Relax in Lumpini Park
Bangkok's answer to Central Park is a massive stretch of greenery right in the heart of the Thai capital's downtown area.
Here, you can catch a breather after spending too long in the traffic, and relax in the sun alongside the park's infamous resident water monitors – fear not, they're not the crocodiles they look like! Take a boat out on the lake at Lumpini Park's centre, use the free public exercise machines, or simply dodge the army of runners, joggers, and elderly citizens out for their nightly al-fresco keep-fit class.
Open: Daily, 4.30am-9pm
Admission Fee: Free
Location: Rama 4 Road (Silom or Lumpini MRT Station)
17) Look Over Bangkok from Mahanakhon Skywalk
This new addition to Bangkok's skyline was for a short while the tallest building in the Thai capital, before being overtaken by the Magnolia Waterfront Residences at ICONSIAM shopping centre, which is three metres taller.
MahaNakhon itself is a 314-metre-high mixed-use skyscraper in the Sathorn neighbourhood, sporting an unusual pixelated design and housing residential units, shopping units and hotel rooms. It's perhaps most famous for its top floor, which is home to Bangkok's highest observation deck with a glass floor and rooftop bar, a dizzying adventure for anyone who dares take it on.
Open: Daily, 10am-midnight
Admission Fee: 850 baht for the indoor observatory; 1,050 baht to access all floors
Location: Narathiwat Road (Chong Nonsi BTS Station)
18) Ancient Siam
If you don't quite have enough time in Thailand to see the whole country, then Ancient Siam could be just the ticket. This vast and popular attractions in eastern Bangkok, out towards Suvarnabhumi airport, is a scaled-down, miniature toy-town version of Thailand as a whole – although it's still big enough that you'll need a bicycle or golf buggy to get around it with ease.
Many of Thailand's most famous monuments have replicas here. In some cases the real thing has even been transplanted here from its original location. Much like Chatuchak Market, you'll need to factor in a full day to make the most of Ancient Siam, and there's still next to no chance you'll manage to get through it all.
Open: Daily, 9am-7pm
Admission Fee: 700 baht (350 baht for Thai nationals)
Location: Sukhumvit Road (Samut Prakan)
Visit a Market or Go Shopping in Bangkok
19) Chatuchak Market
Chatuchak Market is the market to beat all other markets. While, it is known at The Weekend Market, since 2021 it has been open daily, although some vendors still only open on weekends. Located in northern Bangkok, this daytime market sprawls somewhere between 8,000 and 35,000 stalls – depending on who you ask – and the saying goes that if you can't find something at Chatuchak (also known as JJ Market, after the letters used for the word 'Chatuchak' in the Thai language) then it probably simply doesn't exist.
From clothing and homewares to paintings and questionably cared for animals, you'll find plenty here that you didn't even know you needed.
It can be an exhausting outing, not least because of the sheer number of people that descend on Chatuchak Market every Saturday and Sunday – so get here early, come by public transport (the BTS Skytrain and MRT subway both stop right outside), and don't expect to manage to take in the whole thing in one day.
Open: Daily, 9am-6pm (smaller specialised markets also run through out)
Location: Kampaeng Phet 2 Road
Check out our ultimate guide to Chutuchak Market.
20) Shopping Centres
Bangkok is renowned internationally for its shopping malls, and no visit to Thailand's capital would be complete without setting foot in a few. From the flagships like Siam Paragon and Central World, to new arrivals like EmQuartier, Central Embassy and ICONSIAM, these malls to consumerism are big and bold statements of the way Thailand has been catapulted into the twenty-first century over the past few decades.
You'll find all manner of international chains, from budget to ultra-luxe, as well as independent local boutiques selling quirky souvenirs, plus food courts where you can taste some of the best local dishes, and perhaps the most luxurious cinemas you'll find on the planet (they have regular screens too).
21) Asiatique The Riverfront
Set in the former docks of the colonial-era East Asiatic Company, this outdoor riverside amusement park is best seen as a kind of modern re-imagining of the traditional Bangkok night market. Asiatique The Riverfront a classy affair, with all manner of stalls and shops offering the best of the city's evening retail therapy, along with heaps of spots for you to tuck into delicious Thai fare.
Perhaps the signature attraction is the ferris wheel that offers fantastic views over Bangkok lit up against the dark sky, while there are also other experiences to try out, such as muay thai boxing matches and cabaret shows.
Note: Asiatique has had many things close as a result of COVID-19 so please do check
Open: Daily, 4pm-midnight
Location: Charoen Krung Road
For more details visit our guide to Asiatique
22) Eat, Drink and Shop at a Night Market
Forget the shopping centres – it's Bangkok's night markets that visitors to this incredible city remember most of all. These evening temples of retail therapy stretch on for miles and miles at various location around the city, some taking place every night of the week, but some of the biggest only on weekends.
Bangkok night markets are your chance to haggle your way to some real bargains, all among the festive atmosphere of low-key setups like Talat Rot Fai (the Train Markets), Siam Gypsy Junction, Patpong, Talad Neon, Suan Lum night bazaar, and more.
Check out our ultimate guide to Bangkok's night markets.
23) Visit A Fresh Market at Any Time of Day or Night
There are fresh markets scattered all over Bangkok and they vary in size and what they sell. Some of the most famous are wholesale markets and operate 24 hours a day. These include Pak Khlong Talad Flower Market and Khlong Toei Market. Others are smaller local markets. Even if you are not looking to buy fresh produce they can be fascinating places to visit. Check out our guide to fresh markets in Bangkok.
24) Floating Markets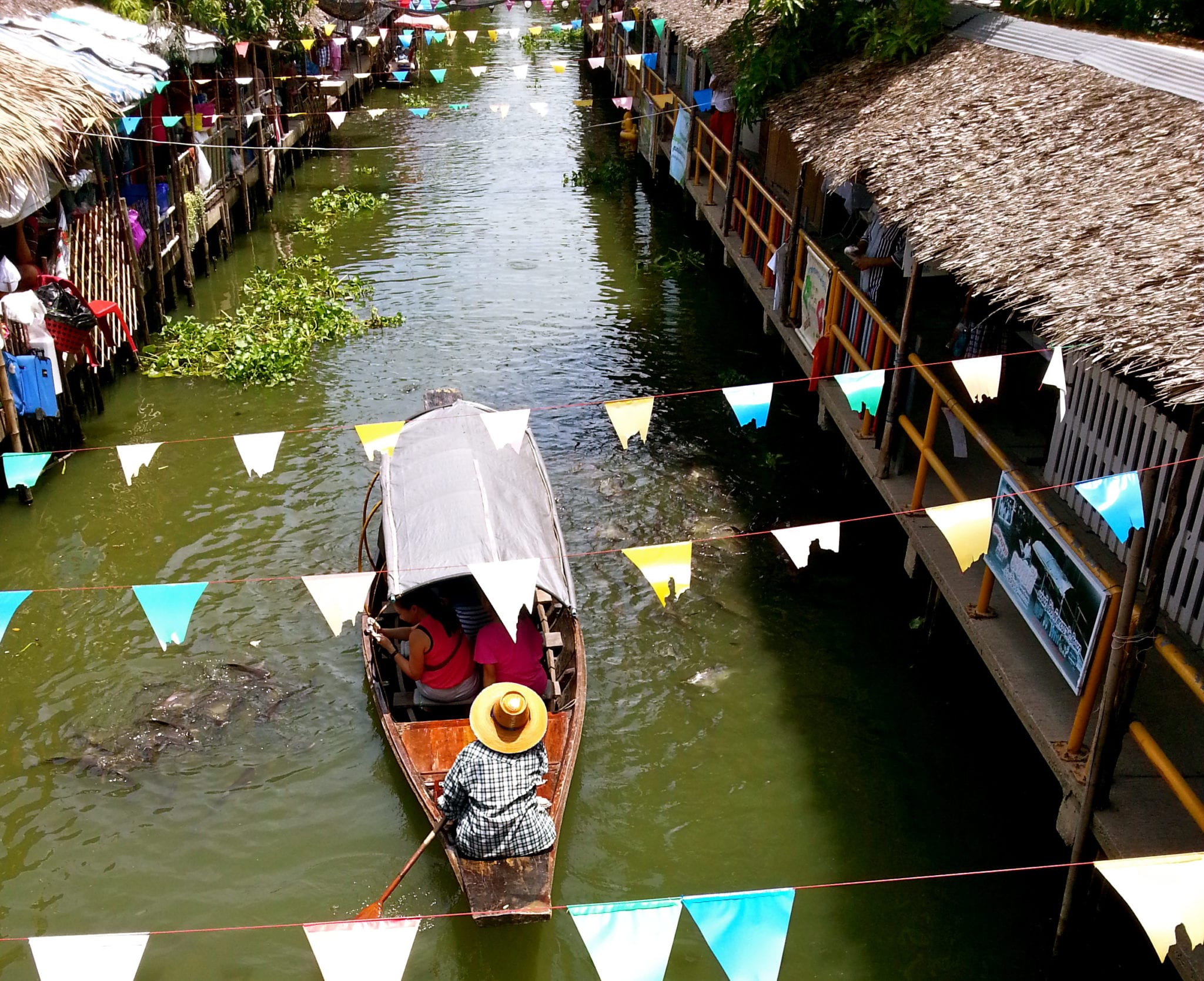 The bustling and colourful floating markets are stereotypical postcard picture of Bangkok and are on everyone's list of things to do. Sadly, these days the image you have in mind may not be like the photo you will get, but that hasn't taken away one bit from their romantic appeal to tourists.
The one that everyone has heard of – and seen a photo of – is Damnoen Saduak, but in reality you're more likely to be caught in a water-based traffic jam with other visitors. Instead, check out (slightly) lower-key alternatives like Taling Chan, Khlong Lat Mayom, Amphawa, Bang Nampheung, and Tha Kha. Check out our guide to Floating Markets in Bangkok
What To Do in Bangkok – The Best Activities
25) Take a Food Tour
In recent years there has been a growing global trend for food tours, and there is no better place to do a food tour than Bangkok. You can check out our selection of food tours here.
26) Eat Street food
Many foodies come to Bangkok for the main purpose of eating! Bangkok may well be the street food capital of the world, and you can find great street food all over the city. Chinatown is probably the most famous area for street food, but there are so many great places to eat. Some of our favourite areas include: Bangrak, Ratchatevi, Talad Phlu, Tha Din Daeng, Wang Lang, Ratchawat….
For more on street food check out our guide to our favourite street foods.
27) Learn to Cook
For those who don't just want taste the amazing Thai food but want to actually learn to cook it themselves, then a cooking class is the perfect solution when you are in Bangkok. Cooking classes range from very quick one hour sessions to week-long courses. There are so many cooking classes in Bangkok that it can be hard to chose. Here are some for you
28) Take a Tuk Tuk Tour
If you think of a symbol of Bangkok then a tuk tuk might come to mind. Tuk Tuks are a fun way to get around Bangkok, but it is best to avoid getting caught in traffic. Unfortunately tuk tuks have gained a bad reputation for scams.
However, over the last few years evening tuk tuk tours have become an extremely popular way to explore the city. One our tours even one the award from TripAdvisor as the No.1 Experience in Bangkok.
29) Explore Bangkok on a Bicycle Tour
This may come as a surprise as a thing to do in Bangkok! When people think of Bangkok they often think of traffic, so it may come as a surprise to hear that bicycle tours are popular in Bangkok.
In fact, bicycle tours are hugely popular and there are so many companies who focus exclusively in bicycle tours. Popular areas to explore by bicycle include Bang Kra Chao and Rattanakosin. For bicycles tours we recommend checking out Just Nok, Grasshopper Adventures and Co Van Kessel.
30) Watch Muay Thai
Muay Thai is an ancient Thai martial art that now proves to be a great spectator sport. There are several places you can watch Muay Thai in Bangkok. The 2 main stadiums are The New Lumpinee Stadium (Tuesday and Saturday) and Ratchadamnoen Boxing Stadium (Monday, Wednesday, Thursday, Sunday). You can also catch free Muay Thai at the Channel 7 Boxing Stadium on Sundays.
31) Learn Muay Thai
If you actually want to get in on the action and have an amazing workout then consider taking some Muay Thai classes. There are Muay Thai gyms across Bangkok, so look for one close to where you are staying. If you are serious then there are many Muay Thai camps but people often opt to escape from Bangkok to Northern or Southern Thailand for such an experience.
32) Enjoy world class restaurants
In recent years Bangkok has grown a reputation as a world class culinary destination that goes far beyond it's street food origins. Restaurants like Nahm and Gaggan (now reopened as Gaggan Anand) have lead the way by winning the titles of "Best Restaurant in Asia". However, there are so many talented chefs and restaurants (both Thai and International cuisine) that are now following in their footsteps. It is no wonder the Michelin Guide launched in Bangkok.
33) Enjoy a Massage
Thailand is famous for it's massages and Wat Pho in Bangkok is the home of Thai Massage, as it is the most recognised place for masseuses to train. You will find massage parlours everywhere. If you are looking for reputable ones there are reputable chains like Healthland, Let's Relax, and Asian Herb Association.
Whilst most massage shops offer a range of massages we would obviously recommend a traditional Thai massage or foot massage. Expect to pay 300-700THB for a 1 hour Thai Massage.
34) Enjoy a Rooftop bar
At the end of the day, what better way to relax than sipping a beer or cocktail in a rooftop bar with great views of the city. Rooftop bars are very popular and there are some very famous ones in Bangkok. New ones are opening all the time. Some of the most famous are Sirocco (at The Lebua) and Vertigo (at Banyan Tree) Here are our recommendations of the best rooftop bars in Bangkok
35) Take a Motorbike Taxi
We would not recommend going far, but if you are going a short distance it is definitely an experience and the best way to whizz through the Bangkok traffic. Drivers are usually wearing an orange vest and you can find motorbike taxi stands on every major (and minor) street. Prices start from 10THB and go up quickly if going a long distance. Make sure you ask for a helmet.
---
Extra Ideas To Discover Unique Things To Do in Bangkok
If you want to find really unique things to do in Bangkok, then why not come during a festival or public holiday. 2 examples of fun times to come are during Songkran (Thai New Year) and the annual vegetarian Festival. For details of all Thai holidays and festivals, check out our article on Thai Holidays.
---
Some Final Questions and Answers About What To Do in Bangkok
---
Other Articles That May Be of Interest
---
Explore Thailand with Expique
At Expique our mission is to help people discover the real Bangkok (and beyond) and the local cultures. We do this through a combination of offering our own award winning tours and through producing informative content.
Our range of experiences in Bangkok including our award winning Bangkok Night Lights Tuk Tuk Tour and our foodie extravaganza Evening Food & Tuk Tuk Adventure.
Follow us on social media for all the latest news.
---
Subscribe to Our Newsletter
Subscribe to our newsletter to receive monthly news and tips about exploring Bangkok.
Photos by Greg Knapp; Expique; Mark Fischer; Marco Nürnberger; Twang_Dunga; Expique; istolethetv; Adam Lai; chee.hong; Expique; Talat Rot Fai Srinakarin; Expique; Chris Wotton
---
Share this article:
---
---