Practically The humble Thai tuk tuk is a national emblem of Thailand and at the heart of the authentic experience for most visitors. Of course the tuk tuk also serves as a valuable mode of transport for locals in Thailand.
There's little like the buzz of a spin around the Thai capital in one of these open-air, three-wheeled vehicles. Tuk tuks are also central to Expique's unique tours and experiences, such as on our flagship Bangkok tuk tuk tours.
History
Tuk tuks are the successor to the earlier cycle rickshaws, known in Thai as "Sam Lor" (literally 'three wheels'). Dating back to 1933, Sam Lor was introduced to Thailand. However, they were banned from the main streets due to security reasons.
Thailand then imported motorised auto rickshaws from Japan in 1960. They were developed to replace the cycle rickshaws. Tuk tuks are believed to get their somewhat out-of-the-ordinary name from the sound of the engine. Which is pronounced in Thai using a soft initial consonant that's half-way between a 't' and a 'd'.
---
How Do Locals Use Tuk Tuks?
Many people may assume that tuk tuks are only for tourists. As we usually find gangs of tuk tuks parked in front of the entrances to tourist-geared attractions.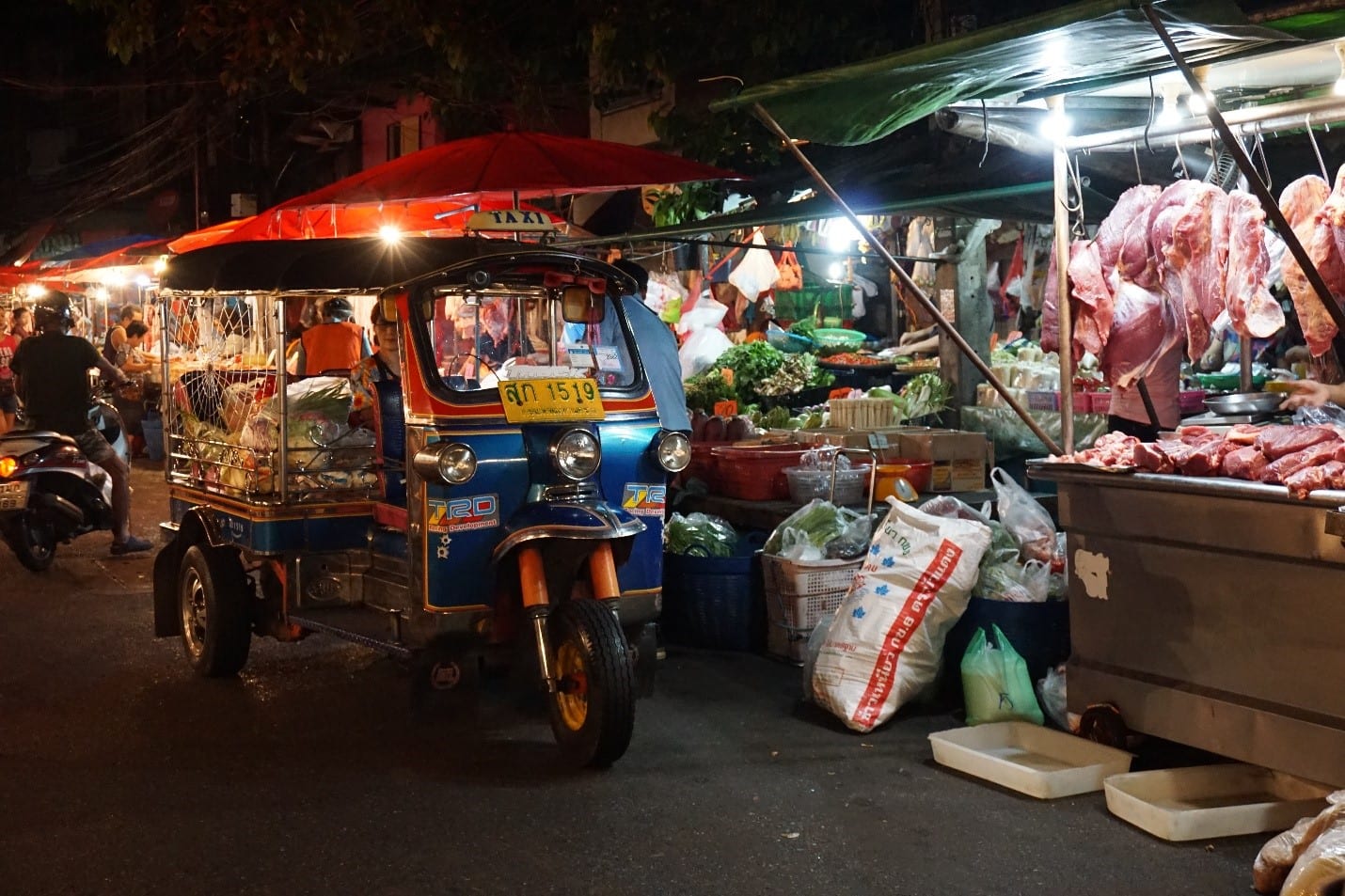 Even though there are countless other transportation options especially in Bangkok, locals still use tuk tuk for transportation and delivery. If you go to a fresh market, you can expect to see tuk tuks with loads of fruits and vegetables. Mostly, their regular customers are vendors. In the early morning, many students also go to school by tuk tuk.
---
Bangkok Tuk Tuks
Most visitors to Bangkok encounter only the classic yellow-and-blue tuk tuks as seen at famous destinations. However, around the capital you'll find different types of tuk tuks. Some are larger, have six-seater miniature trucks that ply the roads in some more local, residential neighbourhoods.
Rather than operating on the private-hire basis of most tuk tuks in touristy areas, these more local 'tuk tuks' function as shared, running up and down pre-determined, fairly limited routes. In some cases just from the top to the bottom of often particularly long roads, and then back again.
In even further flung areas of the metropolitan Bangkok area, like Pak Kret district, you'll also find the tuk tuk's predecessor – the humble rickshaw or samlor. These vehicles lack motors and are instead powered by the driver pedaling on a bicycle at the back.
---
Tuk Tuks Around Thailand
You'll see even more variation in tuk tuk design the further you stray from Bangkok. Perhaps the most famous are the green tuk tuks in Trang and Ayutthaya provinces. They are nicknamed for their appearance similar to a frog's head. 
In other less-visited provinces, as well as upcountry tourist hotspots like Kanchanaburi, you can expect to come across another model of tuk tuk. They are more obviously like modified motorbikes. With either a padded or wooden-bench-style seating area affixed to the back or side of the bike.
Heading to popular islands, like Phuket and Koh Pha Ngan, you'll find much larger songtaew-shared-truck-style vehicles. They can load on many more people. Yet, somehow you'll likely still be charged the kind of fare you would have paid for a private tuk tuk ride in Bangkok or elsewhere.
---
How To Take a Tuk Tuk In Bangkok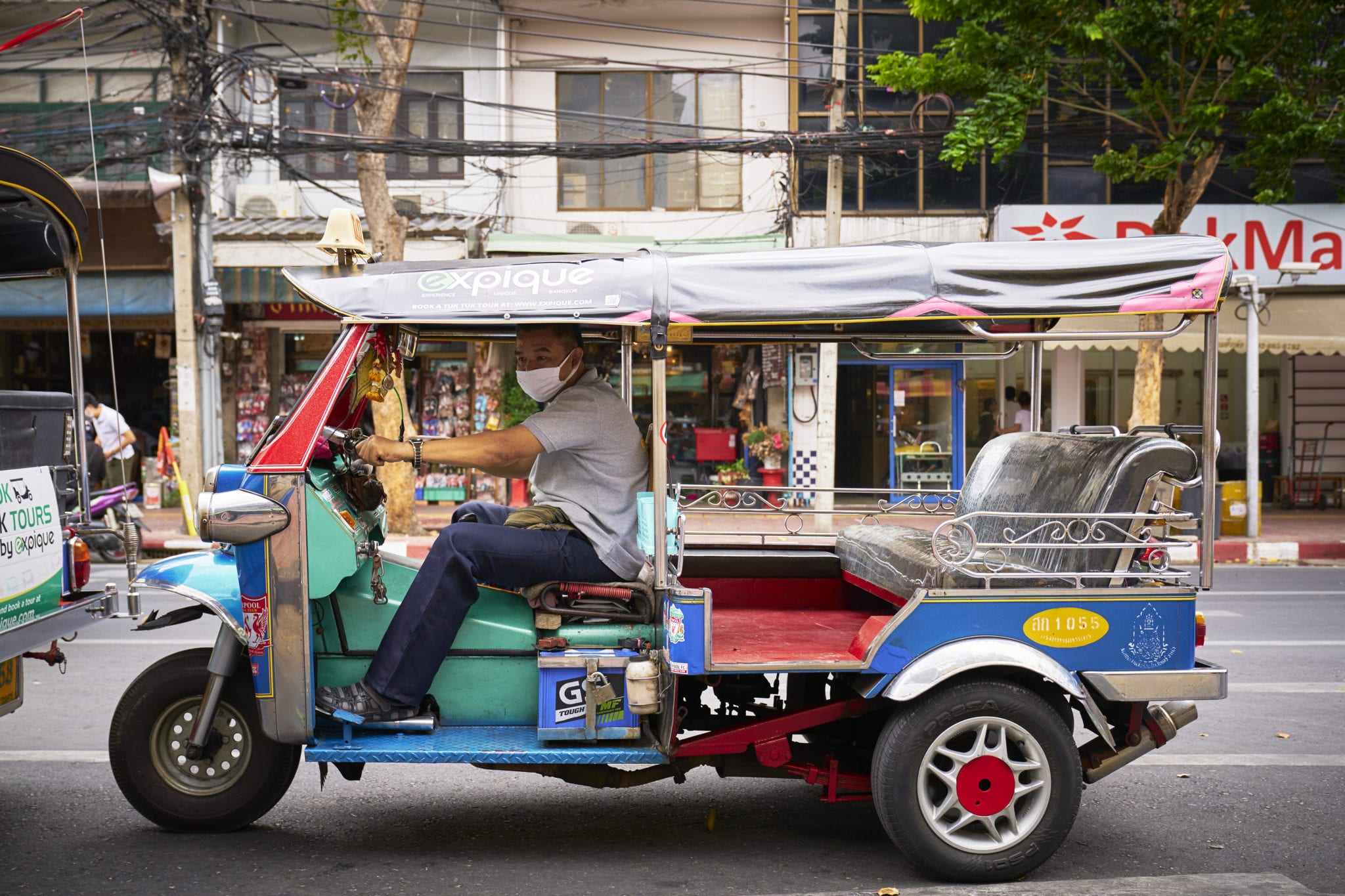 While tuk tuks are a great way to get around Thailand, there's little denying that there are some bad apples among Bangkok's tuk tuk drivers scamming passengers.
The key is this: always agree the price of your ride before you get into the tuk tuk. Your driver will likely quote an initially overpriced fare, anticipating that you will knock him or her down to at least some degree. Tuk Tuks are unmetered. In general, will be a little more expensive than a taxi. However, it shouldn't cost much more than the equivalent fare in a metered taxi.
Finally, when you're on your ride, take care of your belongings and keep an eye out for bag-snatchers on passing motorbikes. You're unlikely to fall prey, but it pays to be alert.
Find more information about scam in Bangkok and how to avoid here.
---
How Much Do Tuk Tuks Charge?
The cost for a tuk tuk ride can be the same or often much more expensive than the cost of a taxi ride over the same distance. There're several reasons, taxis' fee is calculated by a meter which every taxis (seems to) have the same standard. Some may even say the meter fare is too low and makes it hard for drivers to earn a decent living. Meanwhile, tuk tuks do not have a meter, and a fee is offered by a driver.
There can be no denying that the lack of meter gives opportunistic drivers the chance to try to charge more. This is usually the experience of tourists. But is often the case for locals as well and especially at times when there are few taxis available (or when raining).
Tuk tuk drivers know who they can demand high prices, especially first visitors who have no idea of how much they should pay. Generally, this means there is also and opportunity to negotiate a little bit, but always ask before you get in. Most tuk tuks will start charging at about 50THB (40THB if very lucky) for a short ride.
In tourist areas, you also do need to watch out for tuk tuks who scam by offering you a very low price (or even free) for a few hours. They will take you to places they get commissions from. You can find tuk tuks with normal prices at local markets or non touristic places.
---
The Future of the Tuk Tuk
Tuk tuks are a symbol of Thailand and no doubt will be around for a while. However, the nature may change and there is much talk at the moment to exchange / convert tuk tuks to electric versions. We are yet to see what the reaction and uptake will be.
---
Other Articles That May Be of Interest
---
Explore Thailand with Expique
At Expique our mission is to help people discover the real Bangkok (and beyond) and the local cultures. We do this through a combination of offering our own award winning tours and through producing informative content.
Our range of experiences in Bangkok including our award winning Bangkok Night Lights Tuk Tuk Tour and our foodie extravaganza Evening Food & Tuk Tuk Adventure.
Follow us on social media for all the latest news.
---
Get Access to our interactive Bangkok map
Subscribe to our newsletter, and get access to our Interactive Bangkok Map where you can find our "best spots to visit in Bangkok" and also receive monthly news and tips about exploring Bangkok.
---
Share this article:
---
---