Every year there are dozens of Thai public holidays and festivals to experience. This includes Thailand's public holidays, as well as country wide and regional festivals. These are fun times to explore Thailand.
In this article we share details of the main Thai holidays. You may also be interested in this guide to the most Unique Thai festivals.
New Year
Date: 31st December – 1st January in 2021
Thailand might have its own new year, Songkran, which is based on the lunar calendar. But the Thais love a good party and the western new year is as good an excuse as any.
However, many people across Thailand welcome the new year in a more traditional way – by praying. Watchnight service are held at temples across Thailand and become popular. People will wear white clothes and gather at the temples in the evening. Some temples start with walking meditation so the participants can feel peace of mind before they start praying at around 10 pm and continue till 1-2 am on the 1st of Jan.
In Bangkok, the city turns to party central for the night. Find out more about New Year's Eve celebrations in Bangkok.
---
Children's Day
Date: 2nd Saturday of January
Children are loved and cherished in Thailand, and play a big part in culture. They get their very own celebration on the second Saturday of January, on a day declared as National Children's Day, or Wan Dek. Children receive gifts from their families and might be treated to a day out.
Many tourist attractions, along with public transport operators like the BTS and MRT, admit children under a certain height free of charge. The Thai army often opens the doors at its bases around the capital for children to take a look around and climb on a tank or two.
Events to mark Children's Day take place in Thai schools the day before when children receive gifts from their teachers and put on performances. All in all, it is a pleasant occasion for Thai children to be treated with even more affection than they usually enjoy!
---
Chinese New Year
Date: Varies every year – 12th February in 2021 (this year it has been recognised as a public holiday)
The substantial Chinese population in Thailand means that Bangkok puts on a real celebration for Chinese New Year. Yaowarat, the city's Chinatown district, closes to traffic and becomes a walking street decorated with Chinese red lanterns. Cultural performances include lion dance competitions, dragon dances, and firecrackers, and a fantastic selection of food is on offer, including banquets right on the street.
However, the Chinese New Year event is not held only in Bangkok. There are several provinces that are also famous for their Chinese New Year events due to a huge population of Chinese people. The most well known places are Phuket, Nakhon Sawan, Suphan Buri, Songkhla, and Trang. If you get a chance visiting such places during this period, do not miss it!
See more about what to see and do in Bangkok during Chinese New Year here Celebrating Chinese New Year in Bangkok.
---
Makha Bucha Day (Buddhist Holiday)
Date: Varies every year – 26th February in 2021
One of 3 main Buddhist holidays on the Thai calendar, Makha Bucha Day takes place on the full moon day of the third lunar month – this usually falls in February or March. Makha Bucha Day is a Thai public holiday, and honours the Buddha and the teachings he gave on this day. The Buddha gave the teaching to 1,250 Sangha followers, all ordained by the Buddha himself, and who came to see him in northern India
On the same day 44 years later, the Buddha decided to transcend to nirvana, and did so three months later on Visakha Bucha Day (see below). To observe Makha Bucha today, Thai Buddhists make merit at the temple. Many will also attend a candlelight procession around the local temple's ordination hall.
Find out more about Makha Bucha Day here.
---
Chakri Day
Date: April 6th every year
Chakri Day commemorates the founding of the dynasty of which Thailand's current royal family is a part. Thailand's current king is the tenth monarch from the Chakri dynasty, and is known as Rama IX. Chakri Day falls on 06 April, and is a public holiday in Thailand – the royal family presides over a religious ceremony which honours previous kings.
Find out more about Chakri Day in Thailand.
---
Songkran (Thai New Year)
Date: 13 – 15th April every year
Possibly the most well known Thai festivals. This is the Thai new year according to the lunar calendar.
Nowadays, Songkran is associated with the massive water fights that take place across the entire country, involving young and old and people from all walks of life. You should be prepared to get wet and will struggle to escape the frivolity of the event wherever you go! Water throwing and pouring were traditionally done to bring on the fertile rainy season that agricultural work so depends on.
Waterfights take place across the country for anything from a day up to a full week. It's pointless trying to fight it, so the best policy is just to join in the fun. It really is one of those festivities you just need to experience to know what it's all about!
If you want to know more, do check out our Songkran ariticle.
---
Coronation Day
Date: 4th May every year
Celebrated on May 4, Coronation Day marks the day of the current Thai king's formal coronation ceremony in 2019. King Vajiralongkorn came to the throne on 4 May 2019 at the age of 65. Coronation Day, known in Thai as Wan Chatramongkol, is a Thai public holiday.
Find out more about Coronation Day in Bangkok here
---
Royal Ploughing Ceremony (Government Holiday)
Date: Varies – 10th May in 2021
This holiday taken by government officers, and is based on the lunar calendar. The festival sees two royal oxen eat rice and hay from a selection of offerings – the oxen's choice of offering to eat from is then analysed by royal astrologers, who make a prediction as to the level of bounty to be had from the year's coming rice harvest.
The ceremony, in which rice seed is also scattered, takes place on the royal ceremonial ground of Sanam Luang in Bangkok, close to the Grand Palace. Since the rice scattered is that grown at the royal palace, it is believed to be auspicious and onlookers can be seen running onto the field to collect the seeds after the ceremony is over, believing it will bring them good luck either when mixed in with their own rice seed or simply retained as a charm.
Find out more about the Royal Ploughing Ceremony.
---
Visakha Bucha Day (Buddhist Holiday)
Date: Varies every year – 26th May in 2021
One of the most important Buddhist holidays on the Thai calendar. Visakha Bucha marks the full moon day in the sixth lunar month. This is the day when the Buddha, over the span of 70 years, was born, reached enlightenment, and entered nirvana. Visakha Bucha Day is a public holiday in Thailand, and Thai Buddhists visit their local temples to make merit – often by giving a donation.
Find out more about Visakha Bucha Day.
---
Asanha Bucha and Khao Phansa (Buddhist Holiday)
Date: Varies every year – 24th and 25th July in 2021
Asanha Bucha marks the day, over two and a half millennia ago when the Buddha delivered his first sermon. The sermon would later form the basis of the Buddhist doctrine, known as Dharma, and images of deer can be seen in Buddhist temples to this day as a reflection of the fact that the sermon was delivered at a deer park.
Asanha Bucha is a Thai public holiday and is determined based on the lunar calendar, but usually falls in July or August. As with other such ceremonial days, Thai Buddhists often visit their local temples to make a donation or other form of merit.
The day after Asanha Bucha is known as Khao Phansa, the start of the three-month long Buddhist Lent. This marks the period Buddhists believe the Buddha transcended to heaven and spent time with his mother. Buddhist Lent falls during Thailand's monsoon season. It is common for monks to remain at a temple for the duration of the three months.
Find out more about Asanha Bucha and Khao Phansa.
---
Mother's Day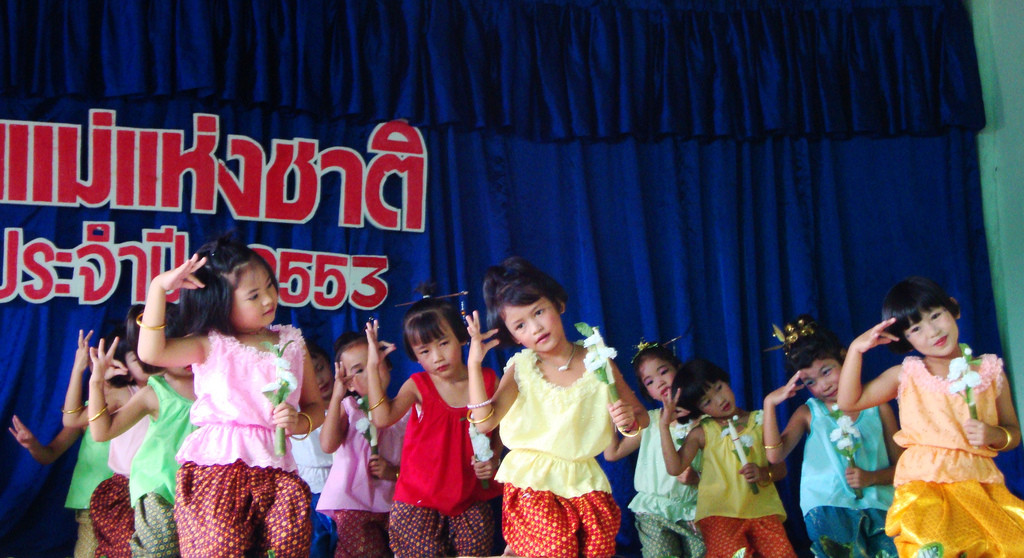 Date: 12th August every year
Like Father's Day, Thailand's Mother's Day is a dual-purpose holiday that serves both as mother's day in the western sense. And also a recall of Thailand's Queen Mother Sirikit as it was her birthday. Also, this considered as the 'Mother of the Nation'.
Mother's Day falls on 12 August each year and is a Thai public holiday. Thais typically visit temples to make merit on the occasion, and you can expect to see the Queen's portrait displayed prominently in many places across Thailand, alongside the Queen's flag, which is blue in colour to represent the day of her birth, a Friday.
Find more about Mother's Day in Thailand.
---
Vegetarian Festival
Date: Varies every year – from 4th to 13th October in 2021
For nine days each year, in the ninth lunar month that typically falls in September or October, many Thais – particularly those of Chinese origin – take part in a Vegetarian Festival known as Tessagan Gin Jay. In years when there is a lunar 'leap month', the festival occurs twice.
Though the festival has Taoist origins, it has slowly been incorporated into Thai Buddhism and is now a big event across Thailand, including Bangkok, Phuket, Nakhon Sawan, Song Khla, Trang, Pang Nga, and Ranong. You will find street stalls and restaurants selling vegan food across the country.
For the nine-day period, those participating consume exclusively vegan food and drink in an effort to cleanse the body and mind. Many devotees also abstain from alcohol, gambling (which is technically illegal in Thailand anyway), swearing and sex.
Phuket is the heart of the festival and people participate with dramatic acts of self-mutilation that vary from walking across hot coals to piercing the cheeks with long knives.
Find out more about the Vegetarian Festival,
---
Chulalongkorn Day
Date: 23rd October every year
The public holiday of Chulalongkorn Day celebrates the life and work of King Chulalongkorn. Known as Rama V, he ruled Thailand for 42 years. The holiday is celebrated on 23 October, the day that he passed away in 1910 at the age of 57.
King Chulalongkorn continues to be revered in Thailand today for his approach to modernisation; his accomplishments include the abolition of slavery, administrative reform of the country the introduction of railways and a postal system, and his commitment to religious freedom. He was the first Thai monarch to visit Europe, and is credited with ensuring Thailand was the only country in the region to escape colonisation.
Find out more about Chulalongkorn Day.
---
Father's Day
Date: 5th December every year
Father's day marks the birthday anniversary of Thailand's late King Bhumibol (a former king of Thailand). Hey was loved by many and consiered a father to the nation. Even though he passed away in 2016, this remains Father's day and is still a public holiday.
In celebrating father's day itself, Thais across the country will use this day as a special day to spend time with family and commonly pay respect to and give gifts to their fathers, which might traditionally include a canna flower, similar to a lily.
Find out more about father's day.
---
Constitution Day
Date: 10th December every year
Dating back to the 1932 revolution, when Siam (a former name of Thailand) changed the regime of absolute monarchy to democracy, King Rama VII, King Prajadhipok signed the country's first permanent constitution on 10th December 1932. To remember, the 10th December every year has been declared as Constitution Day and is also a public holiday. As it is a few days after the Fathers Day, some people take an extended break between the two holidays.
---
Related Articles on Thai Public Holidays & Festivals
You may also be interested in this article on unique Thai festivals
---
Other Articles That May Be of Interest
---
Explore Thailand with Expique
At Expique our mission is to help people discover the real Bangkok (and beyond) and the local cultures. We do this through a combination of offering our own award winning tours and through producing informative content.
Our range of experiences in Bangkok including our award winning Bangkok Night Lights Tuk Tuk Tour and our foodie extravaganza Evening Food & Tuk Tuk Adventure.
Follow us on social media for all the latest news.
---
Subscribe to Our Newsletter
Subscribe to our newsletter to receive monthly news and tips about exploring Bangkok.
---
Share this article:
---
---