Go back to our Bangkok Guide
The Thai calendar is packed with festivals, public holidays and other celebrations – aside from three (yes, three!) different sets of new year festivities, there is always an excuse for a party in Bangkok. Whether you're living in, holidaying in or just passing through the Thai capital, take a look at this calendar of festivals and Thai holidays in Bangkok to see when you can see the city pull out all the stops and have a great time.
New Year's in Bangkok – 31 December/January 1
Thailand might have its own new year, Songkran, which is based on the lunar calendar, but the Thais love a good party and the western new year is as good an excuse as any. Like other major world capitals, Bangkok becomes party central for the night – whether you want to countdown to the new year in a packed, live music fuelled Central World, cruise down the mighty Chao Phraya river in style on a converted barge with an international buffet and free-flow drinks, or sweat it out with the backpacker crowd on Khaosan Road, the City of Angels has the New Year's Eve party for you. Find out more about New Year's Eve celebrations in Bangkok here.
Children's Day – mid January
Children are loved and cherished in Thailand, and play a big part in culture. They get their very own celebration on the second Saturday in January, declared as National Children's Day, or Wan Dek. Children receive gifts from their families and might be treated to a day out – many tourist attractions, along with public transport operators like the BTS and MRT, admit children under a certain height free of charge. The Thai army often opens the doors at its bases around the capital for children to take a look around and climb on a tank or two. Events to mark Children's Day take place in Thai schools the day before, when children receive gifts from their teachers and put on performances. All in all, it is a pleasant occasion for Thai children to be treated with even more affection than they usually enjoy!
Chinese New Year – from 23rd January to 25th January (2021: starts 17th February)
The substantial Chinese population in Thailand means that Bangkok puts on a real celebration for Chinese New Year. Yaowarat, the city's Chinatown district, closes to traffic and becomes a walking street decorated with Chinese red lanterns. Cultural performances include lion dance competitions, dragon dances and firecrackers, and a fantastic selection of food is on offer, including banquets right on the street. Yaowarat's Chinese New Year celebrations are often opened by a member of the Thai royal family, and are a spectacle to behold, lasting three full days.
Makha Bucha Day – 9th February 2020 (26th February 2021)
One of a number of Buddhist holidays on the Thai calendar, Makha Bucha Day takes place on the full moon day of the third lunar month – this usually falls in February or March. Makha Bucha Day is a Thai public holiday, and honours the Buddha and the teachings he gave on this day. The Buddha gave the teaching to 1,250 Sangha followers, all ordained by the Buddha himself, and who came to see him in northern India. On the same day 44 years later, the Buddha decided to transcend to nirvana, and did so three months later on Visakha Bucha Day (see below). To observe Makha Bucha today, Thai Buddhists make merit at the temple – often by making a donation – as well as refraining from alcohol and observing other aspects of the five precepts of Buddhist teachings. Many will also attend a candlelight procession around the local temple's ordination hall. Find out more about Makha Bucha Day here.
Chakri Day – 6 April
Chakri Day commemorates the founding of the dynasty of which Thailand's current royal family is a part. Thailand's current king is the tenth monarch from the Chakri dynasty, and is known as Rama IX. Chakri Day falls on 06 April, and is a public holiday in Thailand – the royal family presides over a religious ceremony which honours previous kings.
Songkran – 13-15th April
Possibly the most well known Thai festival, and celebrated wildly in Bangkok in mid April, this is the Thai new year according to the lunar calendar. Nowadays Songkran is associated with the massive water fights that take place across the entire country, involving young and old and people from all walks of life. Certainly, if you are in Bangkok, you should be prepared to get wet and will struggle to escape the frivolity of the event wherever you go! Water throwing and pouring was traditionally done to bring on the fertile rainy season that agricultural work so depends on. Nowadays, water fights take place across the country for anything from a day up to a full week. It's pointless trying to fight it, so the best policy is just to join in the fun – it really is one of those festivities you just need to experience to know what it's all about! Find out more about Songkran here.
Coronation Day – 4 May
Celebrated on 06 May, Coronation Day marks the day of the current Thai king's formal coronation ceremony in 2019. King Vajiralongkorn came to the throne on 4 May, 2019 at the aged of 65. Coronation Day, known in Thai as Wan Chatramongkol, is a Thai public holiday.
Find out more about Coronation Day here.
Royal Ploughing Ceremony – 11th May
This holiday taken by government officers, which is based on the lunar calendar but usually occurs in May, sees two royal oxen eat rice and hay from a selection of offerings – the oxen's choice of offering to eat from is then analysed by royal astrologers, who make a prediction as to the level of bounty to be had from the year's coming rice harvest. The ceremony, in which rice seed is also scattered, takes place on the ceremonial ground of Sanam Luang in Bangkok, close to the Grand Palace. Since the rice scattered is that grown at the royal palace, it is believed to be auspicious and onlookers can be seen running onto the field to collect the seeds after the ceremony is over, believing it will bring them good luck either when mixed in with their own rice seed or simply retained as a charm. Find out mughore about the Royal Ploughing Ceremony here.
Visakha Bucha Day – 6th May 2020 (8th April 2021)
One of the most important Buddhist holidays on the Thai calendar, Visakha Bucha marks the full moon day in the sixth lunar month when the Buddha, over the span of 70 years, was born, reached enlightenment and entered nirvana, the latter as depicted by many reclining Buddha images, including the famous one at Wat Pho. Visakha Bucha Day is a public holiday in Thailand, and Thai Buddhists visit their local temple to make merit – often by giving a donation. Find out more about Visakha Bucha Day here.
Asanha Bucha and Khao Phansa – 4th July 2020 (24th July 2021)
Asanha Bucha marks the day, over two and a half millennia ago, when the Buddha delivered his first sermon. The sermon would later form the basis of the Buddhist doctrine, known as Dharma, and images of deer can be seen in Buddhist temples to this day as a reflection of the fact that the sermon was delivered at a deer park. Asanha Bucha is a Thai public holiday and is determined based on the lunar calendar, but usually falls in July or August. As with other such ceremonial days, Thai Buddhists often visit their local temple to make a donation or other form of merit.
The day after Asanha Bucha is known as Khao Phansa, the start of the three-month long Buddhist Lent that marks the period Buddhists believe the Buddha transcended to heaven and spent time with his mother. Buddhist Lent falls during Thailand's monsoon season, and it is common for monks to remain at a temple for the duration of the three months rather than travelling around the country as they might step on seedling in rice field. In addition, this is a popular time for Thai men to ordain as a monk, whether for a period of weeks or longer. Like Asanha Bucha and other Buddhist holidays, Thai Buddhists celebrate by visiting their local temple – it is also common to see boat races organized around this time, including in Bangkok and nearby provinces. Find out more about Asanha Bucha and Khao Phansa here.
Find out more about Asanha Bucha and Khao Phansa here.
Mother's Day – 12 August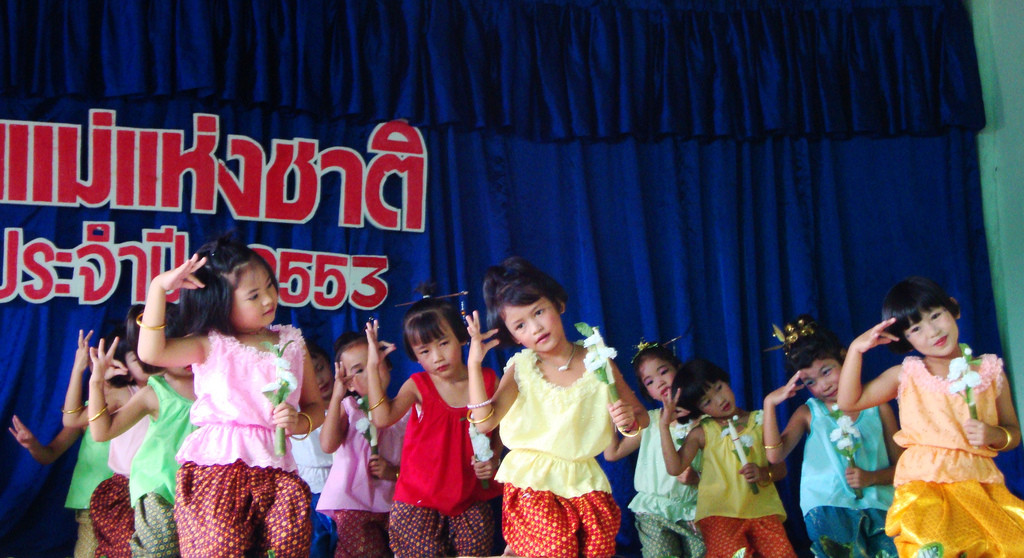 Like Father's Day, Thailand's Mother's Day is a dual-purpose holiday that serves both as mother's day in the western sense, and also a celebration of the birthday of Thailand's Queen Mother Sirikit, considered as the 'Mother of the Nation'. Mother's Day falls on 12 August each year and is a Thai public holiday. Thais typically visit temples to make merit on the occasion, and if you are in Bangkok you can expect to see the Queen's portrait displayed prominently in many places, alongside the Queen's flag, which is blue in colour to represent the day of her birth, a Friday. Ratchadamnoen Avenue, in Bangkok's old town and close to the Khaosan Road backpacker area, is decorated with lights to celebrate the occasion. Ceremonies and parades take place around the country to celebrate mother's day and the Queen's birthday, while a day or two before mother's day it is common for schools to hold special ceremonies that give children the opportunity to pay respect to their mothers, who come into school for the occasion. Families might go out for dinner to celebrate, and many restaurants in Bangkok now offer special mother's day meals, while many tourist attractions and public transport operators offer free entry for mothers. Just as it is common in the west for children to give presents on mother's day, so it is the case in Thailand, where gifts commonly include jasmine garlands, food, jewelry or other small items.
Vegetarian Festival – From 17th to 25th October 2020
For nine days each year, in the ninth lunar month that typically falls in September or October, many Thais – particularly those of Chinese origin – take part in a Vegetarian Festival known as Tessagan Gin Jay. In years when there is a lunar 'leap month', the festival occurs twice. Though the festival has Taoist origins, it has slowly been incorporated into Thai Buddhism and is now a big event across Thailand, including Bangkok. For the nine-day period, those participating consume exclusively vegan food and drink in an effort to cleanse the body and mind. Many devotees also abstain from alcohol, gambling (which is technically illegal in Thailand anyway), swearing and sex.
The most obvious impact of the Vegetarian Festival in Bangkok is on the street food scene; though meat lovers will still find non-vegan dishes aplenty, a great number of street stalls go vegan for the festival, and this is denoted by them displaying yellow flags with red writing. At these stalls, you will often find variations of their usual dishes but instead made with meat substitutes – not to everyone's taste, but certainly something a bit different from usual. Whole new stalls also pop up, dedicated to touting vegan-friendly snacks like sweetcorn fritters and deep-fried bananas. These kind of foods being rolled out can be something of a surprise to westerners expecting that a vegetarian festival might be a healthy occasion, with the emphasis on salads and fruit juices rather than fried foods.
Those participating also wear white and yellow clothing throughout the festival, while Chinese temples come alive with an upbeat atmosphere of chanting and music; in Bangkok the climax is a street procession in the Chinatown district of Yaowarat, while in Phuket things get even more dramatic with acts of self-mutilation that vary from walking across hot coals to piercing the cheeks with long knives. Find out more about the Vegetarian Festival here, and don't miss our run-down of some of Bangkok's best vegetarian and vegan restaurants.
Chulalongkorn Day – 23 October
The public holiday of Chulalongkorn Day celebrates the life and work of King Chulalongkorn, also known as Rama V, who ruled Thailand for 42 years. The holiday is celebrated on 23 October, the day that he passed away in 1910 at the age of 57. King Chulalongkorn continues to be revered in Thailand today for his approach to modernisation; his accomplishments include the abolition of slavery, administrative reform of the country the introduction of railways and a postal system, and his commitment to religious freedom. He was the first Thai monarch to visit Europe, and is credited with ensuring Thailand was the only country in the region to escape colonisation. King Chulalongkorn appears on the modern-day 100 baht note, and also appeared in the Hollywood film The King and I; on Chulalongkorn Day, Bangkokians celebrate his life at the statue of him on horseback outside the Ananta Samakhom throne hall in Dusit district. Garlands are hung on the statue and Thai national and royal flags are flown beside it. Find out more about Chulalongkorn Day here.
Loy Krathong – 1st November 2020 (19th November 2021)
Thailand's most romantic festival of all takes place under the full moon of the twelfth lunar month, and usually falls in November. Loy Krathong is about giving thanks to the river spirits, for the plentiful water supply during the recent rainy season in particular, and equally it is about floating away the bad events and habits of the past year and looking forward to a more positive year to come. For these two reasons, Thais float a small coconut, bread or polystyrene based craft known as a krathong on whichever waterway they can find their way to – rivers, lakes, the sea, ponds, even swimming pools and bathtubs make the cut – and often include a few small coins for the river spirits and some nail clippings or snips of hair as a symbol of the parts of themselves that they are hoping to be rid of. The northern Thai capital of Chiang Mai is a popular place to celebrate Loy Krathong and its sister festival Yee Peng, which involves launching fire lanterns into the night sky – a beautiful display of such lanterns, though technically unrelated to either Loy Krathong or Yee Peng, takes place at Chiang Mai's Mae Jo University. In Bangkok, expect river piers and parks to be packed as families and couples head out to float their krathong; many hotels also lay on special packages that include a buffet dinner, a krathong making class and the chance to float your masterpiece either on the river or on the hotel swimming pool. Find out more about Loy Krathong here.
Father's Day – 5 December
Father's day is an important celebration in the Thai calendar, since it also – and perhaps more noticeably – marks the birthday anniversary of Thailand's King Bhumibol. The public holiday falls on 05 December, and is marked by royal, government and military ceremonies at Sanam Luang near Bangkok's Grand Palace. The annual Trooping of the Colour parade also sees soldiers from the armed forces' King's Guardian battalion march along Ratchadamnoen Avenue, close to Khao San Road, to the statue of King Chulalongkorn outside the Ananta Samakhom throne hall in Dusit district. There, the soldiers pay respect and pledge allegiance to the king. The king often makes a popular public appearance around the time of his birthday, and parts of the Grand Palace are opened free of charge on the evenings of the week of father's day. In celebrating father's day itself, Thais across the country will commonly pay respect to and give gifts to their fathers, which might traditionally include a canna flower, similar to a lily. Find out more about father's day here.
New Year's Eve photo by Prachanart Viriyaraks; Children's Day photo by Peter Halling Hilborg; Chinese New Year photo by Aleksandr Zykov; Makha Bucha photo by UrbanUrban_ru; Chakri Day photo by IAEA Imagebank; Songkran photo by Wyndham Hollis; Coronation Day photo by Eric Molina; Asanha Bucha/Khao Phansa photo by Diriye Amey; Mother's Day photo by Cait Stewart; Vegetarian Festival photo by Murky1; Chulalongkorn Day photo by Paul Trafford; Loy Krathong photo by Chris Wotton; Father's Day photo by That Hartford Guy.
---
Explore Bangkok with Expique
At Expique our mission is to help people discover the real Bangkok and the local cultures. We do this through a range of experiences including Food Tours, Walking Tours, Tuk Tuk Tours, Cooking Classes, and Market Experiences
Our Bestsellers
• Check out our Award Winning ★ Bangkok Night Lights Tuk Tuk Tour ★
• If you love food as much as us you will love our Evening Food and Tuk tuk Adventure
• If you wanna learn to cook check out our Thai Cooking with a Twist Class
• If you feel adventurous take an eScooter Scoot Bangkok's Backstreet
• Don't forget our famous Bangkok By Day: Temples, Markets, Snacks & Local Transport
---
Get Access to our interactive Bangkok map
Subscribe to our newsletter, and get access to our Interactive Bangkok Map where you can find our "best spots to visit in Bangkok" and also receive monthly news and tips about exploring Bangkok.
---
Share this article:
---
---