Just as the Thai king's birthday is celebrated as father's day on 05 December since he is thought of as the father of the nation, so his wife Queen Sirikit is considered the mother of the nation and so her birthday on 12 August is celebrated as national mother's day. Queen Sirikit was born on 12 August 1932.
The day is a public holiday, with schools, businesses, government offices and most banks closed – though many retail stores and restaurants will remain open as usual. To mark the occasion, many Thai Buddhists will make merit at their local temple, and there will be high-profile events at famous temples in Bangkok's historic old town, centred around Ratchadamnoen Avenue near Khaosan Road. In addition, in 2015 thousands of people took part in a 40km+ bike race through the streets of Bangkok, under the banner Bike4Mom.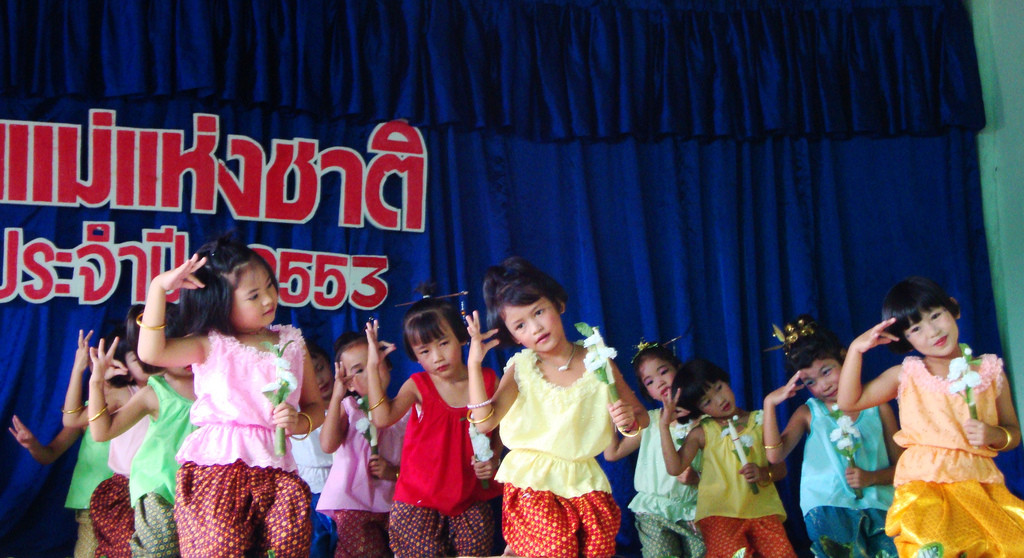 Portraits of the queen, as well as her royal blue flag, are in prominence across Thailand at this time of year, and annually the area around Ratchadamnoen Avenue is lit up to striking effect. Meanwhile, crowds frequently descend on the nearby royal Sanam Luang recreation ground to partake in a candlelit procession.
In addition to the royal element of the holiday, Thais up and down the country will honour and pay tribute to their mothers, by presenting gifts – like jasmine garlands, food and jewellery – and spending the holiday with their mum and other loved ones. Most schools also hold special ceremonies a few days before mother's day, for children to pay respect to their mums. In all, it is a time for families to be together, and many restaurants offer promotions to coax families in whereby mums dine free of charge; the MRT often also allows mothers to travel free for the day.
How will you celebrate mother's day in Bangkok? Let us know in the comments!
Photos by Nick Hubbard Cait Stewart; IAEA Imagebank.
---
Other Articles That May Be of Interest
---
Explore Thailand with Expique
At Expique our mission is to help people discover the real Bangkok (and beyond) and the local cultures. We do this through a combination of offering our own award winning tours and through producing informative content.
Our range of experiences in Bangkok including our award winning Bangkok Night Lights Tuk Tuk Tour and our foodie extravaganza Evening Food & Tuk Tuk Adventure.
Follow us on social media for all the latest news.
---
Subscribe to Our Newsletter
Subscribe to our newsletter to receive monthly news and tips about exploring Bangkok.
---
Share this article:
---
---