With so many things to do in Bangkok, the question is how to achieve it all if you only have a limited amount of time. We decided to have a bit of fun and put together the ultimate (but highly unrealistic) plan for what to do in Bangkok in 24 hours. Mind you, if you get caught in traffic you may find yourself behind schedule.
Of course, you may find it better to split up this list and do it over a few days!
Note regarding COVID-19: While we do try to keep our content up to date, please be aware that due to the impact of COVID-19, restrictions may impact our recommendations, and businesses may temporarily or permanently close. Please double check.
---
6am: Morning Exercise in Lumpini Park (Watching or participating)
Nothing says local life more than people watching, and the best place to do it is in a park. The older generation are early risers and for many the morning routine includes joining a pop-up aerobics or Tai Chi class in the park. Feel free to join in.
Read this article for more details about Bangkok's best parks.
From Lumpini park jump on a motorbike taxi to get to Bangrak (approx. 60THB)
7am: Breakfast in Bangrak
Bangrak is an area we love and the perfect way to start your day of eating. In fact, it is an area visited by many food tours including our own breakfast tour! There are many old school family restaurants here that have been around for over 50 years, and also the morning Bangrak fresh market. At this time of day you are likely to see monks wondering around and people giving alms.
For some ideas on what may be the perfect Thai breakfast, we suggestion you check out this article on a typical Thai breakfast.
8am: Check out street art around The Creative District
Bangkok has an emerging street art scene, one of the best places to explore it is in the upcoming area known as The Creative District. Lots of street art pieces emerged following the Bukruk festival in 2016. This area has become quite trendy in recent years, galleries have opened and the Thailand Creative Design Centre moved here.
For more information on exploring Bangrak check out our favourite Bangkok neighbourhoods.
To get to your next stop jump on the Chao Phraya River ferry at Sri Phraya and get of at Tha Tian to visit Wat Pho – take the orange flag local boat (15THB).
9am: Visit Wat Pho
Wat Pho is one of Bangkok's most famous temples, known for The Reclining Buddha and also as the home of Thai massage. If you get here early, not only do you get to experience it before the crowds, but you can listen to the morning chanting of the monks (at approx. 9am)
Next is a short walk to The Grand Palace
10am: Visit The Grand Palace (very quickly)
Unquestionably the most important place of interest in Bangkok and the most popular tourist attraction, and for good reason. For Thai's it is usually referred to as The Temple of The Emerald Buddha (Wat Phra Kaew), possibly the most important temple in Thailand, which occupies part of the complex. The other part of the complex is The Grand Palace which used to be where the royal family lived.
Sadly, in this itinerary we don't have much time to fully explore it, in reality you need at least 2 hours. You can find out more about visiting The Grand Palace.
Next it is back to catch the boat from Tha Tien to the other side of the river (5THB)
11am: Visit Wat Arun
Conclude the morning with a visit to Wat Arun (The Temple of Dawn) and you have already ticked off the top 3 tourist attractions (and temples) in Bangkok.
Time for lunch – get a taxi to Wang Lang (approx. 40THB)
12 noon: Lunch in Wang Lang Market
Wang Lang is one of our favorite areas for local street food. You will find food either on the street or in the market area. It is located next to Siriraj Hospital and next to a busy commuter pier, so caters for a constant flow of hungry locals. Just wonder around and eat what takes your fancy!
1pm: Take a Long Tail Canal Boat
Bangkok used to have the nickname "The Venice of The East" due to the vast network of canal. It used to be prestigious to live next to a canal! With the introduction of roads this slowly changed but it is still great to explore life along the canals and in one of Bangkok's famous long-tail boats.
If you pre-arrange you could jump on a private long-tail boat at Wang Lang pier, but if not just get the cross river ferry to Tha Maharaj where you can organize one.
2pm: Watch a puppet show at Baan Silapin
Along the Bang Luang Canal there is a lovely community that is also home to a place known as The Artists House (Baan Silapin). In recent years (and especially during COVID times) the schedule has been known to change but on weekends (and previously during the week), they have a traditional Thai puppet show at 2pm.
After the show get back on your boat and return to the banks of the Chao Phraya River.
3pm: Afternoon Tea at The Mandarin Oriental
Whist Afternoon tea may not be a typically Thai thing to do, The Mandarin Oriental Hotel was the first hotel in Bangkok and is definitely it's most famous and most luxurious one. So why not take a break here for an hour.
From here catch the No. 1 Bus back to Rattanakosin area
4pm: Visit Museum Siam
Bangkok has several great museums, but the Decoding Thainess exhibit at Museum Siam is a great way to get insight into Thai Culture, mindset and way of life. You can also dress up and take a photo wearing traditional Thai outfits.
After your visit walk to Khao San Road. Whilst it is 20 minutes at a fast pace it is an opportunity to walk past many of the most famous sites in Rattanakosin area including, Wat Pho, Grand Palace, Sanam Luang, City Pillar Shrine, Giant Swing, Democracy onument and Ratchadamnoen Avenue. At the end you will be ready for a foot massage.
You can find out more about Museums in Bangkok.
5pm: Foot Massage in Kao San Raod
While you could easily head back to Wat Pho for a Thai massage from massage students in training, it would be much more of an experience to head to Khao San Road. While this may not be the place to find the best massage in town, it is the best place to combine a foot massage, with drinking a cocktail and people watching (even if it is backpackers you are watching it may remind you of your early years of travelling!)
Note: This is based on before COVID-19. At this moment many businesses in Khao San Road have closed down and it is very quiet. It is to be seen whether it will return as the backpacker paradise of recent years, or the lovely quiet neighborhood of 40 years ago, or re-invent itself completely.
From here get a tuk tuk to Wat Saket, but be warned in this area the drivers will try and overcharge you! Try bargaining and see if you can get it for 50-70THB!
6pm: Watch the Sunset at Wat Saket (The Golden Mount)
This is one of our favourite temples in Bangkok as not only is it beautiful, it also has a great view. Sunset is the perfect time to visit. Warning – you need to climb 344 steps!
If you are hungry when you get down, just around the corner are Jay Fai (Bangkok's only Michelin starred street food – there may be a long queue) or Thip Samai (Bangkok's most famous Pad Thai).
However, for the purpose of this plan we will leave eating till later. Instead flag down a taxi and head to Ratchadanoen boxing stadium.
7pm: Watch a Muay Thai fight
Racthadamnoen Stadium is the main inner city Muay Thai stadium. It hosts fights on Sundays, Mondays, Wednesdays and Thursdays typically from 6-6.30pm onwards and ends around 10pm. The bigger fights are later in the evening, but we are on a tight schedule!
8pm: Dinner in Chinatown
You can get great street food everywhere in Bangkok, but no doubt one of the most famous streets is Chinatown. Here, vendors set up to sell along Yaowarat Road from 6pm. You are in Chinatown, so a safe bet would be to try some of the legendary noodle dishes (Thai adapted versions), although there are a lot of great Chinese dessert options too!
9pm: Go drinking in the trendy Soi Nana
Just on the edge of Chinatown is a street called Soi Nana. Not to be mistaken for the Soi Nana in Sukhumvit that is a famous red light district (a topic that we have purposely avoided in this list as there is so much else to do). This Soi Nana has become a hipster bar scene in the last 10 years.
We would recommend Tep Bar as it is considered a Thai Cultural Bar. Here you can listen to traditional music whilst sampling some very high-end Yadong – a Thai spirt usually sold cheaply (and illegally) on the street.
Here you can find out more about Soi Nana
10pm: Visit a night market
Bangkok is famous for Night Markets and the night market scene is constantly changing. COVID-19 has had a big impact with many closing (either temporarily or permanently) and others adapting to survive.
For the purpose of this plan we will suggest Ratchada Train Market as it is open late and usually has a lot going on. Under normal circumstances there is a good mix of eating, drinking and shopping.
However, here you can find details of the best night markets in Bangkok.
11pm: Enjoy a drink at a rooftop bar
Bangkok is famous for its after dark scene and while you can find bars of all genres, a rooftop bar is the most civilized way to go. Just like new hotels and new skyscrapers are popping up all the time, so are new rooftop bars.
The 2 most famous are probably Sirocco at Lebua State Tower and Moon Bar at The Banyan Tree Hotel. Great views, expensive drinks, may be busy!
Here you can find details of the best rooftop bars in Bangkok 
Midnight: Tom Yum Noodles at Jay Oh
Time for a midnight feast and for this we have selected Jay Oh which is famous for their huge Tom Yum Mama Noodles. Mama are Thailand's most famous instant style noodles so like tom yum is something you should try.
Don't worry it is not simply instant noodles. It is their own legendary seafood tom yum soup with noodles in it! This is a dish they only sell after 11pm so makes the perfect midnight feast!
1am: Dessert time
For something different try Cheng Simei. These are iced dishes with a choice of toppings. Some options originate from Chinese desserts but there are also a lot of Thai flavors and toppings.
There are many branches but the branch on Rama 4 (near Hua Lamphong station) is open to 3am.
2am: Search for one more drink
We have reached the time when most bars are shut, but if you look hard enough, we are sure you can find somewhere. However, for now these are secrets we will keep to ourselves.
3am: Visit Khlong Toei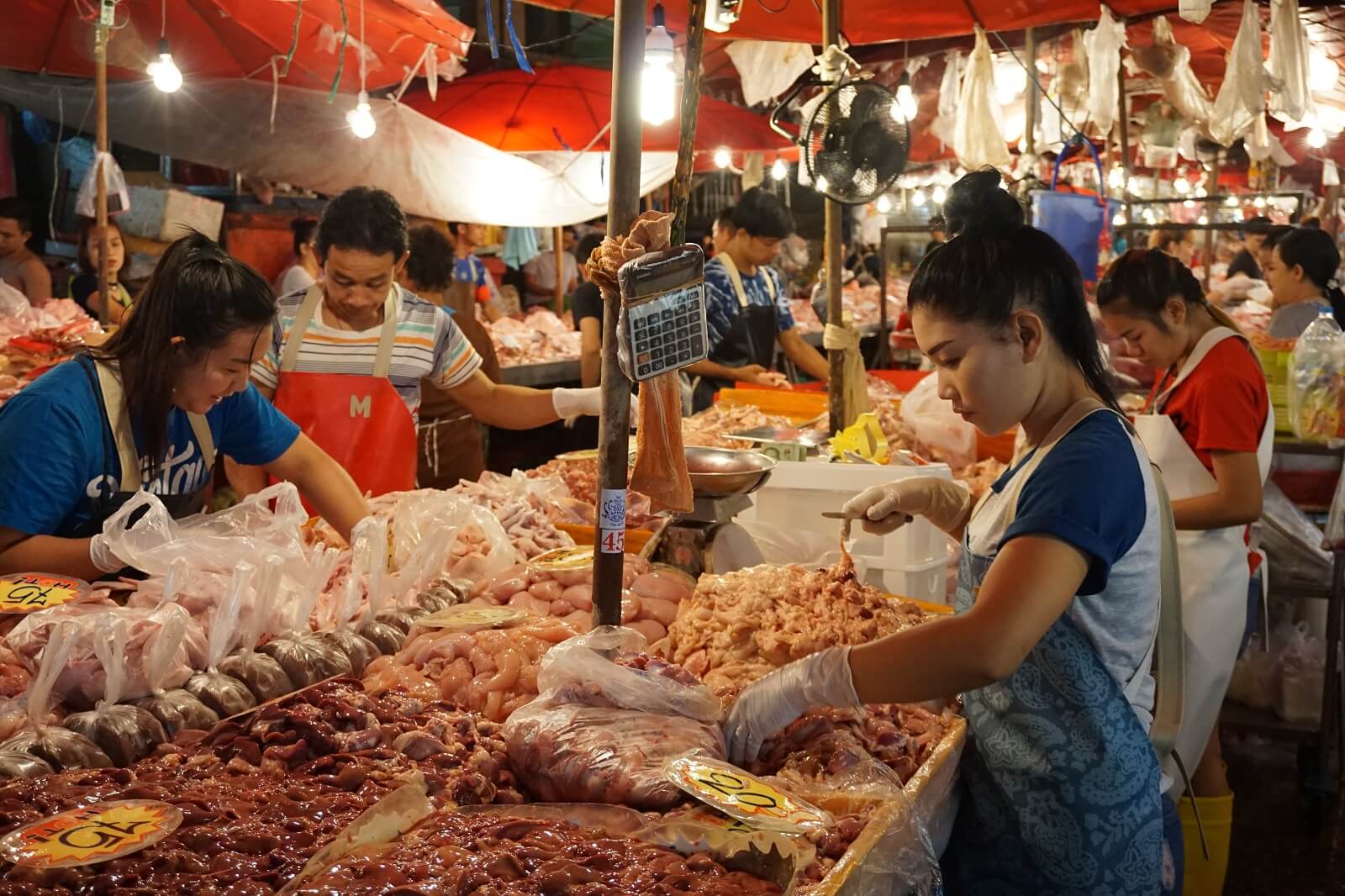 In the middle of the night when most people sleep, many of Bangkok's wholesale and fresh markets are at their busiest. People from around the province come to buy items to sell, cook and use for the day ahead.
Khlong Toei is one of the biggest fresh markets in Bangkok and a place where many of Bangkok's restaurants source ingredients. Visiting in the middle of the night is a fascinating time to explore.
You can find out more about late night markets
There is one more market to visit before your day is done. Jump in a taxi and head to Pak Khlong Talad Flower Market.
4am: Visit The Flower Market
You are unlikely to find any tourists here at this time, but it is a very busy time. At this time people come from all over Bangkok to buy flowers for the day ahead. Most flowers here are used for offerings and religious traditions. However people are also shop to decorate hotels, restaurants or sell elsewhere. A real insight into local life.
You can find out more about The Flower Market here.
5am: Take the first MRT or Skytrain back to your hotel (or airport)
It's been a busy 24 hours and while most people are just about to get up, it's time to get some rest. The public transport starts at about 5am, so head somewhere to sleep! Alternatively head to airport, but we believe Bangkok deserves at least one more day!
---
Was that a busy day in Bangkok?
There are so many things we were unable to fit in as they would have taken too long. If you want a bit more of a relaxed day, perhaps include dinner at one of Bangkok's gourmet restaurants or a dinner cruise.
We have not even had a chance to recommend key attractions such as floating markets, Chatuchak Weekend Market, and trips out of Bangkok. For more ideas Check out our ultimate list of Things To Do in Bangkok.
---
Other Articles That May Be of Interest
---
Explore Thailand with Expique
At Expique our mission is to help people discover the real Bangkok (and beyond) and the local cultures. We do this through a combination of offering our own award winning tours and through producing informative content.
Our range of experiences in Bangkok including our award winning Bangkok Night Lights Tuk Tuk Tour and our foodie extravaganza Evening Food & Tuk Tuk Adventure.
Follow us on social media for all the latest news.
---
Subscribe to Our Newsletter
Subscribe to our newsletter to receive monthly news and tips about exploring Bangkok.
---
Share this article:
---
---