In Bangkok's Chinatown, there's an edgy, arty street of bars, galleries and cafés that you need to see. This is Soi Nana – no, not that other one over in the heart of the red light district on Sukhumvit Road, but a different and altogether better destination. While it might not be the newly emerged hidden gem that it was just a couple of years back, it still boasts arguably the most happening nightlife scene in all of Bangkok, and it remains hot on the lips of those most in the know.
Alternatively: Make the most of your time in Bangkok with a nighttime tour – get to the heart of Bangkok's culture, food and sightseeing with one of our expert-led evening tuk tuk tours! And if you have energy at the end – Soi Nana is the pace to go!
Here's what to know about Soi Nana in Bangkok's Chinatown, and what to see and do there when you visit.
The story of Soi Nana
Since breaking into the limelight a little over three years ago, Soi Nana – set between Chinatown and Hualamphong railway station, and just off the main thoroughfare of Rama 4 Road – has become the nightlife spot to be and be seen in Bangkok. Predominantly a hub of specialist bars, including Thailand's first gin bar, it also hosts coffee shops, low-key art galleries, and a few spots to rest your head if you end up staying here a few hours longer than expected. There's a buzzy, independent vibe, and predictably it's popular with Bangkok's hipster set – keep an eye out for the few fairs that take place here throughout the year, as they make for a brilliant time to visit and soak it all up.
Bars on Soi Nana
Drinking is the order of the day on Soi Nana. It's the edgy bars that propelled this quiet Chinatown alley into the limelight, and it's still at its liveliest of an evening. Here's where to drink on Soi Nana, from the bars at the cutting edge of Bangkok's gin scene, to a bar putting on a contemporary take on traditional Thai musical performances, and not forgetting the kind of dive bars that Bangkok does best and which are sometimes the perfect antidote to the rest of what's on offer. Note that Soi Nana's bars tend to open later than those elsewhere in Bangkok – come by at 5pm, or even 6pm, and you might well find the scene seemingly still fairly dead.
Teens of Thailand
Teens of Thailand is pretty much where it all started for Soi Nana – or, at the very least, where it all started getting serious. Bangkok's first specialist gin bar, and indisputably still its most famous, Teens of Thailand hides behind an imposing Indian-style door – such that it can easily look closer from the outside – and serves serious gin-based cocktails that extend well beyond just a G&T (although they make much more of a fine art than most out of that staple, too). Some will tell you Teens of Thailand is speakeasy in style, but the owners will tell you otherwise – that's why the bar's name is pretty easy to spot from the street, and why you only need to follow their social media accounts to see the Teens of Thailand stickers that they've plastered like true travelling vandals in spots all over the world.
Daily, 7pm-midnight (until 1am on Fridays and Saturdays); 76 Soi Nana; 096-846-0506; www.facebook.com/teensofthailand
Tep
One of the original bars that kickstarted Soi Nana's popularity with Bangkok's hipster masses, Tep is tucked down a side alley and is a cultural education in itself. This is a loud bar – the focus here is on Thai music performances put on by local university students (often with their professors in the audience) using traditional local instruments that are seen far less frequently these days. It's a thrilling experience, complemented by the gorgeously and deliberately rustically-designed interiors of the bar, and of course a great range of stiff cocktails and tapas-style bites. Tep has also been at the forefront of attempting to bring notoriously strong and supposedly medicinally beneficial local lao ya dong infused rice whiskey to a trendier scene – you can order a set of different shots here and sample it for yourself.
Daily, 5pm-midnight (until 1am on Fridays and Saturdays); 69-71 Soi Nana; 098-467-2944; www.facebook.com/tepbarbkk
Bar 23
Something of an antidote to the rest of the bars on Soi Nana – all of which have something fabulously unique to offer, but most of which are at the pricier end of the spectrum – is Bar 23. This no-frills, bursting-with-energy dive bar emigrated from its former home on Sukhumvit Soi 16 in the Asok neighbourhood, and each night it now spins retro tunes and pours basic but dirt-cheap spirit-and-mixer combos, along with a couple of bottled beers. The rather ramshackle upper floor acts as a makeshift gallery that hosts exhibitions from local artists.
Tuesday to Sunday, 8pm-1am; 92 Soi Nana; 080-264-4471; www.bit.ly/bar23bkk
Asia Today
The newest contribution to Bangkok's nightlife scene from big name and Teens of Thailand founder Niks Anuman, Asia Today begin with viral fame when it opened to claims that 'this bar is better than Teens of Thailand'. It's tucked down a Soi Nana side alley that begins just opposite TOT itself and, once inside, you'll spot the infamous shark figure hanging from the ceiling. But the real name of the game here is low-footprint indigenous Thai ingredients, including the likes of local honey and herbs that Niks and his gang forage themselves on jaunts up north.
Tuesday to Sunday, 7pm-12am (until 1.15am on Fridays and Saturdays); 35 Soi Nana; 097-134-4704; www.facebook.com/asiatodaybar
El Chiringuito
This casual Spanish-themed joint, tucked down towards one end of Soi Nana and so slightly removed from the rest of the action, is a great spot for a chilled-out evening in atmospheric surrounds. The double-fronted shophouse has been stripped back and decked out in effortless style, and the expensive house sangria is a winner (there are also bottled beers, alongside other drinks, if that's more your thing). El Chiringuito also puts on a spread of small Mediterranean tapas-style dishes, and there are even two gorgeous vintage-design Airbnb units up above if you decide you want to stay the night.
Thursday to Sunday, 6pm-midnight; 221 Soi Nana; 085-126-0046; www.facebook.com/elchiringuitobangkok
Ba Hao
One of Soi Nana's more recent arrivals, Ba Hao – translating as 'number eight', a nod to the address here – is a Chinese-themed setup that serves up a number of themed cocktails and craft beers, along with a range of Chinese-inspired dishes. But Ba Hao is more than that: the upper floors give way to a communal living room space and two utterly beautiful Airbnb units that both have stunning rooftop views over Soi Nana and beyond.
Tuesday to Sunday, 6pm-midnight (until 1am on Fridays and Saturdays); 064-635-1989; www.ba-hao.com
Pijiu
Another new arrival, Pijiu is a narrow, bare-bones, corner-unit shophouse – gorgeous nonetheless – that specializes in a mix of craft beers that come in the form of both rotating draught taps and a wide selection of bottles.
Tuesday to Sunday, 6pm-midnight; 16 Soi Nana; 081-839-2832; www.facebook.com/pijiubar
103 Bed & Brews
The last of four of the new openings on Soi Nana – each of them now actually already well-established – 103 Bed & Brews, set right at one end of the street, and on the corner of Rama 4 main road, is at once a coffee shop, bar, and hotel. Downstairs, the partly open frontage is a great spot to pass the time while sipping artisanal coffee, including the on-trend nitro cold brew – and, when you're ready, you can move on to an extensive range of Thai craft beers, which sit alongside token rum and whisky. From the outside, too, the building as a whole is stunning, and the upper floors play host to some suitably retro-style rooms that make particularly inventive use of often limited space.
Daily, 9am-10pm; 103 Rama 4 Road; 02-102-8856; www.103bkk.com
Wallflowers Upstairs
The Wallflowers building – actually occupying, as far as we can tell, two adjacent shophouses – is a confusing and somewhat mysterious setup, to say the least. It combines both the Oneday wallflowers boutique florist and the NANA Coffee Roasters coffee shop, but upstairs it also transforms of an evening into Wallflowers Upstairs, a gorgeous rooftop bar that might just be among the most in-demand and packed-out Soi Nana venues we've come across.
Daily, 6pm-1am; 31-33 Soi Nana; 094-661-7997; www.bit.ly/wallflowersupstairs
What else to do on Soi Nana
Drinking is the main activity on Soi Nana and, as yet, the foodie scene hasn't really caught up as much as we might like. A few of the popular bars listed above put on various light bites, and there are still one or two shophouse restaurants along the street that pre-date it being catapulted to Bangkok nightlife fame – we're particular fans of the rad na gravy-style noodles just opposite and along from Teens of Thailand. Of course, you're also only a short walk from Chinatown proper, which means great footpath feasting in itself.
Coffee shops on Soi Nana – one or two also doubling up as bars and hotels, as described above – include NANA Coffee Roasters, 103 Bed & Brews, and Nahim Café x Handicraft, the latter of which won't win any coffee industry awards but does serve up some nice desserts and sells cute stationery and knick-knacks that make good gifts.
Soi Nana is also home to a burgeoning art scene, which – alongside its hipster bars – has been a core part of its identity since things started to get going here just a couple of years back. Perhaps the most well-known is Cho Why, set in a stunning corner shophouse and with several stories of gallery space including a fabulous rooftop – just note that it usually only opens when it has an exhibition or other special event going on.
Less well known is BA:NANA:PRESS, a tucked-away, independent artist-run space that has an attractive rooftop and also sometimes hosts events. Patani Studio, meanwhile, is an analogue-focussed photo development lab rather than an art gallery as such, but it's no less a part of Soi Nana's art vibe.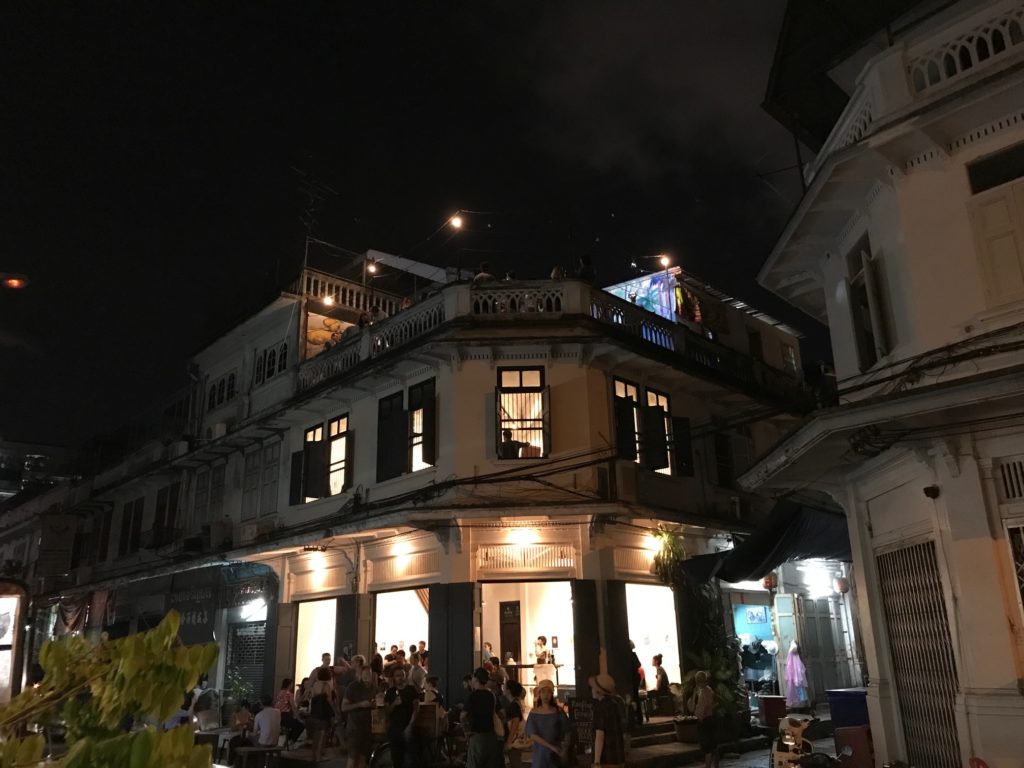 Finally, keep an eye out for the numerous events and fairs that take place on Soi Nana throughout the year – these include the Soi NaNa Jumble Trail, the Chinanatown Fair, and the more recently incorporated Bangkok Gin Festival.
Where to stay on Soi Nana
There are more places to stay on Soi Nana than you might initially suspect, given that a number of Airbnb options are hidden away above the street-level bars and cafés. Nearby Chinatown has further choices still.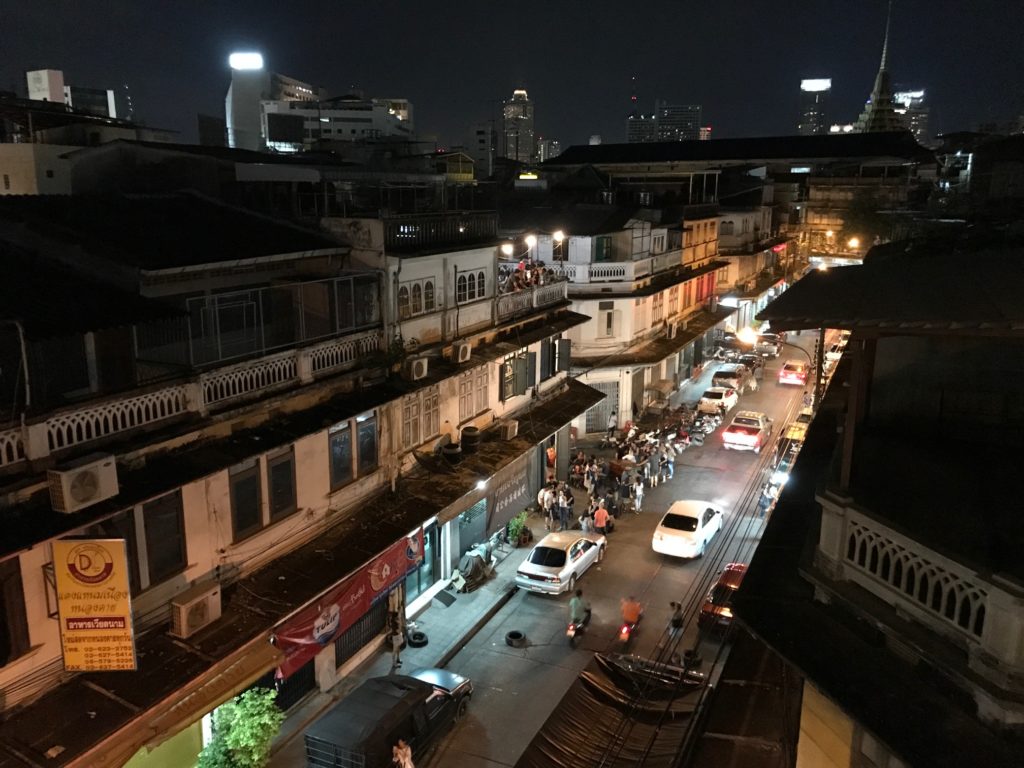 How to get to Soi Nana
Unless you're coming by taxi, the easiest way to reach Soi Nana is to make the 10-minute walk from the MRT subway at Hualamphong station. You could also take a taxi, motorbike taxi or tuk tuk from there, but Soi Nana still remains relatively unknown in the grand scheme of things and so – just as with taking a taxi the whole way – there's a high chance that your driver will at least initially get a tad confused and think you want to go to the other Soi Nana on Sukhumvit Road.
All photos by Chris Wotton.
---
Other Articles That May Be of Interest
---
Explore Thailand with Expique
At Expique our mission is to help people discover the real Bangkok (and beyond) and the local cultures. We do this through a combination of offering our own award winning tours and through producing informative content.
Our range of experiences in Bangkok including our award winning Bangkok Night Lights Tuk Tuk Tour and our foodie extravaganza Evening Food & Tuk Tuk Adventure.
Follow us on social media for all the latest news.
---
Subscribe to Our Newsletter
Subscribe to our newsletter to receive monthly news and tips about exploring Bangkok.
---
Share this article:
---
---