The capital of Phuket province, Phuket Town is a hodgepodge of history and culture. The neighborhood is full of things to see and do, whether you are looking for tourist attractions or local experiences. Phuket Town truly has something for everyone, and it suits all budgets.
We've highlighted our favorite things to do when visiting Phuket Town, so head away from the beach and start exploring!
Note regarding COVID-19: While we do try to keep our content up to date, please be aware that due to the impact of COVID-19, restrictions may impact our recommendations, and businesses may temporarily or permanently close. Please double check.
Discover Phuket's Unique History
Originally founded by Indian merchants in the first century BC, Phuket was not always the tourist magnet that it is today. In the old days, the island was a trading seaport until the 19th century when Chinese laborers arrived to find their fortune in the tin mining industry. Today, Phuket remains an eclectic mix of Indian, Malay, Chinese and Thai cultures. The history of Phuket is unique and interesting. For those looking to learn more about the island's past, we highly recommend visiting these historical Phuket Town spots.
Thai Hua Museum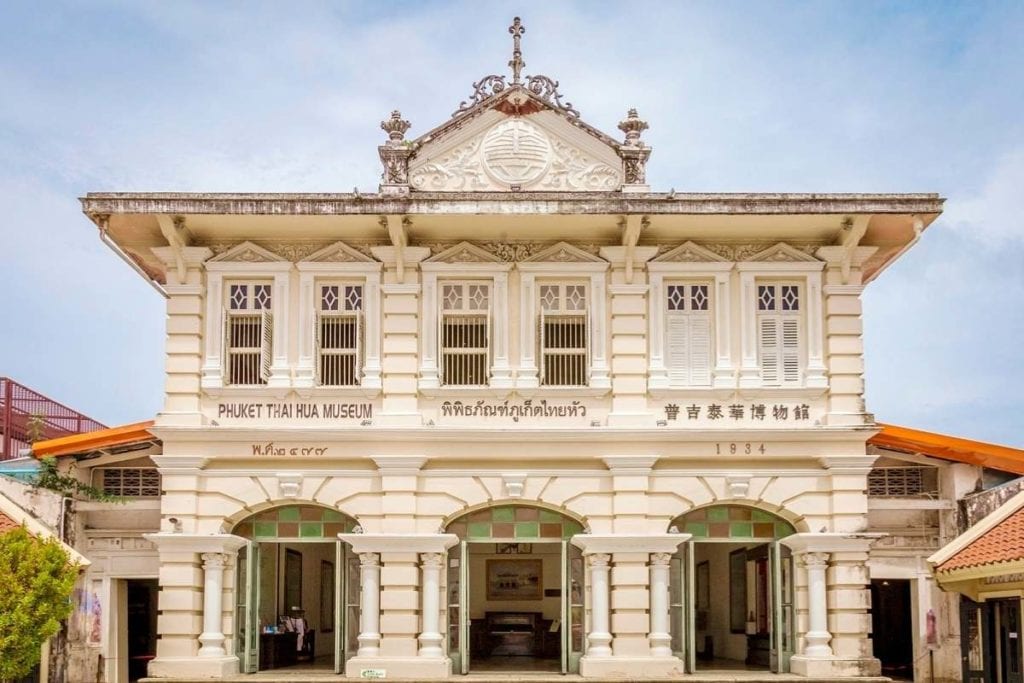 Built in the 20th century during the height of the tin mining boom, Thai Hua Museum is a beautifully restored Sino-Portuguese mansion. The museum originally functioned as a Chinese language school, but underwent an extensive renovation in 2008. These days, Thai Hua Museum is often used for art exhibitions and a community hall for Phuket's special events.
The rooms in the two-storey building have been turned into exhibition halls and showcase displays and information about the history of the island and the Chinese immigrants who came to the island during the tin mining period. Thai Hua Museum is well worth visiting to understand the foundations that were laid to develop Phuket into the tourist island it is today.
Location: 28 Krabi Road, Talad Nuea, Phuket Town, Phuket 83000
Website: Thai Hua Museum
Baan Chinpracha
Baan Chinpracha is one of the original colonial mansions in Phuket. Located on the outskirts of old town, Baan Chinpracha was built in 1903. The mansion served as the home of a wealthy Chinese immigrant who came to Phuket to stake his claim in the tin mining industry. Now owned by third generation members of the Chinese man's family, Baan Chinpracha is open to the public and offers a peak into how the wealthy once lived in Phuket.
It is possible to visit the entire ground floor area, the kitchen and two upstairs bedrooms of Baan Chinpracha. The house is in near perfect condition, and original family photos, antiques and artifacts have been maintained over the years.
Location: 98 Krabi Rd, Talat Nuea, Muang, Phuket 83000
Facebook Page: Baan Chinpracha
Phuket Philatelic Museum
Housed in a former post office, the Phuket Philatelic Museum is located in an 81-year old vintage building that is absolutely striking to look at. Inside, the museum is divided into a number of sections which highlight how the Thai Postal Service was developed.
Other areas of interest inside Phuket Philatelic Museum include a variety of old, antique machines and a large collection of vintage stamps. An added bonus is that the information inside the Phuket Philatelic Museum is in both Thai and English.
Location: Montri Rd, Talat Yai, Muang, Phuket 83000
Saphan Hin
The only beach located in Phuket Town, Saphan Hin is a naturally green seaside park. It is a favorite spot for relaxing and popular amongst locals. While the beach is not good for swimming, there are plenty of shady spots to sit and enjoy the sea breeze. The fully functional park has a dedicated footpath making it an ideal spot for a leisurely walk or even a brisk jog.
Every afternoon, and especially on weekends, Saphan Hin comes to life with people looking for a nice way to end their day. A large variety of Thai street food vendors gather here every day, so make sure to grab some cheap eats and enjoy a picnic by the sea.
Location: 55/108 Chao Fah Road, Wichit, Muang, Phuket 83000
Khao Rang Viewpoint
A charming spot in Phuket Town, Khao Rang Viewpoint is as breathtaking as it is peaceful. Surrounded by well-maintained gardens and large rubber trees, this is one of Phuket Town's epic viewpoints. On a clear day, it is possible to see almost all of Phuket from this viewpoint including the southern part of the island, Big Buddha and out across the entire town.
Don't forget your camera when visiting Khao Rang Viewpoint. The viewpoint has a large pagoda as well as an open viewing platform perfect for those Instagrammable moments. Khao Rang Viewpoint is a nice spot to have lunch as well and there are a few cafes and tiny shops nearby.
Location: 145/5 Patiphat Road, Wichit, Muang, Phuket 83000
The Shrine of Serene Light
Built in 1889 by a local Chinese family, The Shrine of Serene Light is one of Phuket's lesser-known Chinese shrines. Although the shrine's gate is located on the street, the shrine does appear concealed, which adds to its overall charm.
The entrance to the shrine is decorated with beautiful Chinese-inspired street art and once inside, it is easy to spot the Hokkien Chinese architectural influence. The shrine has a
terra-cotta roof and distinct carvings into the side of the building. The Shrine of Serene Light is one of the most beautiful shrines in all of Phuket, and a visit here is truly captivating.
Location: 72/1 Yaowarat Rd, Tambon Talat Yai, Muang, Phuket 83000
Explore Phuket Old Town
The historical center of Phuket, Phuket Old Town is famous for its brightly painted Sino-Portuguese shophouses and renovated colonial mansions. The area is pleasantly charming and gives off a very local vibe. There is so much to see and do in Phuket Old Town, but here are three of our best recommendations.
Nguan Choon Tong
Established in 1917, Nuang Choon Tong is the oldest Chinese herbal medicine shop in Phuket Old Town. The shop has been run by the same family of Chinese descent for generations, and it is an interesting throwback to bygone days.
Drop into the shop to consult about Chinese medicines, or simply take a look at all of the various herbs and healing ointments located inside the shop. Nguan Choon Tong smells amazing, and it is fun to watch the herbs being weighed on antique scales.
Location: 16 Thalang Road, Muang, Phuket 83000
Phuket Walking Street
Also known as Laard Yai, the Phuket Walking Street is an interesting local and artisanal market that happens every Sunday from 4:00pm – 10:00pm. Situated on Thalang Road, in the heart of Phuket Old Town, the walking street market highlights a fun slice of local life.
Make sure to take advantage of the Thai street vendors while visiting the walking street. It is possible to find a variety of authentic Phuketian dishes to sample here for very affordable prices. The walking street is also a good place to shop for souvenirs as most of the vendors are local artisans peddling their crafts and wares.
Location: Thalang Rd, Talat Yai, Muang, Phuket 83000
Torry's Ice Cream
Satisfy your sweet tooth at Torry's Ice Cream, an iconic homemade ice cream shop located on Soi Rommanee. Located in an attractively restored pink shophouse, Torry's Ice Cream is an Instagram favorite.
Apart from the shop's stunning interiors, Torry's Ice Cream excels in blending their homemade ice cream varieties with local Phuket desserts for a perfect taste sensation. Make sure to try their signature Passion Fruit & Carrot ice cream or the strangely satisfying Corn Milk ice cream.
Location: 16 Soi Rommanee, Muang, Phuket, 83000
Facebook Page: Torry's Ice Cream,
Enjoy Phuket Town's Tranquil Spaces
Amidst the hustle and bustle of Phuket Town, there are still tranquil spaces to discover. For those looking for a break from the more crowded tourist areas, head on over to these three off-the-beaten path gems to relax.
---
Read More About What To Do In & Around Phuket
---
Explore Thailand with Expique
At Expique our mission is to help people discover the real Bangkok (and beyond) and the local cultures. Our current focus is to provide the best content available to plan a trip and discover Thailand.
Prior to COVID-19 our focus was on offering a range of experiences in Bangkok including our award winning Bangkok Night Lights Tuk Tuk Tour.
For now however, our focus is on creating amazing content instead.
Follow us on social media for all the latest news.
---
Subscribe to Our Newsletter
Subscribe to our newsletter to receive monthly news and tips about exploring Bangkok.
---
Share this article:
---
---