A visit to a traditional Thai floating market in or around Bangkok is high up on the list of 'must-dos' for most tourists. But while the image still prevails of straw-hatted old women trading from longtail boats on a stretch of picturesque canal, in reality there are countless floating markets in Bangkok, each with a distinctly different flavour. Whilst some are more of a weekend market beside a canal they all have their own charm. Here are eight of our favourites close to Bangkok.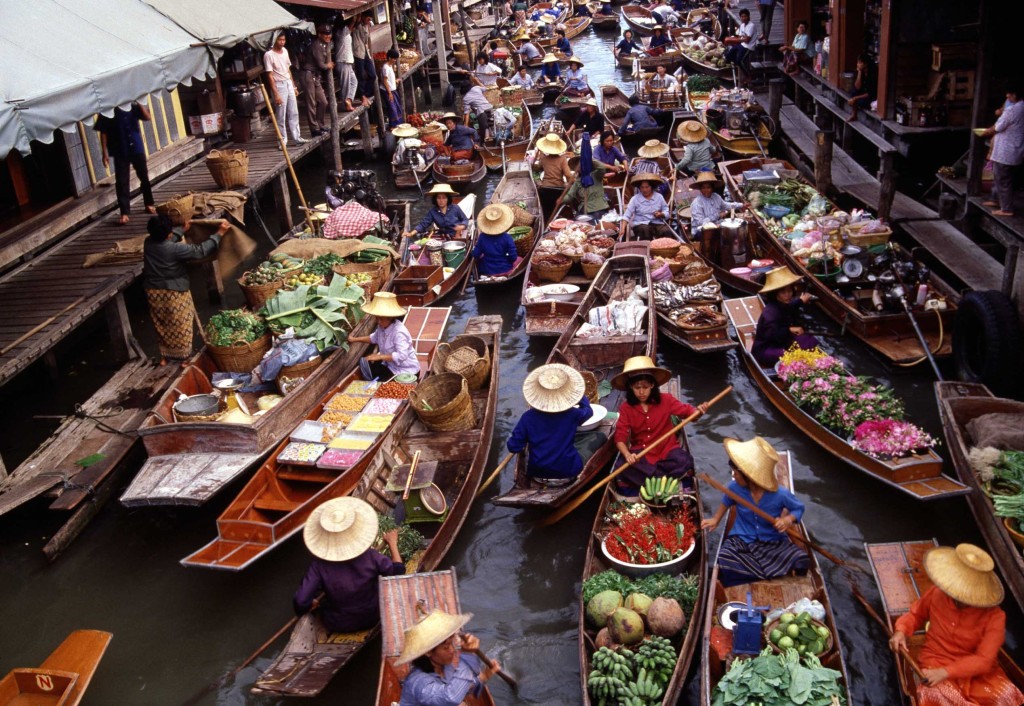 The floating market to go to if you want to see the one in all the pictures: Damnoen Saduak
A word of warning – don't go to Damnoen Saduak floating market expecting peace, calm or a local atmosphere. This is easily Thailand's most touristy and most famous floating market, and over the years that has taken its toll. Much of the market is on land and full of tacky souvenirs, while the traffic jam of longtail boats on the canal is made up of just as many tourists out for a paddle as it is actual vendors.
Located around an hour south-west of Bangkok in Ratchaburi province, Damnoen Saduak still offers that much-hyped photo opportunity of what a floating market should look like, but don't anticipate anything too authentic. Bus-loads of day-tripping tourists arrive from Bangkok and elsewhere by 9am, so to see the market as close to its yesteryear atmosphere as you're likely to, either arrive at the crack of dawn or stay nearby overnight and come out to take your photos early.
The floating market to go to spend a weekend out of Bangkok: Amphawa
Not far down the road from Damnoen Saduak but with an entirely different feel, Amphawa floating market is located in neighbouring Samut Songkhram province and has much of a vintage, almost retro vibe about it. Popular with Thais looking to escape Bangkok, but also growing on the radar of foreign tourists, Amphawa is packed not only with some great eats – typical boat noodles and fresh local seafood are the stand-outs – but plenty of arty stallholders touting their unique creative wares. The market itself runs Friday to Sunday and gets going properly in the afternoons, while mornings are a way to see a quieter, more traditional side to things as monks trawl the canal by longtail seeking alms offerings and vendors sell locals breakfast from the water. The best way to combine both is to stay at one of the growing number of homestays and guest houses alongside the canal itself, and make a weekend of it. Don't forget to take a boat ride to see the fireflies.
The floating market to go to if you want something quaint: Tha Kha
Among the most local of the local floating markets, Tha Kha is another of Samut Songkhram's gems, just a few kms from Amphawa. The market has been in existence for over sixty years and takes its name from the long water grass native to the canal. Originally taking place only around the time of the full moon, it has more recently expanded to operate at weekends too, and word seems to be slowly getting out. But it still maintains a traditional atmosphere and is one of few floating markets where locals genuinely come to shop and trade – on a very small scale you may even witness the old fabled floating market scene, long since gone at markets like Damnoen Saduak, of boating traders buying from one another rather than just to visitors.
The floating market near Bangkok for the ultimate eating experience: Khlong Lat Mayom
One of Bangkok's most local floating markets and yet easily reached from downtown, Khlong Lat Mayom – located in the backwaters of Thonburi – is a sprawling mass of souvenirs, homewares, clothing and food split into two sections and dissected by the main road. But it's the food that deserves the real mention – you'll find great tasting and well-priced examples of dishes from Thailand's four regional cuisines. Think boat noodles and curries from the central plains, khao soi curried noodles from the north, southern khao mok gai chicken biryani and fiery northeastern somtum papaya salad and everything that goes with it. The sheer variety and number of stalls will make it difficult to choose where to eat – come hungry! Find out more about Lat Mayom market here
The floating market near Bangkok to go to if you plan to cook but also want to eat: Don Wai
One of few floating markets to operate all week long, in truth Don Wai isn't really a floating market – most of the action takes place on land. But if you're serious about food then this market in Nakhon Pathom province, to the west of Bangkok, is well worth a look. In existence for over a century but only more recently gaining traction as a destination for day-tripping Bangkokians, the focus at Don Wai is as much on fresh market produce – quality meat, vegetables, fruits and the like – as it is on prepared meals to eat there and then or take away, as are popular at floating markets across Thailand. That said, Don Wai also has a long-standing reputation for its boiled and roasted ducks, which are worth a try.
The floating market in Bangkok to go to if you also fancy a bike ride: Bang Nampheung
Less than twenty minutes from the Skytrain, Bang Nampheung floating market is set on the Chao Phraya river's artificial island of Bang Krachao, marginally outside of the capital in Samut Prakan province. Not only does the market – like many, not actually floating but perhaps better described as 'canal-side' – boast everything from fresh and prepared foods to clothing, CDs, souvenirs and even a massage hut, it is perfectly located to be combined with a leisurely cycle around the uncongested roads and elevated concrete walkways surrounded by mangrove trees. Bang Krachao is known as 'Bangkok's green lung' for a reason – within spitting distance of the capital's densely populated and heavily polluted centre, here you could be a million miles away in the countryside. The market only runs at weekends but the island, including the popular and expansive Sri Nakhon Kuenkhan Park, is good for cycling every day.
The floating market to go to if you want a bit of everything: Kwan Riam
Kwan Riam is a floating market with a modern edge – think disabled-friendly lifts to cross the canal, purpose built housing for the stalls that aren't on boats, and local-style air conditioning by way of misting fans. But this new-ish market, set on the San Saeb canal in outer Bangkok's Minburi district, still delivers in the food category, serving up floating market favourites of satay skewers, haw mok seafood curry soufflés, boat noodles and of course lots of seafood and papaya salad. Unlike other similar markets, where the food is prepared on the water but tables are on a jetty or actually on land itself, Kwan Riam even offers boats that diners can climb into and eat right alongside the cook. The market is popular with Ramkamhaeng University students, while dirt-cheap guided canal boat tours are offered by their younger peers from a nearby school. Find out more about Kwan Riam market here
The floating market in Bangkok for a quick spot of lunch: Taling Chan
Increasingly on the radar of foreign tourists because of its close proximity to and ease of access from central Bangkok, Taling Chan Floating Market still has a relatively local feel thanks to the heavy focus on plants and gardening goods as you enter – hardly the sort of thing your average backpacker is looking to pick up. Once you're inside the focus is firmly on food, with a large barge-like jetty full of low seating and surrounded by vendors on longtail boats docked up while they prepare huge grilled prawns, steamed mussels, noodle soups, papaya salad, fluffy omelettes and more. With boat tours available to explore the local canals, massage on hand and plenty of fish to feed right here off the jetty, it's the perfect spot for a quick bite to eat and a couple of hours of fresh air.
BONUS FLOATING MARKET – the one to go to if you want to take a risk it may be closed (or just very sleepy): Luang Peng
When we visited Luang Peng it had closed early. This super local market, located not far from the airport, has real local charm even if it appeared closed. We will save a full report of this market for another day once we have been back when it is open!
The Floating Market if all fails: IconSiam
Don't take this one too seriously. IconSiam is the newest and biggest shopping mall in Bangkok and on the ground floor they have a replica floating market. It can not compare to any of the others above but there is some decent food being sold in the market area!
Damnoen Saduak photo by Thailand Forum; Don Wai photo by Hdamm via Wikimedia Commons; Kwan Riam photo by former Expique intern Ning; Taling Chan photo by Alpha; all other photos by Chris Wotton.
---
Other Articles That May Be of Interest
---
Explore Thailand with Expique
At Expique our mission is to help people discover the real Bangkok (and beyond) and the local cultures. We do this through a combination of offering our own award winning tours and through producing informative content.
Our range of experiences in Bangkok including our award winning Bangkok Night Lights Tuk Tuk Tour and our foodie extravaganza Evening Food & Tuk Tuk Adventure.
Follow us on social media for all the latest news.
---
Subscribe to Our Newsletter
Subscribe to our newsletter to receive monthly news and tips about exploring Bangkok.
---
Share this article:
---
---