Bangkok by night has a reputation for its "after-dark" scene and is sometimes known as "A City That Never Sleeps". Unfortunately, this reputation is not always positive! Yet away from the bars, there are a lot of things to do in Bangkok at night.
Here are some ideas of things to do in Bangkok at night. These include options for eating, relaxing, exploring or discovering the local culture.
Eating Street Food or In Local Restaurants
Everyone needs to eat and most don't eat in restaurants. Many locals buy food on the street to take home but of course many people eat on the street or in local restaurants. The exact definition of street food is vague, some vendors have movable carts that they set up each day, but there are many local restaurants that open the front on to the street. Either way, there is so much great food!
For a great local experience, head to an area that comes to life at night with street vendors. Some of our favorite areas include Chinatown, Ratchatevi, Thanon Chan, Ban Thad Thong / Samyan, OR Talad Phlu & Lad Ya (on the Thonburi side of the river)
Note that many street food vendors close on Mondays.
Wonder (and Eat) Your Way Through Chinatown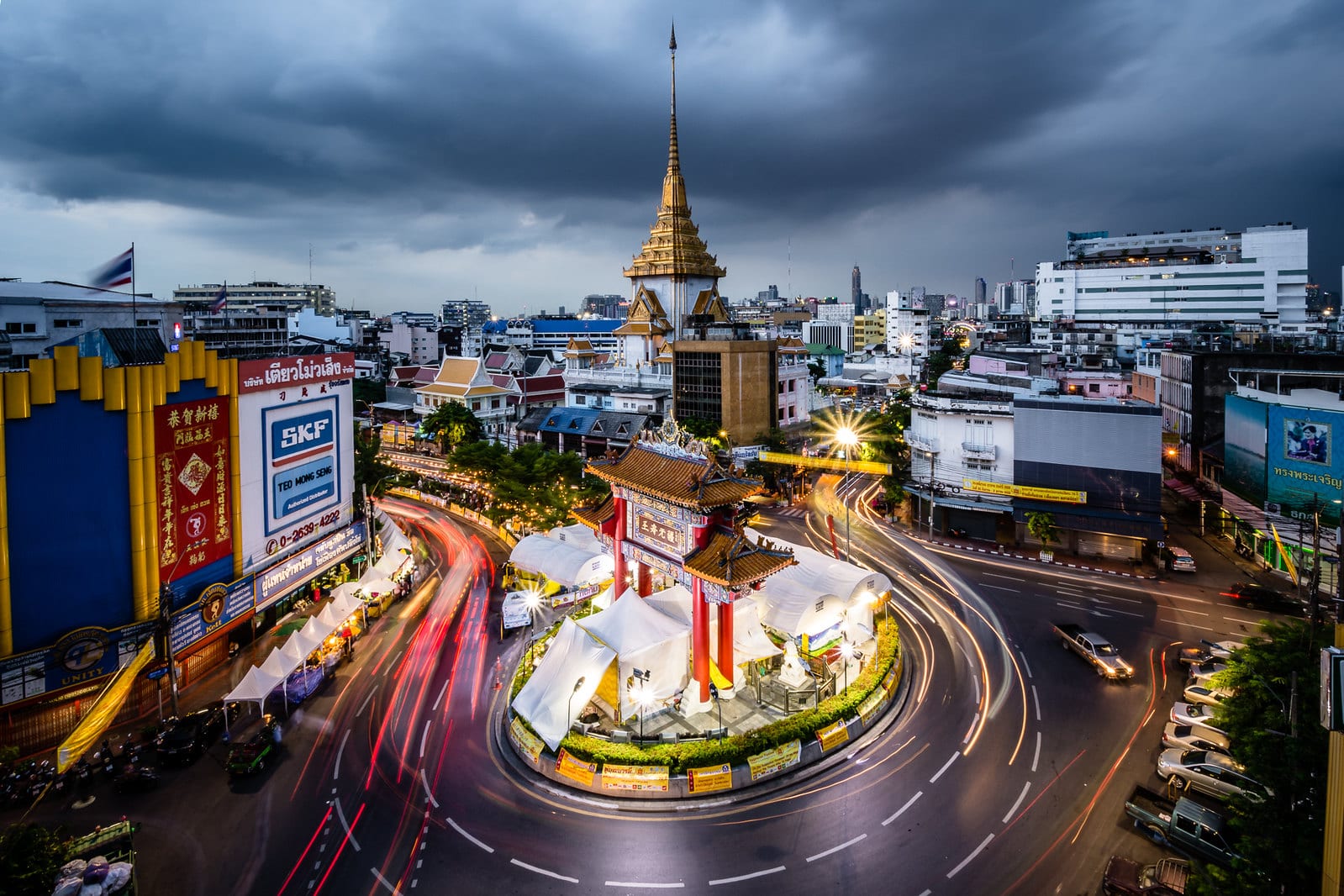 Whilst this is a continuation of eating street food, it deserves a mention of its own. From 6pm to midnight each evening, street food vendors take over the side paths of Yaowarat Road and set up tables and chairs.
This is Chinatown, so while you may expect Chinese food, it is actually more typical Thai street food – although many of these dishes have a Chinese influence. That's said, it is a popular place for dessert and many of these popular desserts (such as sesame dumplings in ginger tea) are very Chinese. Of course, there are many proper restaurants that sell Chinese food.
After eating in Chinatown, pop for a drink in the trendy Soi Nana (the Soi Nana in Chinatown, not the one in Sukhumvit).
Note that Chinatown is typically quiet on Monday evenings.
For more ideas on exploring Chinatown, read our ultimate guide to Chinatown.
Take a Dinner Cruise
For a relaxing evening of food and seeing the sights along the Chao Phraya River, take a dinner cruise. There is a diverse range of options. The larger boats are typically catering for the masses with buffets of varying qualities, and cheesy music. However, there are many smaller boutique boats with much more focus on the culinary experience. Most boats also provide some form of entertainment – ranging from traditional Thai dance performances to live bands.
For more details read our article on the best dinner cruises in Bangkok.
Explore Bangkok by Night on a Night Tour
One of the best ways to explore Bangkok at night is on a night tour and the most popular of these are either a night tuk tuk tour, an evening bicycle tour or a food tour. There are many different operators and while some of the tours focus more on food, others focus more on culture.
Visit a Temple at Night
While many temples do shut to visitors after dark, there are many temples that are open for you to walk around the grounds in the evening. Even if you can not see the whole temple, often the beautifully lit grounds and buildings make it a memorable visit.
You can walk around the grounds of Wat Arun until 9pm. Before COVID-19 Wat Pho used to be a beautiful place to visit at night, but recently it has been closed from 6pm.
Of course, please dress and act respectfully. If it looks like you should not enter then don't. Do not walk around the monks residences. Many temples have funerals going on in the evenings, and for many locals it is strange to visit a temple in the evening beyond this reason.
Relax at a Rooftop Bar
Like many cites in the world, one of the popular things to do at night is to enjoy a drink with great views of the city. Bangkok, is no exception and a rooftop bar is on most people's list. Sirocco at The Lebua and Moon Bar / Vertigo at The Banyan Tree are the 2 original rooftop bars. However, there are now so many options for great rooftop bars. Of course, some are more pricey than others.
For more details check out our guide to rooftop bars.
Visit a Night Market
Bangkok is famous for its night markets. Most night markets combine food and shopping. Some night markets are more touristy, while others are more geared to locals. Some have more of an indy / alternative / hipster feel. Popular night markets such as the Ratchada & Srinakarin Train Markets also have a lot of bars.
For more details check out our guide to Bangkok's best night markets.
Visit The Flower Market
The Flower Market may be open 24-hours a day but the best time to visit is in the evening and the later the better. Ideally after 10pm! This is when flowers start to arrive to be sold fresh overnight or for the next day. Even if you have no intention to buy flowers it is an interesting place to visit.
Check out this article for more late night markets to visit.
Eat Gourmet
In recent years the culinary scene has developed to a point that the high-end options are almost as famous and extensive as the street food options. There are many world-renowned restaurants in Bangkok covering the whole spectrum of global cuisines, and with a talented pool of upcoming chefs that is only increasing.
The most famous of them includes restaurants like Gaggan Anand (Progressive Indian), Sorn (Southern Thai), Nahm (Thai), Suhring (German), Le Normandie (French). Of course, if you are visiting Thailand then we would recommend eating as much Thai food as possible in which case also check out restaurants such as 80/20, Sawaan, 100 Mahesath, Issaya Siamese Club, R-Haan…..
Watch a Muay Thai Fight
If you think of Thai sports you may think of Muay Thai. There are several places you can watch a Muay Thai match in Bangkok. The 2 main stadiums are The New Lumpinee Stadium (Tuesday and Saturday) and Ratchadamnoen Boxing Stadium (Monday, Wednesday, Thursday, Sunday). There are also weekly fights hosted outside MBK.
Note: Schedules of fight at Muay Thai stadiums have been impacted by COVID-19 and these are usually in the first places that have been forced to close.
Shop
Many people come to Bangkok just for shopping, and the obvious places to start are the shopping malls which are typically open until 10pm. Given, all shopping malls have extensive food options you can easily spend the evening in a shopping mall.
Alternatively visit a night market or Asiatique, if you are looking for cheaper or souvenir style items.
Enjoy a cultural related show
This is a topic that we need to be revisited after Bangkok has fully recovered from the impact of COVID-19. Prior to the outbreak, shows in Bangkok included Siam Niramit, Show DC, Joe Louis Puppet Theatre (at Asiatique), Muay Thai Live (at Asiatique), Calypso Cabaret (At Asiatique). Many have shut down and it remains to be seen when they will open again.
Meet Locals
There is no better way to understand the local culture than to actually spend time with locals, whether they are Thai or Expats who have spent significant time in Bangkok.
Meetup.com has a big presence in Bangkok, and you can search it to find a group that suits your interests. For most groups you are welcome to join a meetup even if you are just passing though.
There are many platforms that promote "Experiences with locals" and a great thing to look for in the evening is "Dinner with Locals". Check out Airbnb or TakeMeTour.
Attend a concert, event or gig
For culture or music fans, you may want to check out interesting events going on in Bangkok.
The following sites are good for checking out "What's on in Bangkok": All Event, ZipEvent or BK Magazine
Party……
We have kept this option to the end as in our opinion there are so many alternative options for a fun evening doing something that is unique to Bangkok. Yet Bangkok does have a very active nightlife scene and you can find bars of all genres.
From a backpacker perspective, Khao San Road has been the place to visit for drinking and partying over the last few decades. However businesses in this area has been impacted badly by COVID-19 and it is to be seen how it will recover.
For non-backpackers, Sukhumvit Road is the hub for bars and nightclubs.
---
Related Articles
---
Other Articles That May Be of Interest
---
Explore Thailand with Expique
At Expique our mission is to help people discover the real Bangkok (and beyond) and the local cultures. We do this through a combination of offering our own award winning tours and through producing informative content.
Our range of experiences in Bangkok including our award winning Bangkok Night Lights Tuk Tuk Tour and our foodie extravaganza Evening Food & Tuk Tuk Adventure.
Follow us on social media for all the latest news.
---
Subscribe to Our Newsletter
Subscribe to our newsletter to receive monthly news and tips about exploring Bangkok.
---
Share this article:
---
---