With the global fame of Thai food and a growing trend for food tourism, it is no surprise that many visitors come to Bangkok to eat!!!! Of course, you can eat very well in Bangkok without the need for a food tour, but increasingly visitors want to dig deeper into understanding Thai Food and what it tells you about Thai culture. Taking a Bangkok food tour or other culinary experience helps understand the local way of life.
We believe that food tours provide a fantastic way to explore Bangkok and the local culture and hopefully the following reasons will help answer "why take a food tour in Bangkok"?

Thai Food and Thai Culture go hand in hand
Thai's often greet each other with the phrase "Gin khao reu yang", which translates as "Have you eaten yet?" This just shows how important part of the culture eating is! It is impossible to truly experience Bangkok and the local culture without experiencing the local food.
Our goal is to enable visitors to experience the local culture and we have always considered Thai food as one of the key ingredients in showing guests this. In fact, our original and award winning Bangkok Night Lights Tour we consider a cultural tour with food rather than a pure food tour.
However, by taking a culinary experience in Bangkok, whether it be a food tour or cooking class, you will start to dig even deeper into understanding the local culture through the medium of food.
Get a deeper understanding into the local food
Whilst many people regularly eat Thai food in their home countries, the menu choices are often quite limited compared to what you will discover in Bangkok. Flavours can vary and often in Western countries the average dishes are sweeter compared to the equivalent in Thailand. However, in Bangkok and Thailand you will find a whole range of dishes where salty, sour, spicy and fishy flavors challenge your taste buds.
The local food options in Bangkok are so diverse. Different foods from different regions, Thai foods influenced by other nations, over 20 types of noodles, multiple ways to use green curry paste, Tom Yum but not how you expect, dessert and snacks that will surprise you…….. It takes years to discover even 90% of all Thai food, but hopefully through a culinary experience you will get a head start along that journey.
Spend time getting to know a local
Whether it is a food tour or cooking class you get to spend time with a local who loves food and we hope they will share that love!!! During that time they will share stories and knowledge which hopefully will give insight into local life as well as Thai food.
What's for breakfast and local eating habits
While there are specific foods that are known for breakfast the reality is you will find locals eating almost anything for breakfast. Through a culinary experience you will get to understand how locals eat and insight into habits and rituals surrounding food. By taking a cooking class you may discover how to make curry paste and then discover locals rarely make it themselves! You can also try our Bangkok breakfast tour!
Get adventurous and try something new during a food tour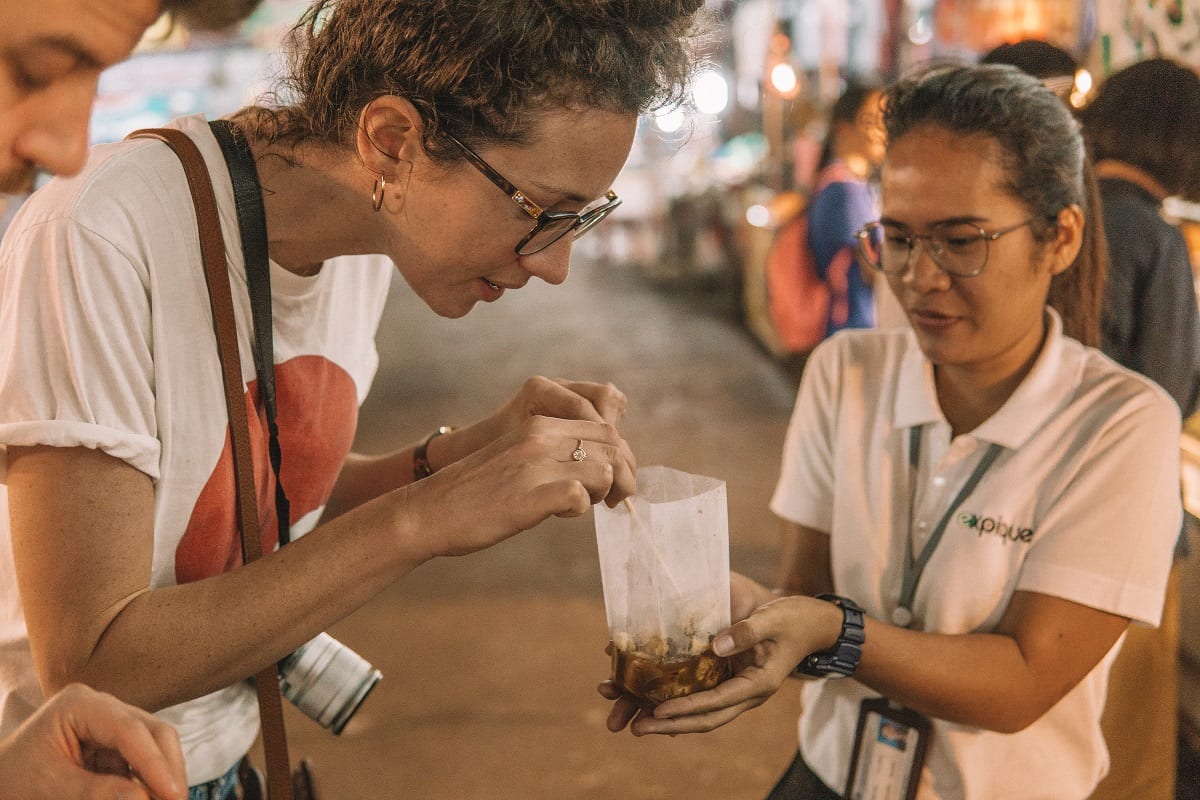 Adventurous means completely different things to different people and by "getting adventurous" we are not suggesting you should eat all the weirdest things. What we do hope you will get from a food tour in Bangkok is the opportunity to try things you have not tried before and would not have tried if you were exploring by yourself.
If you don't like a food you tried this is not necessarily a bad thing as it means you tried something new! We hope you will like the majority of what you sample with us. Our Evening Food & Tuk Tuk Adventure will be adventurous for many people, but for some it may feel tame. For those who really want to get adventurous we could of course arrange a custom tour to try pig brain soup, caterpillar, duck beaks……
Debate the Bangkok food scene
Where is the best fish & chips in the UK. Where is the best pizza in Italy? Where is the best steak in Argentina?
Can you see where we are going here?
Yes we often get asked to show people the best Pad Thai in Bangkok, or the best authentic restaurant. However, the reality is these are hotly debated topics and what some people think is good, others would disagree with. We aim to take people places that have a reputation of being up there with the best but we can not guarantee you will agree.
Everyone has a different perception of what is good and often if you are used to Thai restaurants at home or the high-end Thai restaurants in Bangkok, then the local food scene may not match what you expected as the tastes can vary. We aim to show you what we consider authentic Thai food but we can not guarantee you will prefer it!
If you do decide to take a cooking class you can potential add your own creations to the debate!
Impress your friends with your Thai food knowledge
What we do hope is you will end up with a deeper knowledge and love of Thai food and if you take a cooking class you will also end up with a new skill. We hope you will share this knowledge of Thai food and educate the world that Thai food goes much deeper that Pad Thai, Green Curry and American Fried Rice 😉
---
---
Explore Bangkok Through Food with Expique
At Expique our mission is to help people discover the real Bangkok and the local cultures. We do this through a range of experiences including Food Tours, Walking Tours and Tuk Tuk Tours
---
If you love food as much as us,
you will love our food tours in Bangkok
---
Subscribe to Our Newsletter
Subscribe to our newsletter to receive monthly news and tips about exploring Bangkok.
---
---
Share this article:
---
---