We love Thai Food! You kind of have to if you are running food tours in Bangkok. Thai food is so diverse and there is so much more to eat than green curry, pad thai and tom yum goong! These may be the most famous Thai dishes globally, but they are definitely not the dishes that locals eat the most. There is huge diversity in the food found across Thailand with varying flavours and spiciness!
In this ultimate guide to Thai food, we share all you need to know to eat your way around Thailand, or from home! We link to several other articles to allow you to go deeper into Thai food.
The Origins and Influences of Thai Cuisine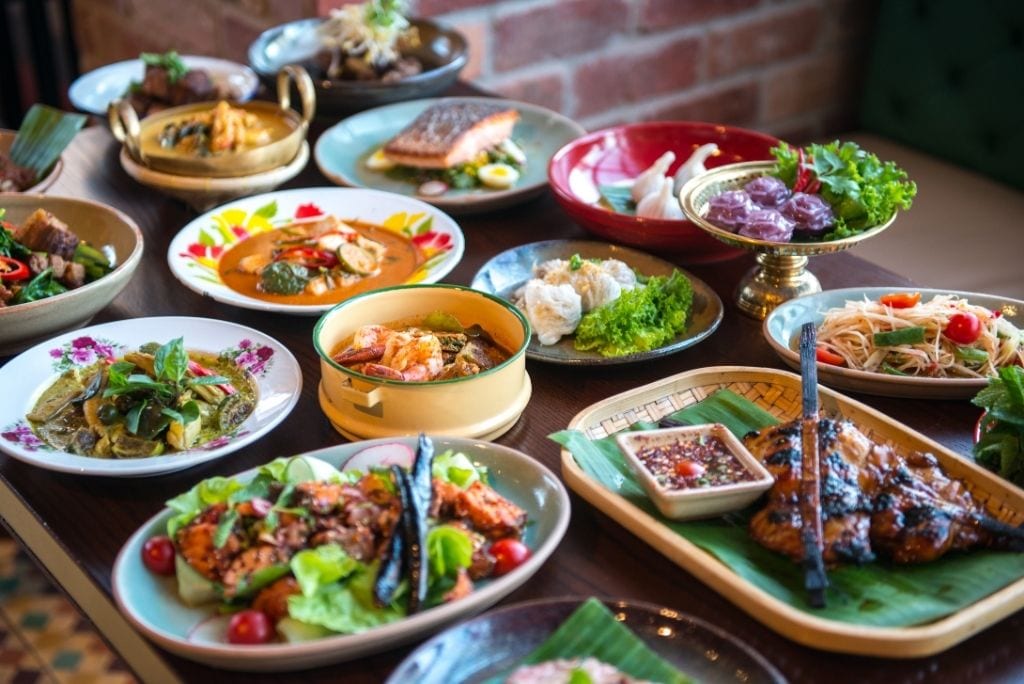 Traditional Thai cuisine and neighbors' cuisines mutually influenced one another over centuries. Culinary influences from Malaysia, Indonesia, and India affected the cooking in the South of Thailand – evidence in curries and spices. As well as Vietnam, Cambodia, Laos, and Myanmar, which influenced cuisines in the North and the Northeast of Thailand.
Chinese cuisine has had a huge influence on Thai cuisine. This should be no surprise given the number of Thais who have Chinese ancestry. Cooking techniques as frying, stir-frying and deep-frying obtained from Chinese cuisine. And of course the sheer volume of noodles dishes is evidence of this influence.
Over the years there have also been some influences from Japan, Dutch, and French. Moreover, plenty of ideas were exchanged during the world trade era which led to culinary innovation. Desserts made from eggs, like Foi Tong, Tong Yip, Tong Yord initially came to Thailand by Portuguese missionaries.
In conclusion, Thai cuisine had been developed by cuisines from several countries over 3,000 years. And adapted to fit into the framework of Thai cuisine in each period.
---
Royal Thai Cuisine
Royal Thai Cuisine is often known as Aharn Chao Wang. In Thai, "Chao" means "the people of" and "wang" means "palace." Therefore, Aharn Chao Wang means the "food of the people in the palace."
According to Simon De La Loubère, a French diplomat to Siam, he explained on his chronicle that Royal Thai Cuisine was basically like most of the other local foods but with a higher standard and specific rules – no bones, no hard objects, no seeds, mild taste, use only good quality meats, etc. Thus, Royal Thai cuisine required a high level of elaboration. Also, all the ingredients made it too expensive for locals to effort.
However, as time gone by, it had been more widespread as the ingredients were more affordable. These days you can find Royal Thai Cuisine only at some certain restaurants and still, it considered luxurious foods.
Read more about Royal Thai Cuisine.
---
Types of Thai Dishes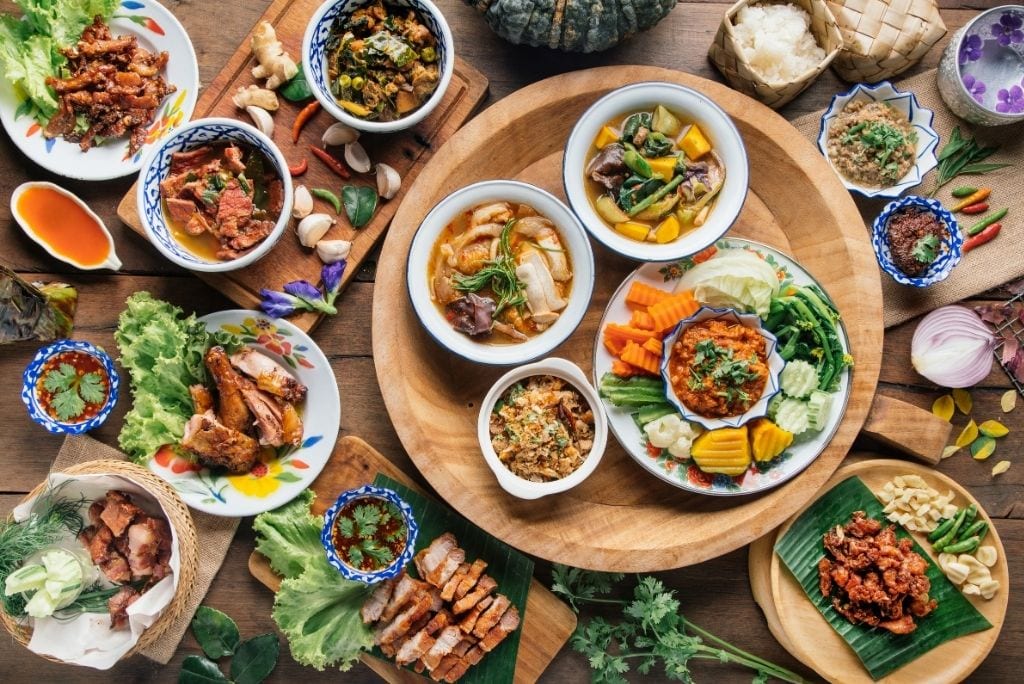 Thai food has much diversity but can be classified as curries, noodles, salads, nam prik (chili pastes), and desserts.
Thai Curries (Kaeng)
There is a variety of Thai curries. The 5 main curries that are frequently seen are as follows.
Red Curry which is creamy, bright, and spicy as heavily spiced with dried red chilis.
Green Curry (Gaeng Kiew Wan), considered the most popular Thai curry. This sweet and spicy green curry uses fresh green chilis and is aromatic from kaffir lime leaves, coriander root, and galangal.
Yellow Curry uses turmeric for yellow colour and dried curry for a rich savory flavour.
Massaman Curry stands out for its mildness, sweetness, and lots of spices most found in Indian cuisine like cardamon and cinnamon.
Panang Curry has a thick texture and a salty-sweet peanut flavor.
However, these are just the tip of the iceberg! Read more about Thai curries in this article.
Noodles
Noodles or Kuay Tiew is one of the most popular street foods. It is always a good option when looking for quick casual food. However, noodles dishes come in many forms and variations.
There are many Thai noodle dishes that have global recognition. These include: Pad Thai, Pad See Ew, and Khao Soi. However, at the basic level noodles dishes take many forms and a customised by choosing: with or without soup, the kind of soup, the types of the noodle itself ("Sen" in Thai).
Find more about noodles in our article: The Ultimate Guide to Thai Noodle Dishes
Thai Salads
Salad is commonly known as "Yum" in Thai which means "mix". There are many variations but the main ingredients can include meats, seafood, noodles, and fresh fruits mixed with many other ingredients including herbs, peanuts, sliced tomatoes, onions, lime juice, fresh chilis, fish sauce, and sugar. The taste is basically sour and spicy.
Thais can either eat salads as main dishes or side dishes (sharing with others). Possibly the 2 of the most popular salads among Thais are "Yum Woon Sen" – spicy glass noodle salad, and "Yum Mama" – instant noodle salad. Of course, there is also Som Tum (papaya salad) but can take many varieties.
In addition, salad in Thai cuisine does not only refers to "Yum" but also refers to "Tum" (pound) e.g. Som Tum, "Larp" (influenced by Laos with broken rice "Khao Khua" as the essential ingredient), and "Phla" (unique with rare to medium meats or seafood).
We have written about Thai salads as a separate article, read more here.
Nam Prik (Thai Chili Pastes)
"Nam" means water or liquid and "Prik" means chili. Nam prik is technically a general term of any spicy chili paste eaten as a dipping with vegetables, fish, and meats. Mostly, served with rice or sticky rice. Thailand used to have more than 500 types of nam prik but now there are approx. 200 types left. That is still crazy amount and each region has different recipes.
The most popular nam prik dishes include Nam Prik Pla Ra (chili paste with fermented fish), Nam Prik Pla Too (chili paste with de-boned mackerel fish), and Nam Prik Kapi (chili paste with fermented shrimp). Nam prik are also considered healthy food as eaten along with vegetables and the essential ingredients are spices and herbs.
Nam Priks can also be used as a base ingredient for cooking many other Thai dishes.
Thai Desserts
Thai people love sweet things! This is evident from the countless kinds of dessert. Making traditional Thai desserts in the old days used coconut, sugar, and flour as the only key ingredients. Later, during Ayutthaya period Portuguese missionaries introduced desserts made from eggs, led to more variety of Thai desserts, with beautiful colours and shapes.
Thai desserts can be simply classified as:
Jelly / custard desserts: Khanom Krok (mini coconut pancake balls) and Khanom Chan (Thai jello)
Rice desserts: Mango sticky rice, Khao Tom Mud (banana sticky rice)
Soup and toppings: Bua Loy (coloured tapioca balls in coconut milk), Tub Tim Krob (red 'rubies' in coconut milk),
Pancakes: Khanom Buang (sweet Thai crepe), Roti (Thai pancakes)
Fruits based: Gluay Buad Chee (sliced bananas in coconut milk), Gratorn Song Kreung (candied santol fruit)
Read more about Thai desserts and snacks here.
---
Regional Variations
Thailand is separated into 4 regions: Central, North, South, and Isaan or Northeast. Foods in each region have different characteristics due to the ingredients found in each area and influences from neighbouring countries.
Read more about food from 4 regions of Thailand here.
Central Thai Food
Central food has a good balance of flavours – sour, salty, sweet, and spicy. They are flavourful and is the region which uses the most coconut milk and curries. Must-try central foods are Pad Ka Prao (holy basil stir-fry), Hor Mok Pla (Thai curried fish custard), and Tom Kha Gai (Thai coconut chicken soup).
Northern Thai Food
Northern food typically has a mild taste – a bit salty but rarely sour or sweet. The uniqueness is they do not use sugar but instead the sweetness comes from ingredients like vegetables and fish. Also, some parts of the region are connected to Myanmar, so there are other culinary influences.
Must-try dishes are Khanom Jeen Nam Ngiao (spicy noodle soup), Khao Soi (coconut curry noodle soup), and Nam Prik Noom (green chili dip).
For more ideas on Northern Thai food check out this article on Northern Thai Food.
Isaan Food
The key characteristics of Isaan food are dry, spicy, and use a lot of Pla Ra (fermented fish) – although many recipes will let you omit Pla Ra. They are usually salty – as have fermented fish, spicy – as use both fresh and dried chillies. Moreover, sticky rice is much loved there and is an iconic food of the region.
Must-try Isaan foods are Som Tum (papaya salad), Larb Moo (minced pork salad), Tom Saep (hot and sour soup), and Kai Yang (grilled chicken).
For more ideas on Isaan food check out this article on Isaan Food.
Southern Thai Food
Southern food is a combination of authentic Thai cuisine and Indian cuisine. The uniqueness is a strong flavour – so spicy, so salty, and so sour. Most dishes contain a lot of spices.
Must-try dishes are Bai Liang Phad Kai (stir-fried Melinjo leaves with egg), Moo Hong (Phuket pork belly stew), and Gaeng Som Pla or Gaeng Leung (sour spicy fish curry).
For more ideas on Southern Thai food check out this article.
---
Thai Street Food
Thailand's street food is world-renowned, and anyone who has visited the capital will tell you it is difficult to walk through the streets of Bangkok without dodging an endless collection of food stalls. It is also a changing scene as discussed in this article.
Here is the list of recommended classic Thai street food dishes.
Thai Street Food Classics
Kuay Teow Rueu – Thai Boat Noodles with Blood!
Kuay teow ruea is an incredibly tasty noodle soup made with an array of Chinese spices, sliced pork, pork liver and Chinese water spinach. It's thickened with raw pig's blood, which can be a bit daunting for some people. Don't let the blood put you off, you don't really taste it!
Boat noodles traditionally come in tiny bowls for 10 to 15 baht a bowl, so grab an eating partner and see how many you can get through!
Khao Mun Gai – Hainanese Chicken Rice
Maybe the second most eaten dish in the country and reflects the Chinese influence. It is Thailand's take on the famous Hainanese chicken rice. Khao mun gai sounds pretty dull when you explain to someone that it's boiled chicken on rice but believe us when we say that it's anything but. The fat from inside the chicken is rendered down and used to fry mounds of garlic for the dish's signature oily rice.
Khao Moo Daeng – Mixed Pork with Red Sauce
Khao moo daeng is a Thai Chinese dish made up of red pork, Chinese sausage and crispy pork belly served on jasmine rice and topped with a sweet red barbecue style sauce on top. You can find this red bbq pork on rice on every street corner in Bangkok and if you get a good one, khao moo daeng is one of the best comfort food dishes in Thailand.
Hoy Tod – Oyster Omelette
Hoy tod is a Thai style oyster or mussel omelette that's more like a crispy pancake than a traditional omelette. The oyster or mussels are ducked in a batter and fried on large cast-iron pans (picture a giant paella pan) and served on rice and drizzled with Thai Si Racha sauce. Nearly all restaurants that serve hoy tod also sell pad Thai which is cooked on the same big pans as the omelettes.
Khao Pad – Fried Rice
Khao pad is wildly popular in Thailand, especially at the southern beach resorts and we've found that no matter where you order it, it's generally of a pretty high standard. Khao pad is eaten by people from all walks of life, from locals to tourists. You'll find it everywhere, from street stalls to upmarket hotels. Everyone likes fried rice!
Read more about Thai street food here.
---
Eating Thai Food – Habits
One of the biggest mysteries is what is the difference between breakfast, lunch and dinner! Dishes are often interchangeable. Here are some eating habits.
Thai breakfast
Breakfast is generally eaten between 7 am – 8 pm. Thais can pretty much eat the same foods for breakfast as for lunch or for dinner as it is normal to eat foods served with rice every meal. However, there are also foods that are considered typical Thai breakfast and include things that can be grabbed and eaten along the way to work or during a rush hour.
Some of the most popular breakfasts are Khao Neow Moo Ping – ข้าวเหนียวหมูปิ้ง (Grilled pork on a stick with sticky rice), Joke – โจ๊ก (Congee), and Tom Luad Moo – ต้มเลือดหมู (a soup containing rice, pork parts including offal and pork boiled blood). For more ideas read more about "A Typical Thai Breakfast" here.
Lunch and Dinner
Lunch time is normally between 12 pm – 13 pm. Thais like to go out for lunch – having quick-meal dishes like noodles, stir-fried dishes, and khao kaeng (curry with rice), Khao Man Kai (Hainanese Chicken Rice), and Khao Kha Moo (braised pork leg).
Dinner is usually eaten between 6 pm – 8 pm and it is likely to be the biggest meal! As you can find a lot of delicious food available in evening – streets full of food stalls, markets packed by people seeking for foods, busy restaurants, and many restaurants opens in evening to late night. Moreover, dinner is also considered a family meal, many families gather and have dinner together at home in front of the TV. Some families seriously strict to this habit.
Many people in Thailand prefer to buy food than cook it themselves. As foods are everywhere. It is easier (and often cheaper) to just quickly go grab them from streets, local markets, or restaurants.
Snacking
There is breakfast, lunch and dinner. However, snacking between meals is also very common. But what is different is Thais like to have snacks between meals. There is no limit to food!
Beyond all the sweet options, things on a stick are always a popular snack. fish balls, meat balls, grilled pork…. But there are healthier options and these include a huge range of fruits. Read more about Thai fruits here.
---
Other Articles That May Be of Interest
---
Explore Thailand with Expique
At Expique our mission is to help people discover the real Bangkok (and beyond) and the local cultures. We do this through a combination of offering our own award winning tours and through producing informative content.
Our range of experiences in Bangkok including our award winning Bangkok Night Lights Tuk Tuk Tour and our foodie extravaganza Evening Food & Tuk Tuk Adventure.
Follow us on social media for all the latest news.
---
Subscribe to Our Newsletter
Subscribe to our newsletter to receive monthly news and tips about exploring Bangkok.
---
Share this article:
---
---