With so many hotels in Bangkok, a hotel really needs to standout to be considered The Best Hotel in Bangkok. However, of all the small boutique hotels none compare to charm and uniqueness of The Siam Hotel. Obviously, this comes at a price, but for those that can afford it, you are in for a memorable experience.
We recently enjoyed a staycation at The Siam and were so blown away by this hotel that we were inspired to write about it. We also had the pleasure to meet Nick Downing, The General Manager at The Siam, and have included some of his comments in this article.
---
The Siam Hotel
When we asked Nick Downing, what 3 words best describe the hotel. Nick's responded
It is certainly difficult to pinpoint just a few words that sum up The Siam experience. As you enjoy a stay at The Siam, with every corner you turn you discover a beautiful surprise.
The Siam was conceived by celebrity pop-star Krissada Sukosol Clapp, together with globally acclaimed hotel designer Bill Bensley, who has designed over 150 luxury hotels around the world. The Sukosol family run several hotels but together at The Siam they created something truly special.
---
What Makes The Siam So Special
There are many factors that make The Siam so memorable and unique.
The Design
The overall setting reflects Traditional Thai Heritage (from Rama V period), and combines it with Art Deco accents. The attention to detail throughout the property is incredible. What this translates to is a very classic feel, but with the right balance between elegance and simplicity.
As Nick himself says "We have a stunning hotel designed by Bill Bensley which has created a true resort atmosphere for guests to escape the frenetic energy of Bangkok.
At the centre of the main building is a stunning 3-storey glassed roofed atrium with water features and tropical plants in the middle.
For such an elegant hotel it really does feel relaxed. The use of natural light and plants both in the lobby and the atrium creates a warm and friendly atmosphere from the start.
The Rooms The Suites & Pool Villas
Given that the smallest room is 80sqm it is safe to say that all 39 rooms are either suites or villas. Whilst the pool villas are very special you would not be disappointed with even the most basic rooms. The only surprise may be the lack of river views for many of the rooms.
One more truly unique feature of hotel is Connie's Cottage, which is available on request. This is a century-old traditional Thai teak house (chosen by Jim Thompson for his best friend, Connie) that has been transformed into a rustic Thai Pool Cottage.
The Collection
For Nick, his favourite feature of the hotel he manages is: "The owners collection of over 5000 pieces of antiques, curios and artwork curated throughout the hotel by the owner himself creating an atmosphere unlike any other hotel in Bangkok, indeed Asia."
Sak Yant Studio, Screening Room and Snooker Table
The truth is there are so many features that you are unlikely to find in any other hotel in Bangkok. Given the hotel only has 39 rooms, it is very easy to find a unique corner of the hotel all to yourself. Here are a few bits of the uniqueness.
Sak Yant Studio
Sak Yants are traditional and spiritual Thai tattoos. It is quite incredible to think that a small ultra luxury hotel would have it's on studio. Surprisingly they get several customers per month who want a Sak Yant – even with a price tag of 30,000THB. What you can be assured is you will get a high quality experience.
Snooker Table
It should be no surprise that a hotel of this elegance has a full size snooker table. Although, given it's prominent position in a public area one could debate if the main purpose for setting the atmosphere or actually playing.
Screening Room
While there are lots of reasons to get out and explore Bangkok, the screening room is yet another temptation to simple relax at the hotel. Select your movie and enjoy use of a private cinema for a few hours.
Vinyl Room and English Garden
Yet another room available for you to relax in. Just select the record you want to play and relax – assuming you are comfortable in a room with deceased animal. At least you can escape from the Vinyl room straight on to the 2nd floor balcony disguissed as an "English Garden".
Muay Thai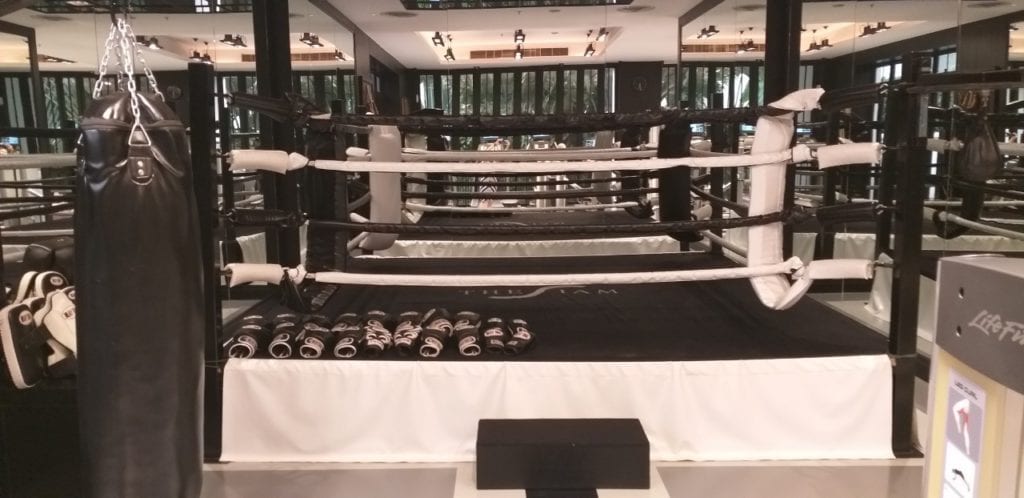 For a small hotel the gym is very well equipped and even has a mini Muay Thai boxing ring! Something that you are unlikely to find in even the biggest of hotels in Bangkok.
The Team
"I believe it is truly The Siam family that makes the difference. Spearheaded by our team of butler's, the whole team is dedicated to doing whatever it takes to impress each and every guest. From the smallest request to the more daring of challenges, the Siam family always works together as one and rises to the occasion."

Nick Downing, Gerenal Manager – The Siam
The Location
Located on the Chao Phraya River, but yet away from the bustle. For some the location is a turn-off, as it can feel that you are along way from the centre of Bangkok. However, it is also a positive in it's positioning as an oasis in Bangkok. That's said, with Royal Palaces in the neighbourhood, it adds to its eliteness.
---
Changes As a Result of COVID
We asked Nick about how The Siam has adapted as a result of COVID.
Obviously with COVID having such impact, we have refocused our short term energy towards attracting those residing in Thailand. This means guests are traditionally wanting to simply stay and experience all that The Siam has to offer rather than heading out to explore the city. It may be using our private screening room, enjoying the array of treatments at our spectacular Opium Spa. We even had one guest recently receive a traditional Sak Yant tattoo in our very own tattoo studio.
We are well known for our riverside Chon Thai restaurant and continue to look at ways to elevate this experience and we will shortly relaunch a new venue at the entrance of The Siam which will take the original Café Cha in a new direction which I am sure will appeal to local residents.
---
To Summarise
---
For more details and to book a stay at The Siam, visit their website: http://www.thesiamhotel.com/
---
Other Articles That May Be of Interest
---
Explore Thailand with Expique
At Expique our mission is to help people discover the real Bangkok (and beyond) and the local cultures. We do this through a combination of offering our own award winning tours and through producing informative content.
Our range of experiences in Bangkok including our award winning Bangkok Night Lights Tuk Tuk Tour and our foodie extravaganza Evening Food & Tuk Tuk Adventure.
Follow us on social media for all the latest news.
---
Subscribe to Our Newsletter
Subscribe to our newsletter to receive monthly news and tips about exploring Bangkok.
---
Share this article:
---
---