Go back to our Bangkok Guide
Among Bangkok's numerous night markets, people often talk about Talat Rot Fai – frequently referred to in English as the train market (but with no connection to the railway market in Mae Klong). However, there are actually 3 markets that are referred to as "The Train Market"- and they are currently among the most popular, and seems to have an enduring appeal, due to the balance between traditional market / hipster market / drinking venue. It's been on something of a journey since it first appeared on Bangkokians' radar a few years back, and it now operates in a number of locations.
Talat Rot Fai began its life back in 2011 in the north of Bangkok, between the Saphan Khwai and Mo Chit BTS Skytrain stations and not far from the famous Chatuchak weekend market. Specialising in both new and second-hand retro and vintage goods, but also packing in a great selection of food and drink, the market was an informal affair and had a real rough-around-the-edges feel to it. In the early days, even getting in meant climbing through a hole in the perimeter fence!
However, the market existed semi-illegally on land owned by the State Railway of Thailand (SRT), and as a result its fate was always going to be uncertain. The market came to an abrupt end in May 2013, when its structure was partially demolished in spite of verbal agreements with the SRT, which sought to reclaim the land for construction of one of the city's new transit lines.
Srinakarin Train Market
After a brief absence from the Bangkok night market scene, Talat Rot Fai re-emerged on a disused spot behind the Seacon Square shopping centre on Srinakarin Road, in the east of Bangkok and far from its previous location.
It still stands here and, despite being less well served by public transport than the Saphan Khwai site, has grown enormously in popularity since opening. Sporting much more of an organised, branded identity than its original incarnation, Talat Rot Fai continues to host a number of traders selling vintage and retro goods.
That said, the market has also gone far more mainstream in recent years, and it is now possible to find all manner of goods here – everything from inexpensive street fashions to electronics, home decor items, and plenty more besides. You'll even find old-fashioned al-fresco barber shops serving up on-trend, retro-style haircuts for as little as a couple of hundred baht. In addition to the main outdoor market area that sits at the very back of the site, there are a number of alleys of bricks-and-mortar shops that visitors are led through on their way in.
The selection of eating options has also exploded in size, too, both in this more conventional shop setting and outside in the raw grit of the market itself. You'll find just about every kind of Thai food here, from stir-fries and curries to northeastern somtum papaya salad and southern biryani and meat-filled mataba pancakes. The market also plays host to one or two particularly well-known food stalls, among them the Jompalung noodle soup setup famed for serving hugely oversized portions to share, loaded with fresh seafood like tiger prawns and whole lobsters.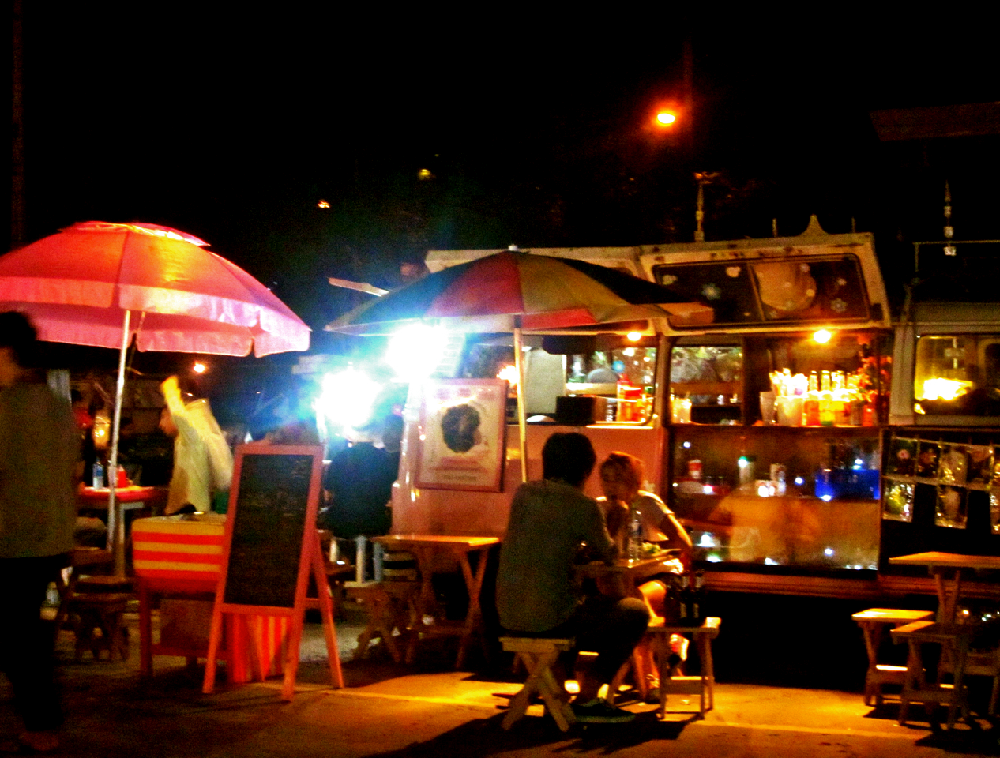 Bars are a prominent fixture at Talat Rot Fai, too, and for many these make the market just as much of a destination as the shopping opportunities. You're sure to find a spot to suit you no matter whether you choose to kick back at one of the 'proper' structures with actual walls, both along the market's entrance walkway and around its perimeter, and often with live music, or prefer to pull up a stool alongside a Volkswagen camper van or car turned into a makeshift cocktail bar that turns out mojitos and other classics (of variable quality, admittedly) for as little as 100 baht a glass or 350 baht per pitcher.
Ratchada Train Market
With its growing popularity, Talat Rot Fai has now expanded to two additional locations dotted around Bangkok. The Ratchada setting is slightly smaller than that at Srinakarin, but sports much the same vibe and selection of shopping, eating and drink choices – along with an increased emphasis on actual food trucks (as opposed to regular stalls), still in trend across Bangkok. Located just behind the Esplanade Cineplex, it's also more easily reached by public transport, just a short walk from the MRT subway's Thailand Culture Centre station.
There are 3 main sections of the market. Of course there is the traditional night market with vendors selling the same usual things you find in most night markets. The more exciting section is the food where vendors are finding ways to turn typical street dishes into fashionable and trendy items. In many cases this is achieve by selling supersized portions (big enough for 6) as is the case of 3 of the most famous (and trendy) food stalls: Bamee Jompalung, Laeng Saeb at Diaw Maekhlong Restaurant (ร้านเตี๋ยวแม่กลอง), and Giant Lobster Tom Yum at Diaw Goong Rot Fai Restaurant.
Finally there are the bars which range from the more casual chillout spot with a view overlooking the market, to some very noisy bars filled with young locals.
[Now-Closed Down] Kaset-Nawamin Train Market
Meanwhile, the newest location is on Kaset-Nawamin Road, on the far outskirts of northern Bangkok and likely not within convenient reach of most visitors. But it also boasts a slightly different and far more ambitious concept – while for the moment it's still just a regular flea market much like Talat Rot Fai's other two locations, in time the plan is for it to be transformed into a faux 1950s-themed town, complete with its own imitation train station, and shops occupying carriages.
Those of us who were in on the secret of Talat Rot Fai from the beginning, and remember the golden days of its early existence, may reminisce about the spontaneous edge that its newer versions admittedly seem to have lost to some extent – but the truth is that all three of today's locations offer great spots for shopping, eating, and relaxing with friends over a few drinks. If you're looking for somewhere to soak up the vibe of Bangkok's famous night market culture, Talat Rot Fai should be high up on your list.
---
What you need to know
Talat Rot Fai Srinakarin: Thursday-Sunday, 5pm-1am; Srinakarin Road Soi 51 (behind Seacon Square shopping centre); take the BTS to Udomsuk, and then take a taxi or motorbike taxi for around 50-70 baht; www.facebook.com/taradrodfi
Talat Rot Fai Ratchada: Open Daily, 5pm-1am; Ratchadaphisek Road (behind Esplanade Cineplex); signposted and easily reachable on foot from MRT Thailand Cultural Centre, exit 3; www.facebook.com/taradrodfi.ratchada
Looking for other Bangkok night markets? Click here for our round-up of 11 of the best.
Photos by Talat Rot Fai Srinakarin, Talat Rot Fai Ratchada, and Chris Wotton
Have you been to Talat Rot Fai? Let us know what you thought in the comments!
---
Explore Bangkok with Expique
At Expique our mission is to help people discover the real Bangkok and the local cultures. We do this through a range of experiences including Food Tours, Walking Tours, Tuk Tuk Tours, Cooking Classes, and Market Experiences
Our Bestsellers
• Check out our Award Winning ★  Bangkok Night Lights Tuk Tuk Tour ★
• If you love food as much as us you will love our Evening Food and Tuk tuk Adventure
• If you wanna learn to cook check out our Thai Cooking with a Twist Class
• If you feel adventurous take an eScooter Scoot Bangkok's Backstreet
• Don't forget our famous Bangkok By Day: Temples, Markets, Snacks & Local Transport
---
Get Access to our interactive Bangkok map
Subscribe to our newsletter, and get access to our Interactive Bangkok Map where you can find our "best spots to visit in Bangkok" and also receive monthly news and tips about exploring Bangkok.
---
Share this article:
---
---