Thanks to its many spectacular beaches, vibrant party scene, and diving spots off the coast, Phuket attracts millions of visitors every year. There is so much more to the province of Phuket than the beaches, as the nearby islands are an incredible drawcard in their own right.
These islands are among the most beautiful places in the tropics in the Andaman Sea and Phang Nga Bay. These islands near Phuket will sweep you off your feet with their scenic beauty. There are so many large and small islands around Phuket, visiting them all will be a challenge! Most are not far away and we suggest adding a few to your trip to Phuket. Apart from the infamous Phi Phi Islands, James Bond Island, and Similan Islands, here are the 10 best islands near Phuket worth a visit.
Note: Koh means 'island' in Thai. That's why this word is in front of every island name.
Koh Bon
Koh Bon is a small island about 2 km offshore from Rawai Beach on Phuket's southeast coast. Covered with lush vegetation, this rocky archipelago dotted with tiny sand coves offers visitors two key landing spots: Bon Island Restaurant, ideally situated between two tiny beaches on the island's northwest edge, and Long Beach, a semi-private 300-meter long white sand strip on Koh Bon's north-east shore. Hiring a long-tail boat at Rawai's jetty or along Rawai Beach is the fastest way to get to Koh Bon. Costs are around 1,000–1,200 baht for a return trip, which takes no more than 15 minutes each way.
---
Koh Panyi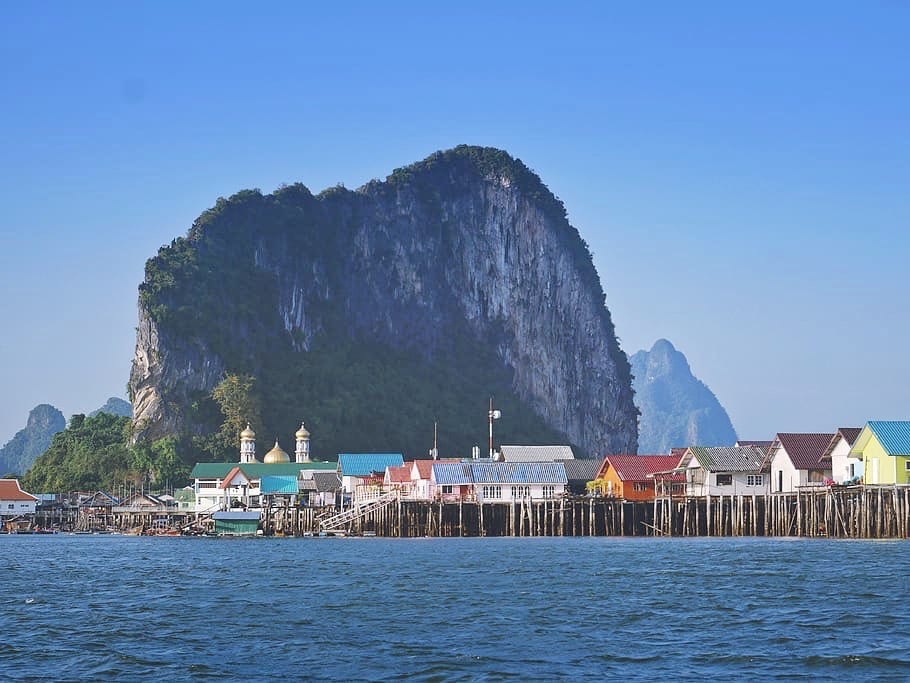 Koh Panyi (also known as Koh Panyee) is a fishing village in the province of Phang Nga, Thailand. It is notable for having been founded by Malay fishermen and built on stilts. The population consists of around 360 families (less than 2,000 people) who originated from Java from two Muslim seafaring groups. You can reach Koh Panyi by renting a longtail boat for about 1,700 baht (3 hours) from Surakul Pier. Every boat can hold up to 10 passengers at full capacity, which works out at only 170 baht per passenger. Koh Panyi has many good tours which include pick-up from your hotel.
---
Koh Maiton
Maiton Island is an understated paradise with a long history. It's a great day-out at just 15 minutes by speedboat from Phuket. The island is small but with a broad and peaceful beach as a backdrop and a green hill. Maiton is a private island with a small hotel and a few bungalows that used to be Phuket's most luxurious. You can have lunch, drinks or even a massage at the hotel if you come on a day trip. Getting to the island by speedboat is very fast and convenient. You will have more time to explore and experience the island with this option. Speedboats operate from Phuket Deep Sea Port once daily at 10am.
---
Koh Khai
This well-known group of islands are only a short boat trip across from the east side of Phuket. The two most famous are Koh Khai Nai and Koh Khai Nok due to their postcard white beaches, peppered with beach chairs and umbrellas. These are the places where you can sit and relax for the day. There are also small bars on the islands where you can buy beer, soft drinks and coconuts, like the Ratree Beach Bar and the popular reggae bar. Koh Khai Nai has no beach or amenities at all but is ideal for snorkelling. In addition to a private boat charter, several tour desks near your hotel can offer regular speedboat trips to the Khai Islands. These often include land/sea transfers, lunch and some activities. All trips are about 1,200 baht.
---
Koh Yao Yai
Take a trip to Koh Yao Yai, a secluded tropical island in the Andaman Sea. And experience beautiful scenery, rich history and a traditional lifestyle. On the island's west coast is Koh Yao Yai Village, a hideaway resort like no other in Thailand. Just 30 minutes from the Phuket tourist center, fill your days wandering the rice fields and rainforests, riding through rubber plantations, sailing to wooded islands, and lounging on sandy beaches. You will take a pace boat or longtail boat for 200/150 baht and it takes about 25/50 mins respectively. Hours of operation are generally 6:30am to 5:30pm.
---
Koh Hong
Hong means 'room' in Thai. The name of the island derives from this 'room-like' interior lagoon. Enclosed by limestone cliffs with just a narrow channel to the open sea, Koh Hong is part of Than Bok Khorani National Park. Tourists buy a pass upon arrival at a fee of 200 baht per person. The island's amenities include renting kayaks, showers and wooden dining tables to share a meal under the shade of trees. Koh Hong in Krabi is within easy reach from Phuket. The island can be reached via speedboat or longtail boat in less than an hour.
---
Koh Maphrao
Koh Maphrao is a largely oval island with a big portion of its southwest occupied by mangrove trees where long-tailed macaques are found. A route runs from west to east through the island. It begins at the pier and stops at a viewpoint in the east-coast jungle. You can pay only 20 baht to get on a longtail from Laem Hin Pier to get to Koh Maphrao. On the other hand, you can grab a speedboat from the Royal Phuket Marina for a little more. All choices take about 10 minutes to get to the island.
---
Koh Racha
The boats navigate their way to Patok Bay. It is a beautiful protected bay with welcoming turquoise water. The bay includes various coral reefs and provides decent snorkelling. There are many variations of fish and marine fauna to be found, with a lovely big beach of white powdery sand. One big hillside resort lies on Koh Racha. You can find speedboats at Chalong Pier which operate a ferry shuttle to the Racha Islands. A return ticket costs around 1,200 baht per passenger. Stay for a day, or more, and take a speedboat back.
---
Koh Yao Noi
Koh Yao Noi is situated between Phuket and Krabi in Phang Nga Bay. It remains a hidden treasure in Thailand and Southeast Asia. Undiscovered by modern tourism, it has beautiful beaches, welcoming locals and outstanding natural beauty. It is also the ideal hideaway for retreats. Boats depart from Phuket almost hourly from Bang Rong Pier and cost 200–300 baht. Pick Koh Yao Noi for a cruise. The first boat departs at 7:40am and sails until 5:40pm every hour.
---
Koh Hae
Coral Island, locally known as Koh Hae, is a stunning getaway destination situated about 3 km southeast of Phuket. There are 2 major beaches on the island: Long Beach and Banana Beach. Snorkelling off Banana Beach is a very fun experience. If you go far enough off Long Beach, at the spectacular coral reef, you'll still have lots to explore. Renting a longtail boat at either Rawai Beach or Chalong Pier will get you to Coral Island. If you want to fly by speedboat, book a snorkelling trip from Chalong. Within 15 minutes you'll get to the island. A snorkelling mask and fins will be provided, as well as a lunch buffet.
---
Other Articles That May Be of Interest
---
Explore Thailand with Expique
At Expique our mission is to help people discover the real Bangkok (and beyond) and the local cultures. We do this through a combination of offering our own award winning tours and through producing informative content.
Our range of experiences in Bangkok including our award winning Bangkok Night Lights Tuk Tuk Tour and our foodie extravaganza Evening Food & Tuk Tuk Adventure.
Follow us on social media for all the latest news.
---
Subscribe to Our Newsletter
Subscribe to our newsletter to receive monthly news and tips about exploring Bangkok.
---
Share this article:
---
---