Talad Noi is an ethnic Chinese community on the edge of Bangkok's Chinatown, and on the bank of the Chao Phraya River. It is well known for a strong community feel, old buildings, and alleyways bursting with street art and second-hand car parts. Recently many cool hidden cafes have opened and it has become very popular with the young and Instagram obsessed locals.
In this guide to Talad Noi, we will share more about its history and everything that you should see. Alternatively for more on Chinatown, check out our ultimate guide to Chinatown, Bangkok.
The History of Talad Noi
Talad Noi means "small market", and is one of the original Chinese settlements in the Rattanakosin period. Dating back to the early Rattanakosin, Sampeng Market (which was Bangkok's economic centre) was expanded. Chinese people then called the newly expanded part of the market "Ta Lak Kia" which translated to Thai as "Talad Noi".
There is a diversity of ethnicity and religion due to the relocation of Portuguese and Chinese communities after the fall of Ayutthaya in 1767. They were given a small piece of land in the Talad Noi. This is evident by several Buddhist temples, a Roman Catholic church, and Chinese Shrines scattering in small communities. However, most notable is the very strong vibe of Chinese community.
---
What to See in Talad Noi
Talad Noi is perfect for exploring on foot as there are lots of small alleys. Below you will find a list of places worth discovering.
Sieng Gong
Throughout the area you will find tons of abandoned old car parts lying around while workers are busy with their welding. Sieng Gong has become a centre for the refurbishment of secondhand car parts in Bangkok over the last 70 years.
Soi Charoen Krung 22
A small alleyway filled with locals and residents. There're several old buildings that make this community look traditional.
Location: Click to see the map
Kalawar Church or Holy Rosary Church
This impressive Gothic-style church was built in 1786 and follows a traditional cruciform ­floor plan. The Gothic-style arched doors and Roman Catholic stained-glass windows are considered to be some of the most beautiful in the country. Over the years, it has been renovated and repaired, to maintain its beauty. Just a quick few minute walk from River City.
Tell: 02-266-4849
Location: Click to see the map
Siam Commercial Bank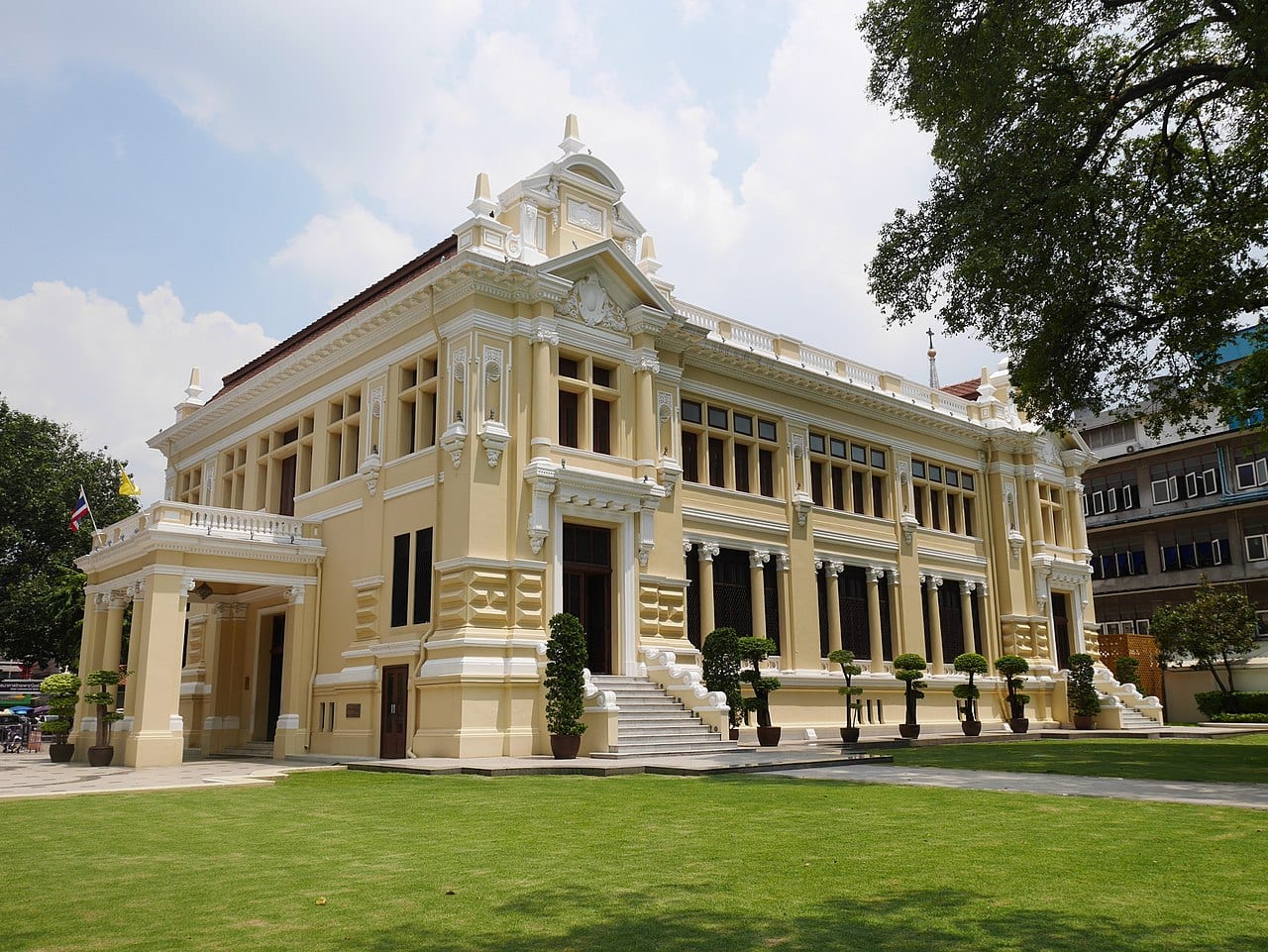 Build in 1906, make it the oldest Thai bank, and its majestic 100-year-old building is remarkable. Inspired by Beaux-Arts and Neoclassical architecture, the building is located by the bank of Chao Phraya River with a private pier. It is still a working bank but during opening hours you can walk around the area, as well as take a peek inside the building.
Location: Click to see the map
Street art in Trok San Chao Rong Kueak
Street art in Talad Noi starts at the beginning of Trok San Chao Rong Kueak. It is a small alleyway full of beautiful lifelike wall paintings and cool graffiti. The wall paintings in front of the Mother Roaster coffee shop are the highlight. Also, there are awesome selected photos taken by various photographers hanging on a huge wall. This alleyway is extremely photogenic.
Hon Wong Kung Shrine (also known as Rong Kuak Shrine)
This small Hakka style Chinese shrine is located by the Chao Phraya River. Inside, there's a colour Bas-relief represents stories about ancient Chinese living there. On the outside there are several famous fish wall paintings.
Tell: 02-233-8929
Location: Click to see the map
Chow Sue Kong Shrine
This is one of the earliest shrines in Talad Noi, built in 1804 by the first group of immigrants Hokkien people. It remains at the heart of the Talad Noi community. The shrine houses a large statue of doctor Chow Sue Kong. The story has been told that he used herbal medicines on himself before curing others. However, some of the herbs were poisonous and turned his body black.
Tell: 02-237-3090
Find more on thier Facebook
Location: Click to see the map
Sol Heng Tai Mansion
Sol Heng Tai Mansion is Hokkien-Teochew Architectural style and was known as Sue He Yuan (Golden Four Points) in which a group of 4 houses surround a large courtyard and built over 200 years ago. It belonged to one of the early Chinese trading families to migrate from China. However, the addition of a large pool the middle to house a scuba diving school caused some controversy among conservative historians. It is now also open as a coffee shop.
Opening Hour: Tuesday – Sunday 9 AM – 6 PM (closed on Monday)
Tell: 080-218-7000
Location: Click to see the map
Little Rusty Fiat 500
It's said that this little orange fiat has been parked here for a very long time. So much so, that it has become one of the landmarks of Talad Noi, especially in this era of Instagrammable backdrops!
Heng Seng, Prayer Cushion Maker
The one and only handmade prayer cushion shop that is left in Talad Noi area. Wimon Leangaroon and her family have been prayer cushion makers for a century since the end of World War I. Also, they hold a workshop teaching visitors how to make small cushions.
Tell: 082-456-6516
Find more on their Facebook
Location: Click to see the map
---
Where to Eat and Drink in Talad Noi
Ped Toon Jao Tha
One of the oldest and most famous traditional restaurants in Talad Noi, Ped Toon Jao Ta. Over 40 years, it's well known among locals and tourists for the mouth watery signature dishes – Ped Palo (roast duck in Chinese spices) and Mhee Pad Krachade (Stir-fired Rice Vermicelli with Water Mimosa) as well as its casual atmosphere.
Opening Hour: Friday to Monday from 9:30 AM – 9 PM, Saturday 9:30 AM – 9 PM
Tel: 02-233-2541
Location: Click to see the map
Mother Roaster
A very unique café that from the outside you might not realise there is a cafe. Outside, the calls are covered with cute street art. Peering through the door, you will see the ground floor is full of old car parts, leaving only a very small path for you to walk in. Don't be confused, this is not just an Instagrammers paradise! The café is on the 2nd floor.
Walking up to the 2nd floor you will see a cozy wooden café. The owners are passionate abut coffee and they serve a pretty good cup. A very good place to take a break before continue exploring!
Opening Hour: Tuesday – Sunday from 10 AM – 6 PM (closed on Monday)
Tel: 061-216-2277,
Find more on their Facebook
Location: Click to see the map
Baan Rim Nam
This is a really cool place to chill in evenings. Located in a 200-year old warehouse next to the river, it is now a cafe / bar and pop-up art space. Decorated with vintage furniture and antique stuff. There are outdoor tables placed in various corners to sit and relax while enjoying the views of the Chao Phraya River. Moreover, there is a small garden where they grow organic vegetables and herbs.
Opening Hour: Thursday – Monday from 11 AM – 9 PM
Tel: 062-335-2866
Find more on their Facebook
Location: Click to see the map
River Vibe Restaurant and Bar
A hidden rooftop bar and restaurant located on the 8th floor of the River View Guesthouse, the first hotel in Talad Noi. Anyone searching for a place for chilling with a variety of Thai food and drinks at good prices, relaxed atmosphere, stunning views of Chao Phraya River, River Vibe Restaurant and Bar is worth a visit.
Opening Hour: Daily from 11 AM – 9 PM
Tel: 099-352-2078, 0-2234-2078
Find more on their Facebook
Location: Click to see the map
Patina Bangkok
Patina Bangkok is located in a Chinese-styled house (originally called Raj Borirat – or Realrare) built over 200 years ago in the historic neighbourhood of Talat Noi. It is a private property but has been used several times for art exhibitions since 2019. Now it has turned to a very unique coffee shop.
Opening Hour: Daily from 9am – 6pm
Find more on their Facebook page
Location: Click to see the map
---
How to Get To Talad Noi
Talad Noi is easily accessed by the MRT or Ferry.
By MRT
Take the MRT subway to Hua Lamphong Station. Leave by exit no. 2 and walk to Wat Traimit and Chinatown gate.
Alternatively, take the MRT subway to Hua Lamphong Station. Then take a taxi to either Soi Charoen Krung 22 or the River City Bangkok.
By Ferry
Catch the Chao Phraya orange flag ferry to the Marine Department pier. Alternatively you can also get off at Si Phraya Pier (next to River City). Then take a short walk to Soi Wanit 2 where you can start walking through Talad Noi.
By Car
You can park your car at the River City, a shopping mall next to the Royal Orchid Sheraton Hotel (map). And walk from there to start exploring.
---
Explore Chinatown Further
Talad Noi is just one community in Chinatown, so you can of course walk further to explore the wider area of Chinatown. Wat Traimit is less that 10 minutes walk, as are Samphaeng Market and Yaowarat Road. For more details check out our ultimate guide to Chinatown.
---
Other Articles That May Be of Interest
---
Explore Thailand with Expique
At Expique our mission is to help people discover the real Bangkok (and beyond) and the local cultures. We do this through a combination of offering our own award winning tours and through producing informative content.
Our range of experiences in Bangkok including our award winning Bangkok Night Lights Tuk Tuk Tour and our foodie extravaganza Evening Food & Tuk Tuk Adventure.
Follow us on social media for all the latest news.
---
Subscribe to Our Newsletter
Subscribe to our newsletter to receive monthly news and tips about exploring Bangkok.
---
---
Share this article:
---
---