If you've heard of one floating market in the vicinity of Bangkok, it's likely Damnoen Saduak. This popular floating market in Ratchaburi province is a mainstay of marketing material for Thailand's tourism industry.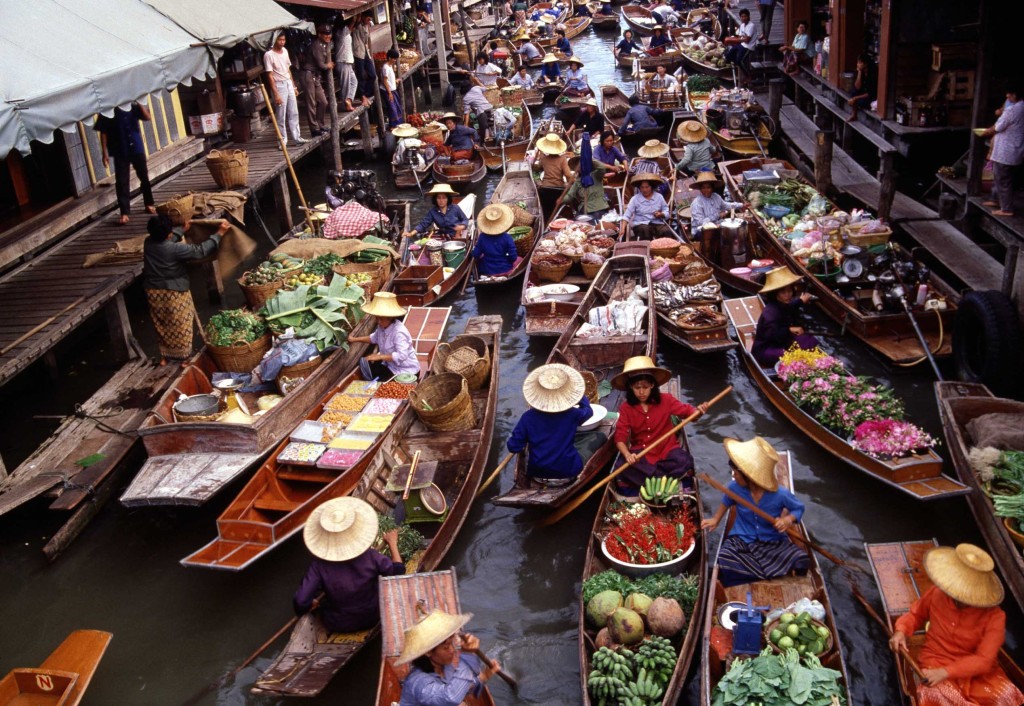 That means it attracts huge numbers of visitors hoping to catch that quintessential image of a grandma paddling her wooden boat along a canal to buy a coconut – or better still, that whole traffic jam of little rowing boats that makes up the picture-perfect postcard image of a trip to Thailand.
Damnoen Saduak is prime tourist stomping ground
But be warned: authentic floating market material this is not. The line most often touted about Damnoen Saduak, by those who know Thailand well, is that it's ultimately a tourist trap. And it's not an assessment we can disagree with – albeit that it's a tourist trap many day-trippers still enjoy visiting and getting a few snaps of. In fact, you're likely to come across far more fellow tourists – likely huddled up in the same boat as you – than you are real-life grandmas genuinely out to do their daily fresh food shopping.
In the past, floating markets like this were indeed a central hub of communities that lacked roads – and just as much a place to catch up on the latest neighbourhood gossip as to buy your curry paste for dinner. But the truth is that the same modernisation that has built those roads has also led far more Thais to do their regular shopping either at chain supermarkets or, at the very least, at land-based markets that are now much easier to reach than they might have been before.
More authentic alternatives to Damnoen Saduak
That said, there are plenty of markets that – though perhaps still not entirely the genuine article – are far less contrived and geared towards tourists than Damnoen Saduak is. Those looking for something slightly more serene, where you're less likely to feel like a sheep being herded, should consider the likes of Bang Nampheung, Taling Chan and Don Wai.
Even busy Amphawa has a more relaxed vibe to it, perhaps in part because it's geared more towards Thai tourists than foreigners. All of these markets have a good selection of staple Thai market foods, but hardcore foodies should check out Khlong Lat Mayom – and Tha Kha is perhaps the most secluded, backwater-like floating market of them all. Besides these, our comprehensive list of floating markets in and around Bangkok has a couple more options to look into.
What to expect on a visit to Damnoen Saduak
If you're still keen on a visit to Damnoen Saduak, expect much of the action to be on land rather than on the water itself. The vast majority of visitors go on day trips from Bangkok, arriving in huge numbers by around 9am, and the typical experience involves taking a small boat around the market with a handful of other tourists. While you might have the chance to buy a few fresh items from passing vendors, in truth most of the other boats caught up beside you in that legendary traffic jam will likewise be carrying visitors.
It's then on to a large assembly of stalls set up on the canal's banks, selling all manner of tacky goods from postcards to the kind of souvenirs you've likely already seen by the bucket-load on Khaosan Road, at Chatuchak weekend market, and elsewhere. Depending on the tour package you've arranged, you might also be taken to visit a fruit or orchid farm alongside another nearby canal.
How to do Damnoen Saduak the 'local' way
If you want to see Damnoen Saduak floating market at its most authentic – at least as far as that's possible – our best advice is to go as early as you can or, even better, stay overnight nearby and then get up at the crack of dawn for a wander. Very early in the morning (we're talking 6am or thereabouts), the market is still frequented by locals out to buy supplies and catch up with their neighbours – but this unique Damnoen Saduak scene doesn't last long at all, and you'll have only a narrow window of opportunity before the tourist buses begin rolling in.
At this time of the morning, could explore either on foot along the canal banks, or by hiring a boat with a driver – bargaining for a decent price is much easier at this hour than when the hordes are here from Bangkok and elsewhere. And of course, as one of a very small number of visitors exploring during this golden hour, you'll likely get much more of a friendly, genuine reception than you might expect once the tourist factory opens.
Want Expique to take you?
If you want to go with a local guide to this or any of the other floating markets in Bangkok and the surrounding areas, we can arrange a custom tour for you – combining markets, food, and a little unique adventure! Find out more about our private and custom tours and what we can do for you.
Have you been to Damnoen Saduak floating market? Let us know in the comments!
Photos by Thailand Forum; Fabio Achilli; Maxim B.; Walter Lim.
---
Share this article:
---
---