The northern Thai city of Chiang Mai is well established as Thailand's cultural capital. Founded in the 13th century, the city was once the epicentre of the ancient Lanna kingdom. Local people are proud of their rich heritage which can be seen in the architecture, festivals, food and traditions of Chiang Mai. With this background there are so many unique things to do in Chiang Mai.
The province of Chiang Mai is also a fabulous place to explore the countryside and enjoy the mountain scenery and waterfalls. With a range of exciting activities and adventures waiting to be enjoyed by people of all ages, it's no wonder Chiang Mai and the surrounding area is so popular with visitors.
Take a look at our suggestions for these 10 unique things to do. You can also check out our longer list of Things To Do in Chiang Mai.
---
Learn How to Drive a Tuk Tuk
If you've been to Thailand before, there's a good chance you've squeezed in the back of a tuk-tuk during your travels. But have you ever fancied the idea of driving one? It's made our list of Things To Do in Chiang Mai!
Well, now you can thanks to The Tuk Tuk Club. Based just outside Chiang Mai, The Tuk Tuk Club offer trips where you'll learn how to safely drive a tuk-tuk before embarking on your adventure on the scenic country roads of Chiang Mai and North Thailand. And if you like the thought of a tuk-tuk driving holiday but would prefer to have somebody else take the wheel, The Tuk Tuk Club can arrange that too.
Visit The Tuk Tuk Club for more information
Get a Fire Massage at Ban Rai Kong Khing
For a taste of local life, make the short trip out of Chiang Mai city to the village of Ban Rai Kong Khing. The community has adopted a holistic approach to health and wellbeing . Organic farming, natural herbal products and traditional Thai medicine all playing an important part in daily life. A visit here is an ideal way to learn about local life and support responsible tourism at the same time.
The community at Ban Rai Kong Khing is preserving local wisdom including a unique form of massage known as 'yam khang'. The therapist coats the sole of their feet with herbal oils before stepping on an iron blade (known as a 'khang') which is heated by hot coals. The therapist then gets to work, skilfully using the warmth and herbs on their foot to sooth away the aches and pains of the person being massaged.
Although it may sound uncomfortable, it is incredibly therapeutic, highly recommended, and a very unique thing to do in Chiang Mai.
Feast on Northern Thai Food
Chiang Mai is a fabulous destination for foodies with lots of regional Northern Thai food waiting to be enjoyed. No trip to Chiang Mai is complete without sampling a satisfying bowl of khao soi.
Regarded as a signature dish of Chiang Mai, this tasty noodle soup can be found at street stalls and restaurants across the city. Most often served with a hunk of on-the-bone, melt-in-the-mouth chicken, khao soi combines boiled flat wheat noodles in the soup itself and a topping of crunchy deep-fried noodles.
Other must-try Northern Thai food in Chiang Mai includes sai ua (spicy grilled sausage), gaeng hunglay (rich pork curry with ginger), and kanom jeen nam ngiaw (a local noodle dish).
You can read more about our recommendations of what foods to try in Northern Thailand.

Chat With Monks
Wherever you visit in Thailand, you won't have to venture far to find a Buddhist temple. Some travellers will always find something of interest in visiting different temples, but for others the novelty can wear off quickly. If you subscribe to the view that once you've seen one temple you've seen them all, Chiang Mai offers something different in the form of 'monk chats'.
At some temples in the city, visitors are encouraged to talk with young novice monks with the cultural exchange free of charge and mutually beneficial to both sides. You get to feed your curiosity about the lives of those in the orange robes, while the monks get an opportunity to practise their English language skills.
There are a number of temples in Chiang Mai which have designated areas for these monk chats. Among the best places to try are the temples at Wat Suan Dok on Suthep Road, Wat Chedi Luang on Prapokklao Road in the heart of the Old City and Wat Srisuphan (the 'Silver Temple) on Wualai Road. Wat Suan Dok has regular times for their monk chats which take place between 5pm-7pm on Mondays, Wednesdays and Fridays. Wat Srisuphan also has fixed times with English-speaking monks available to chat from 5.30pm-9pm each Tuesday, Thursday and Saturday. At Wat Chedi Luang, the timings are more informal so it can be a little more hit and miss. Both men and women are welcome, and you can spend anything from five minutes to a couple of hours engaging in casual conversation.
Experience a Lanna Festival
Chiang Mai is one of the best locations in Thailand to enjoy a variety of colourful festivals that take place throughout the year. The Bo Sang Umbrella Festival in January is followed soon after by the Chiang Mai Flower Festival in February. The lively Songkran Water Festival is in April. But the festival for which Chiang Mai is best-known is the annual Yi Peng Lantern Festival in November.
The origins of Yi Peng date back to the ancient Lanna kingdom, an area that encompassed a large area of what is now North Thailand including Chiang Mai and Chiang Rai. In the Lanna tradition, lanterns were lit and released during Yi Peng to celebrate the end of the rainy season and the start of the cool season.
Although it was originally a separate festival, Yi Peng has now been incorporated into the festivities for Loy Krathong. With lanterns illuminating the night sky and krathongs floating on the Ping River, it is a wonderful event to experience in person. If you do take part, look for biodegradable lanterns and eco-friendly krathongs.
And if you miss the lanterns being released during Yi Peng, New Year's Eve celebrations in Chiang Mai also see the release of sky lanterns.
Find out more about unique Thai festivals.
Visit the Umbrella Village
To the east of Chiang Mai city, the twin towns of Bo Sang and Sankampaeng are famous for their handicrafts, particularly the production of traditional bamboo umbrellas and parasols. The art of umbrella making in this area dates back hundreds of years to the time of the old Lanna kingdom.
Visit the Umbrella Making Centre in Bo Sang and you can watch the artisans at work. Displays and English-speaking guides are also there to explain each part of the intricate process. The traditional umbrellas from Bo Sang are hand-made from locally sourced bamboo and sa paper, but other materials are now also used including canvas, cotton and silk.
The visitor centre is informative and the well-stocked shop is a good place to buy the umbrellas and a wide range of other souvenirs. Visit Chiang Mai at the end of January and you can also enjoy the Bo Sang Umbrella Festival which celebrates the heritage of the area.
Discover the Silver Temples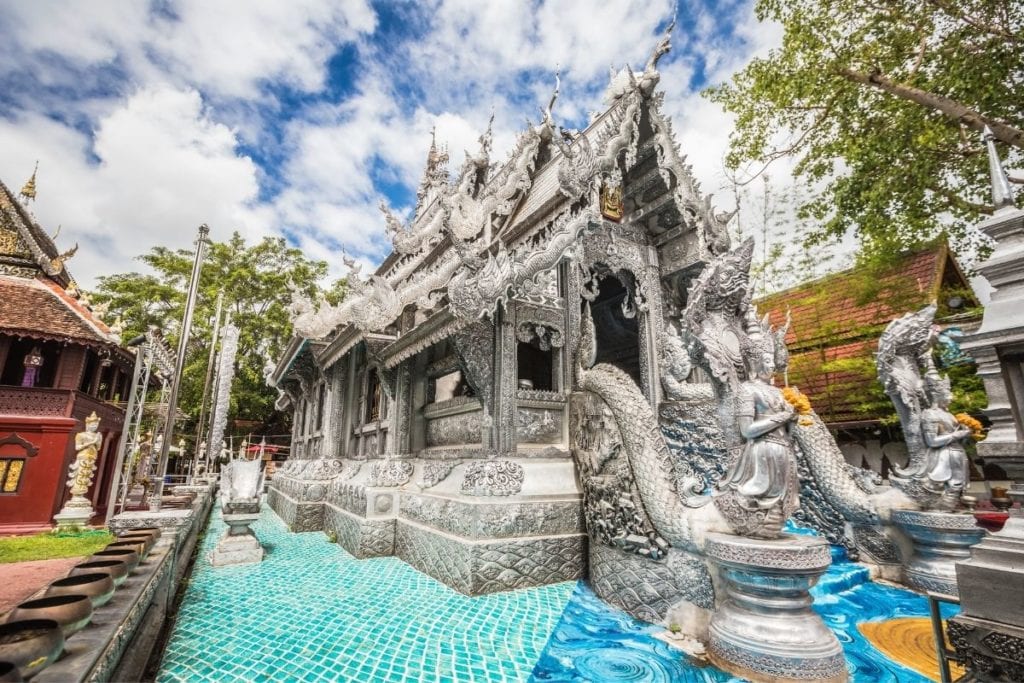 A short walk from Chiang Mai Gate in the south of the Old City brings you to Wualai Road. This is Chiang Mai's silver-making district with a history dating back two centuries. Wualai Road and the adjacent sois are dotted with silver shops and along one of these quiet lanes is the entrance to one of Thailand's more unusual temples, Wat Srisuphan.
Although there has been a temple at this location for more than five centuries, it was in 2004 when work began that would lead to Wat Srisuphan becoming known as the 'Silver Temple'. In recognition of the history of the area, the abbot employed local silversmiths to renovate a number of the temple buildings.
The result is an amazing sight with the intricate silver-coloured structures sparkling in the Thai sunlight. Alloy and zinc has been used for most of the outside designs with silver being reserved for the Buddha images inside. If you do visit, walk round to the other buildings and check out the workshop to the left of the main entrance where you can usually see artisans at work.
While you're in the area, check out Wat Muen San, a five minute walk away on the other side of Wualai Road where silver and metal artwork has also been used in the temple renovations.
Walk up the Sticky Waterfalls
Chiang Mai's Bua Thong waterfalls are a little different to most because not only can you splash around in the pools, but you can actually climb up the waterfalls. A mineral deposit on the rocks stops them from being slippery and gives them a texture somewhat akin to a hardened sponge.
These 'sticky waterfalls' give your feet something to grip on so you can walk up to a vantage point at the top of the five-storey cascading falls and really take in the view. A picnic area is perfect for a break from rock climbing, and the whole place makes for a relaxed, rejuvenating and back-to-nature day out.
Hike The Monks' Trail to Wat Phra That Doi Suthep
Chiang Mai people have a saying that roughly translates to, "you haven't visited Chiang Mai until you've visited Doi Suthep".
The word 'doi' is the local word for mountain and it is on Suthep mountain where you will find one of the most important temples in North Thailand, Wat Phra That Doi Suthep. For most visitors, the journey to the top is a relatively easy one via public transport in one of Chiang Mai's iconic red songthaews, a converted pick-up truck with two rows of seating in the back for passengers. But if you're up for a challenge and reasonably fit, there is a walking trail that leads up to Wat Phra That Doi Suthep.
Before the paved road was constructed in the 1930s, monks and devotees walked up a trail to the mountain. The monks' trail is still used today by religious devotees and hikers and provides a rewarding, albeit gruelling, way to reach Wat Phra That Doi Suthep.
The nature trail starts on Suthep Road near the back of Chiang Mai University. From here, it's around an hour's walk along the trail to the halfway point, the picturesque forest temple of Wat Pah Lat. You can call it a day here or rest before you start the more arduous part of the hike that leads up to Doi Suthep temple. From Wat Pah Lat the trail is steeper and longer and to reach Wat Phra That Doi Suthep takes most people at least another 1.5-2 hours.
Take a Samlor Ride
Sit back in a samlor and gain another perspective of Chiang Mai. These vintage bicycle taxis are a throwback to another era and a wonderful way to experience the culture of Chiang Mai. Decades ago, the samlors were a common sight on the roads of Chiang Mai. Sadly, there are now only around 70 left. Taking a samlor ride is a great way to support this old tradition and a lovely way to see some markets and sights away from the main tourist trail.
Don't be fooled by appearances when you see the senior citizens who drive the samlors. Most of the drivers are over 60, but these men are as tough as they come. With many years of samlor driving experience under their belt, there is nobody better to navigate the streets of Chiang Mai. You can sometimes find the samlors parked up outside the Three Kings Monument in the centre of the Old City, but more commonly they are usually found outside the city markets.
The sedate samlors are still the preferred mode of transport for senior Thai ladies carrying fresh fruit and vegetables back home and the bicycle rickshaws can be hired at locations including Waworot Market and Chiang Mai Gate.
---
Other Articles About Chiang Mai & Northern Thailand
---
Explore Thailand with Expique
At Expique our mission is to help people discover the real Bangkok (and beyond) and the local cultures. Our current focus is to provide the best content available to plan a trip and discover Thailand.
Prior to COVID-19 our focus was on offering a range of experiences in Bangkok including our award winning Bangkok Night Lights Tuk Tuk Tour.
For now however, our focus is on creating amazing content instead.
Follow us on social media for all the latest news.
---
Subscribe to Our Newsletter
Subscribe to our newsletter to receive monthly news and tips about exploring Bangkok.
---
Share this article:
---
---