Thailand's numerous national parks are often the highlights of a visit to the country – and rightly so. Sporting everything from towering mountain peaks to jaw-dropping waterfalls and pristine beaches, Thailand's 147 national parks are among the jewels of the tourism industry. But they're not all equal, and some are especially mesmerising. Whether you're on a short visit to Thailand or you live here, these are some of our favourite Thai national parks that await you on your travels onward from Bangkok.
Erawan
This national park in Kanchanaburi province just northwest of Bangkok, with its famous seven-storey waterfall – is a must-see for countless visitors to Thailand. Erawan National Park has long been locked in battle with Khao Yai for the title of Thailand's most visited, and in 2015 Erawan came out on top for the first time in a number of years.
The waterfall's pools get progressively clearer the closer to the top you get, and you'll also find far fewer people on the higher tiers. You can swim in them all, and the trek to the top is itself a memorable and rewarding experience. Many visitors also enjoy the somewhat bizarre experience of having the dead skin on their feet nibbled at by the pools' resident hoover fish – it's the phenomenon that inspired the numerous fish massage outlets around Thailand and overseas.
Doi Suthep
Doi Suthep-Pui National Park is one of the main attractions in the northern Thai province of Chiang Mai, and its namesake Doi Suthep mountain towers over the city. Snapping a shot of the northern capital's skyline from the top of the mountain is a highlight of any visit to Chiang Mai, and the Buddhist temple up here is also well worth stopping by. The national park as a whole, which also encompasses neighbouring Doi Pui mountain, is a smorgasbord of waterfalls, jungles, spectacular lookout points, and plenty of opportunities to spot the resident wildlife.
Phu Kradueng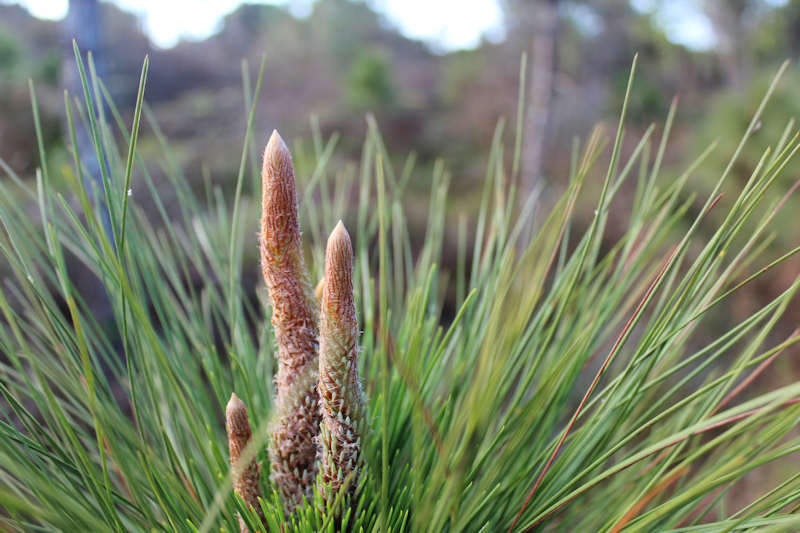 Loei's Phu Kradueng National Park has catapaulted to fame as ever increasing numbers flock to this northeastern Thai province in pursuit of its cool climate and awe-inspiring views. The national park boasts floral varieties that can't be found in sweatier, more humid parts of Thailand – like other Thai parks, there are waterfalls and lookout points, but the highlight that draws many to Phu Kradueng is the inland cliff edge that offers especially awesome views over the impressive, foggy landscape below. A cable car has been on the cards for Phu Kradueng National Park for some time now, but for the time being it's thankfully yet to come to fruition.
Koh Phi Phi
The famous stretch of shore made famous by Leonardo DiCaprio in the film The Beach forms part of the real-life Had Noppara Thara-Mu Koh Phi Phi National Park, in southern Thailand's Krabi province. This marine national park attracts throngs of visitors each year – some would say so many that it's no longer anywhere near the tranquil setting it once was – making it Thailand's third highest-grossing park in 2015. If you don't mind the crowds that such stunning beauty brings in, this is a place to enjoy white sand beaches, and to get up close and personal with the area's marine life as you snorkel or dive.
Khao Yai
For many years the defending champion in terms of visitor numbers and revenue of all of Thailand's national parks, Khao Yai was also the country's very first when it opened back in 1962. It's the second largest, too, just behind Kaeng Krachan – it's so large, in fact, that the park straddles a number of central and northeastern Thai provinces. What's more, it only takes a reasonably short drive from Bangkok to enjoy the park's breeziness and greenery, where you're in with a good chance of sighting the likes of elephants, monkeys and even tigers.
Sam Roi Yot
Khao Sam Roi Yot National Park, which translates as the 300-peak mountain, sits in Prachuap Kiri Khan province, on and around the strip of land where Thailand slims down to its narrowest – at certain points in this area, only 11km lie between neighbouring Myanmar (Burma) and the Gulf of Thailand. Sam Roi Yot is a national park that combines the best of both worlds: think stunning caves like Phraya Nakhon, with its fairytale-like temple, and blissful beach scenes.
A note on admission fees: Thai national parks operate a relatively controversial dual-pricing system, where Thai nationals are charged a much lower entrance fee than foreigners. We won't get into the merits of this system or our views on this, but it's something to be aware of. Admission for non-Thais at national parks generally runs between 100 and 400 baht depending on the grade of the park, with extra charges for taking vehicles inside. At the root of perhaps the most controversy, foreign nationals living in Thailand may sometimes be offered the lower rate on production of their passport, work permit or other evidence of residing here – but this isn't something that's enshrined in law; rather it's at the discretion of staff at the park in question.
Which is your favourite Thai national park? Let us know in the comments!
Photos by Eli Duke; Cristina Bejarano; Hanumann; Kai Lehmann; Wat Coothong; Bethany Ciullo.
---
Other Articles That May Be of Interest
---
Explore Thailand with Expique
At Expique our mission is to help people discover the real Bangkok (and beyond) and the local cultures. We do this through a combination of offering our own award winning tours and through producing informative content.
Our range of experiences in Bangkok including our award winning Bangkok Night Lights Tuk Tuk Tour and our foodie extravaganza Evening Food & Tuk Tuk Adventure.
Follow us on social media for all the latest news.
---
Subscribe to Our Newsletter
Subscribe to our newsletter to receive monthly news and tips about exploring Bangkok.
---
Share this article:
---
---